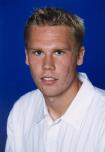 Johan

Grunditz
height

6-2

class

Senior

High school

Katedralskolan H.S.
Fall '01: Missed most of fall season due to injury?Suffered a tough loss to South Carolina's Angelo Nichelescu in the opening round of the Southern Collegiate Championships?Advanced to the quarterfinals of doubles with partner Jesse Witten earning a 3-1 record for the fall season?Saw action in the first two rounds of the SCC tournament consolation bracket?Finished with a 1-2 record in singles action.
2000-01 (junior): Posted an 8-5 fall record, including four wins en route to a runner-up Flight "A" finish at the Ball State Fall Invitational…Had commanding wins over C.J. Weber of Eastern Illinois (6-0, 6-2) and Florida Atlantic's Cristian Piaz (6-1, 6-0)…Saw doubles action with Elliott Datlow, playing five matches in fall action?For last half of the season played No. 1 doubles with Grunditz having immediate impact?Team was key to UK's 4-3 win over Arkansas by drilling Oskar Johansson and Henrik Toft 8-3?Named PNC Bank Student-Athlete of the Week for the week of Jan. 22-26?Missed SEC opening match against Alabama due to a back injury?Went on an eight-match win streak during spring season?Grabbed big wins over Georgia's Lesley Joseph and Tennessee's Mario Toledo, both of whom finished in the top 40 of the ITA rankings?Finished 24-12 in singles action on the season with an 11-5 record against regional opponents.
1999-00 (sophomore): Won first round match of the Citizens Bank Clay Courts before losing to 14th-ranked Marco Baron of Mississippi State… Recorded undefeated record at the Fighting Illini Fall Invitational in three matches…Went 11-11 in the spring, playing nearly half of his matches at the No. 5 position…Defeated LSU's Ed Rubin, the No. 100 player in the nation, 6-3, 3-6, 6-2…Also had big wins in the spring over Illinois' Mike Kosta, SMU's Dustin Mauck and Notre Dame's Javier Taborga…Won his first match in the National Indoor's before falling to No. 8 Matt Amgwerd from New Mexico in a close match, 7-5, 7-6(2)…Split time at the No. 1 and No. 2 doubles throughout the season.
1998-99 (freshman): Had a solid year playing mostly at the No. 6 singles spot and No. 3 doubles with Carlos Drada… His value to UK's success is demonstrated by his 5-1 record in the Wildcats' six wins versus top fifteen teams… Fall record of 11-5 was highlighted by winning the Middle Tennessee State Fall Invitational with a victory over No. 50 Eddie Contes (Vanderbilt) in the final… Won four matches including the consolation match at the Louisiana State Fall Classic… Posted key dual match wins over Anthony Mateljan (LSU), Jeff Bergman (South Carolina), Arnaud Lantin (Illinois), Daniel Healey (Mississippi State) and Sherif Zaher (Georgia)… Won both of his matches at the SEC Tournament… Undefeated in UK's run to the NCAA Sweet Sixteen defeating Ignacio Perez (ETSU) and Tomasz Wawrzyniak (South Carolina)… Finished with a 28-15 overall record.
Junior career: Was ranked No. 8 in Sweden among 18-year-olds… Reached the semifinals in the Bastad Tennis Tournament in 1997… Won the 1994 Kalle Anka Cup in Vastmanland, Sweden… Biggest victories include a win over Tomas Heyerdal, who was ranked in the top 10 in the ITF junior rankings; a win over Fredrik Jansson, who had been ranked No. 1 in Sweden; and a victory over top-50 player Marcus Lund.
Personal: Born on Sept. 23, 1979… Nickname is LJ…Parents are Susanne and Ulf Grunditz…Lists dream doubles partner as Stefan Edberg… Lists most satisfying moment as an athlete as winning the Donald Duck Cup in Vastmanland… Also enjoys playing soccer and handball.
EMERY ON GRUNDITZ: "Last year Johan began to fulfill the potential I saw in the recruitment process. Not only was he a consistent winner, but he showed that he was capable of the big win, as evidenced with Joseph (Georgia) and Toledo (Tennessee). If he stays healthy, I look for him to make another big jump in 2002."
Grunditz's UK Stats
                Singles         Doubles                Overall SEC     Overall SECFall '01        1-2     --      3-1     --2000-01        24-13   9-3     6-17    2-101999-00        21-20   5-6     9-15    2-61998-99        28-15   7-5     10-11   2-5Totals          74-50   21-14   28-44   6-21
Read more