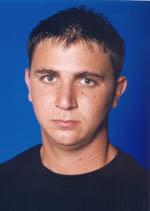 Elliott

Datlow
height

6-1

Weight

175

class

Senior

High school

The Bullis School
2001-02 (junior): Competed in seven dual matches at No. 6 and had a 5-2 record ? Grabbed convincing victories over Western Kentucky?s Kevin Shields (6-0, 6-2) and Butler?s Aubrey Annan (6-2, 6-2) ? Saw action in eight fall matches, finishing with a 3-5 record?Impressive opening win against Martin English of Mercer (6-1, 6-2) in the Southern Collegiate Championships?Suffered a tough 6-3, 3-6, 2-6 loss to Wright State's Scott Hayden in the opening round of the Louisville Invitational? Posted two consecutive straight-set victories over IUPUI's Brian Slack and Dayton's Michael Schissler in the consolation bracket of the Louisville Invitational.
2000-01 (sophomore): Saw action in 12 fall matches, claiming a straight set victory over Furman's Patrick Fillnow in the consolation bracket of the Georgia Tech Fall Invitational…Played limited doubles matches with Johan Grunditz, claiming a hard-fought victories over Harvard's Styperek and Barker and Baylor's Ross and Garcia during the Charles Fluitt Collegiate Classic?Saw SEC action against Georgia at No. 6 singles and at No. 3 doubles with partner Rahim Esmail?Grabbed impressive wins over EKU's Lee Lester (6-2, 6-3) and Boston College's Ross Pytko (6-3, 3-6, 6-4)?Finished the spring season with a 2-1 record in singles action.
1999-00 (freshman): Advanced to the quarterfinals of the Louisville Invitational before falling to eventual champion, Toledo's Dipesh Rao during fall competition…Recorded back-to-back victories over intrastate rivals when he defeated Eastern Kentucky's Daniel Dodson, 6-0, 6-1, and Western Kentucky's Wimal Wijanayake, 6-1, 6-7(3), 6-4…Also recorded a commanding victory over the EKU's doubles team of Lester/Dodson with partner Reven Stephens, 8-2.
Junior Career: Nationally ranked among 18-year-old boys in singles, ranked No. 1 in doubles in the Mid Atlantic Region… Bullis School won the 1996 and 1997 IAC League Championship… Had a 20-2 high school record in his senior season… 1999 Maryland State Outdoor Singles Champion in the 18 year old boys division.
Personal: Full name is Elliott Gordon Datlow… Born on March 6, 1981… Nicknames are L, Dat and Dat-man… Chose Kentucky for the chance to work with a great coaching staff and to be a part of a top college tennis program…Lists his dream doubles partner as Pete Sampras.
EMERY ON DATLOW:
"Elliot is a hard worker who continues to improve every time he steps on the court. He has been a pleasant surprise contributing so much on and off the court to our program."
Datlow's UK Stats

Year
Singles
Doubles
Overall
SEC
Overall
SEC
2001-02
10-10
—
1-1
—
2000-01
3-12
0-1
3-2
0-1
1999-00
4-10
—
2-3
—
TOTAL
16-31
0-1
6-6
0-1
Read more