UK Athletics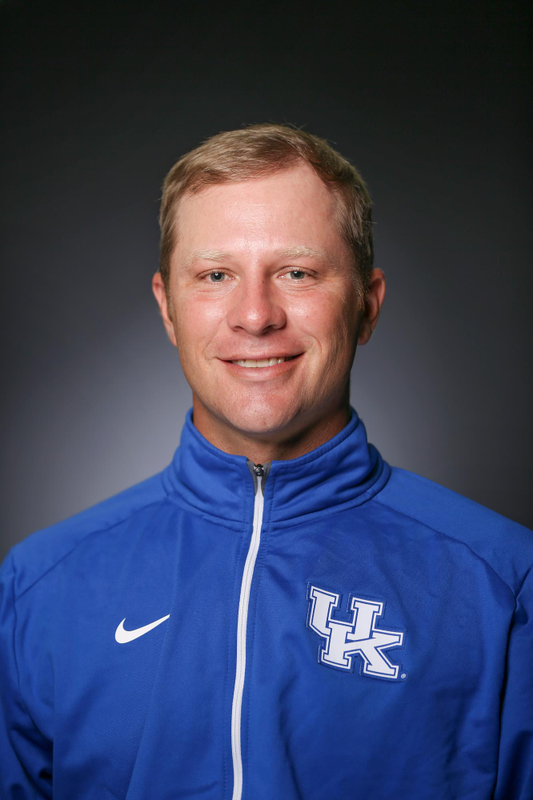 Cedric Kauffmann enters his 10th season as men's tennis head coach at the University of Kentucky in 2021-22. As head coach, Kauffmann has led his alma mater to seven of nine potential NCAA Tournament berths and two appearances in the Sweet 16. The Wildcats have finished in the top 30 of the season's final Intercollegiate Tennis Association rankings five times, including a No. 10 finish in 2013 and No. 15 finish in 2014.
Kauffmann, the 2016 ITA Ohio Valley Regional Coach of the Year, has produced nine ITA All-America selections as UK head coach and 18 overall as a member of the UK coaching staff.
A breakthrough 2020-21 campaign for the Wildcats was highlighted by a wire-to-wire finish in the top 25 of the ITA rankings, as well as by a slew of individual accomplishments. Kentucky hosted the first two rounds of the NCAA Championship and finished with a 16-1 record at Hilary J. Boone Tennis Complex.
Sophomore Liam Draxl earned the first ITA National Player of the Year honor in school history after five consecutive appearances atop the ITA singles rankings and a postseason singles run that ended in the NCAA Championship semifinals.
Kentucky was one of seven schools to put three participants in the 64-player singles field at the NCAA Championships, where two Wildcats reached the round of 16 in the same season for only the second time ever.
Draxl earned ITA All-America status in singles competition, while fellow sophomore Gabriel Diallo became the seventh player in UK history to earn ITA All-America distinction for both singles and doubles in the same year.
Including Diallo's doubles partner César Bourgois, Kentucky produced the program's 22nd, 23rd and 24th all-time ITA All-Americans this year. Draxl and Diallo were selected to the All-Southeastern Conference first team, while senior Millen Hurrion was chosen for the second team. Draxl was also named the SEC Newcomer of the Year.
Kentucky ended the season as one of four schools with five players placed among the final ITA singles rankings and the only SEC institution with multiple players on the SEC All-Newcomer Team.
Kentucky was awarded the UTR ITA Team of the Month in April for producing the largest increase in Universal Tennis Rating Power 6 Rating over the course of the month.
When the 2019-20 season was cut short due to the COVID-19 pandemic, Kentucky had a 12-5 (3-1 SEC) record. The Wildcats were in the midst of a three-match winning streak, beginning with two wins over ranked opponents and ending with two victories on the road. Kentucky's best win came in a 4-3 thriller at No. 17 Alabama on March 6.
In 2018-19, Kentucky earned a 4-1 first-round NCAA Tournament win over VCU, whose head coach Anthony Rossi spent three years on Kauffmann's coaching staff and was a two-time ITA All-American while playing for Kauffmann at UK. Senior Ryo Matsumura earned a fourth consecutive All-SEC honor, while fellow senior Enzo Wallart earned his first.
In 2017-18, Kentucky's season was highlighted by a 4-1 signature win at three-time reigning national champion Virginia on Feb. 4 and a 4-3 victory over No. 7 Illinois on Feb. 25. UK reached the second round of the NCAA Tournament and placed three players on All-SEC teams, with Matsumura and Will Bushamuka receiving first-team honors and Trey Yates making the second team. Matsumura was also named an ITA All-American.
Kentucky also reached the second round of the NCAA Tournament in 2017, led by the ITA All-American and first-team All-SEC honoree Bushamuka, as well as second-team All-SEC selections Matsumura and Beck Pennington.
The Wildcats finished 19-10 (7-5 SEC) in 2015-16, tying for fourth in the conference and earning another NCAA Tournament berth. Kentucky ranked 23rd in the country at the end of the season behind first-team All-SEC selection Bushamuka and SEC Co-Freshman of the Year Matsumura.
The Wildcats achieved their highest finish in the SEC under Kauffman in 2013-14, going 9-3 and placing third behind Georgia and Texas A&M. Kentucky was one of two teams in the conference to finish with 20 or more wins after compiling a 23-10 overall record. UK was led by ITA All-American Tom Jomby, who was also a first-team All-SEC selection, and second-team all-conference member Pennington. UK ultimately reached the Sweet 16, hosting a Lexington Regional.
In his first season as head coach, the Wildcats had two ITA All-Americans in Jomby and Rossi, who helped guide UK to the Sweet 16 and host a Lexington Regional. UK also reached the ITA National Indoor Quarterfinals. Jomby and Rossi were also named first-team All-SEC. The team achieved its highest final ranking under Kauffman – ninth – and finished the season 22-12 and 6-6 in the SEC.
Kauffmann was named the 12th men's tennis head coach in program history on July 25, 2012, after the retirement of 30-year head coach Dennis Emery.
Kauffmann served as a UK assistant coach from 2005-06 to 2011-12, being promoted to associate head coach in the fall of 2009. He was named the 2009 ITA Southeast Regional Assistant Coach of the Year after helping to guide Kentucky to an 18-11 record and a berth in the NCAA Tournament. Kauffmann helped lead Kentucky to the best four-year stint in school history from 2008-09 to 2011-12, posting 100 wins.
During his seven years as an assistant coach, the Wildcats held a 141-76 record and six NCAA Tournament appearances, including three trips to the Sweet 16 and one to the Elite Eight. In 2010, he helped lead UK to back-to-back appearances in the ITA Men's National Indoor Championships. UK's appearance in the 2010 National Indoors round of 16 was Kentucky's first in the indoor or outdoor championships since 2005.
In 2011, Kauffmann helped guide a talented team to a school-record 29 wins, while the 2012 squad went undefeated in SEC action to claim the school's second SEC Championship.
UK was ranked in the final 15 of the national team standings under Kauffmann's guidance in each of the four seasons from 2008-09 to 2011-12, including a No. 6 final ranking in 2012. During his seven-year span as an assistant, Kauffmann led five players to a total of 10 ITA All-America honors, including Eric Quigley, who ended his career as a five-time All-American. Kauffmann also helped UK players earn 15 All-SEC honors.
A native of Montsoult, France, Kauffmann was a three-time ITA All-American and three-time All-SEC performer during his four years as a UK player under Emery. He advanced deep into some of the best tournaments in the nation in college as a 1997 Clay Court Singles Championship finalist and a 1996 National Indoor Singles Championship semifinalist. Kauffmann's career-best ranking was second, and he finished his career at Kentucky as the fourth-winningest player in school history. He currently ranks sixth all-time with a career record of 121-61.
Kauffmann was the first tennis player inducted into the UK Athletics Hall of Fame.
After his college career ended, Kauffmann began a professional career, playing in two Grand Slam events in the 2000 U.S. Open and the 2001 French Open. During his 2001 French Open appearance, Kauffmann battled legendary tennis star Pete Sampras in a first-round five-set thriller. Kauffmann reached No. 170 in the ATP before leaving the professional ranks.
Kauffmann and his wife Caroline, who is a Kentucky native, are the proud parents of four children.
Read more