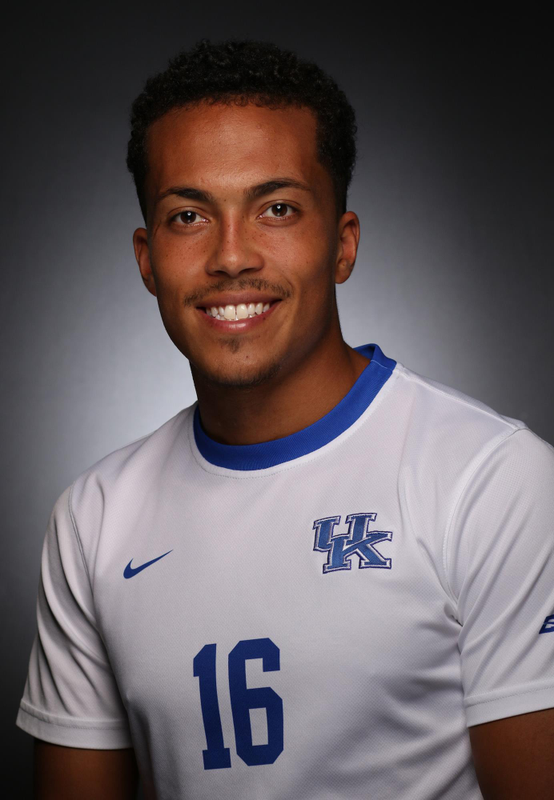 16
Noah

Hutchins
height

5-10

Weight

175

class

Senior

Hometown

Columbus, Ohio

High school

Hilliard Davidson
2017 (Senior)
SEC Academic Honor Roll … Started in 14 of the 16 games this season … Went on a late-season three-game streak with at least a point … Tied for most goals on the team … Played 1383 minutes.
2016 (junior)
Saw the field in all 19 matches and started in 12 of them … Scored three goals on the season, all game winners … Had an assist in 3-0 win v Marshall … Played 1131 minutes.
2015 (Sophomore)
Played in 17 games starting 16 of them … Scored two goals and had an assist – career highs … Scored the winner with moments remaining in the second overtime at Charlotte on an audacious strike from distance across goal to win the game at Charlotte, clinching at least a share of the Conference USA regular season title … Scored the equalizer late in a 2-1 season-opening win at Valpo … Played a career-high 1039 minutes.
2014 (Freshman)
Began to see significant time in the latter stages of the season … Showed great potential with his pacey runs down the flanks in the C-USA first-round game against South Carolina … played significant minutes in the NCAA first-round match vs. Oakland.
Pre-College
Played for coach Terry Smith at Hilliard Davidson … Played club soccer for the Columbus Crew Soccer Academy and coach Billy Tompson from 2011-14 … Was named high school best offensive player, first-team OCC and third-team all-district in 2011 … Was ranked among the top 150 by Top Drawer Soccer's Class of 2014 … Totaled seven goals in 2010 and 14 in 2011 … For his club squad, netted 10 goals in 2012 and 12 in 2013 … Was named his high school scholar athlete in 2010 and 2011 … Was a member of the Academic Honor Roll and the Renaissance Program … Led his Crew Academic team to an undefeated spring season in 2013 … Assisted on the game-winning goal in a match against the U18 USA National Team in 2012 …
Personal
Full name is Noah Isasc Hutchins … Born  in Columbus, Ohio … Son of Ernest and Karen Hutchins … Uncle Donald Hutchins played football for Ohio University … Karrie Hutchins, his cousin, played soccer at West Virginia … Was active in the community, serving as a youth coach volunteer and as a volunteer for Meals on Wheels … Was also a Dare to Play volunteer.
Read more