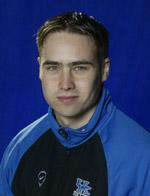 13
Olli

Lehtimaki
height

6-0

class

Senior

High school

Kaurialan Lukio
Coach Collins on Olli – "It is good to see Olli back healthy. Last season was a disappointment for him, I know, after his injury. We expect him to step back on the field and become the same consistent reliable performer he has always been."
2002 – Began the year as a core starter in UK's strong midfielder, but suffered an injury in the fifth minute of the Cats' first game (at Virginia)… Returned one month later, scoring a goal against IUPUI… Saw action in eight games, making a pair of starts.
2001 – Made immediate impact to team, playing in all 21 games with 20 starts… Seventh on the team with nine points on three goals and three assists… Scored the game-winner against Akron to give the Cats a 2-1 win and their first outright MAC regular-season title… Assisted the game-winners against Northern Illinois and Buffalo… Named to the adidas/IU Credit Union Class All-Tournament team.
Pre-College – Played for FC Hameenlinna's first team from 1998-2000… Played in first division in 1998, second division in 1999 (scored 10 goals) and first division in 2000 (seven goals and six assists in 26 matches)… A regular starter for FC Hameenlinna the past two years… Named the 2000 Most Talented Player in the Tampere region… Attended Kaurialan Lukio High School.
Personal – Born Jan. 15, 1980, in Hameenlinna, Finland… Parents are Riitta and Veijo Lehtimaki… Enjoys many sports both as a spectator and an athlete… Also an avid reader… Undecided on a major.
Lehtimaki's Career Stats
Year
GP/GS
Shots
Goals
Assists
Points
2002
8/2
3
1
0
2
2001
21/20
22
3
3
9
Totals
29/22
25
4
3
11
Read more