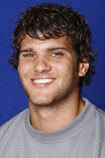 12
Matt

Weiler
height

5-11

class

Senior

High school

Lake Braddock
2006 Conference USA All-Tournament Team
2006
Played in 18 games, starting eight … Logged 983 total minutes and played every minute of three games … Named to the Conference USA All-Tournament Team after helping Kentucky to championship match … Did record a point from his defensive position … Ripped six shots with one making it on goal … Carded twice.
Pre-College
Played four years for coach Joe Soos … Helped team to Class 3A state finals as a freshman and won back-to-back district titles in following years … As a sophomore and junior, reached final four of Norther Region championships … Named the Virginia Gatorade Player of the Year and a Rivals All-American as a junior … Two-time first-team All-State and three-time Washington Post All-Met selection … Played club for RFC 87 and reached state finals in 2005 … Prior to that, served as captain of Team America Premier Titans club for five years … Went to USL Y-League Nationals with DC United U-17 squad … Also played football, earning second-team all-state honors as a senior … Member of the National Honor Society.
Personal
Full name is Matthew John Weiler … Parents are Christopher and Victoria Weiler … Has a younger brother, Nicholas (12), and a younger sister Katherine (17) … Father played wide receiver for the United States Naval Academy, where, as a senior, he won the Silver Helmet Award for team most valuable player … Father set a school record for single-season touchdown receptions … Born on Oct. 6, 1987 in Norfolk, Va.
Weiler's Career Stats
Year  GP-S  G  A  Pts  Sh  SOG  YC-RC  GW  PK-Att2006  18-8  0  0   0    6   1    2-0    0   0-0
Read more