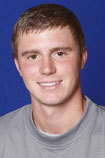 8
Jase

Griffiths
height

5-11

class

Senior

High school

Garth
2006
Played in 16 games while starting 15 … Logged 1324 total minutes and went the distance six times … Was third on the team in goals with four while ranking second in assists with six … Six assists is tied for ninth best in UK single-season history … Ranked fifth in Conferece USA in assists per game … Four of six assists went on Riley O'Neill goals … Scored a pair of game winners, including in the Conference USA Tournament semifinal win over Tulsa … Buried two goals and added an assist C-USA Tournament win over Golden Hurricane to record five points, which is tied for eighth best in school history … Had the game-winning goal and an assist in win at UNC-Asheville … First goal came on a penalty kick against Georgetown College … Assisted on game-winning goal in each of first two collegiate games … Earned three yellow cards and a red, that coming in the C-USA Championship against SMU.
Pre-College
Played for Beaconsville SYCOB FC in the English Southern Football League … Named the First Team MVP and the Youth Team MVP in 2004/05 as well as the Young Player of the Year … Led team to Minerva Spartan South Midlands League Premier Division championship in 2003/04, which ensured a promotion to the Southern Football League … Won the Berks & Bucks Senior Trophy in 2004 … Beaconsfield P.A.S.E. team finished as runner up for the National Cup in 2004 and was the league runner up in 2005 … Also played for Garth Hill School, winning four county and four district championships … Was one of top 16 teams in country in 2003.
Personal
Full name is Jason Robert Griffiths … Son of Ricky Griffiths and Karen Clark … Has one brother, Jake (13), and one sister, Lucie (20) … Born on March 22, 1987 in Berkshire, England.
Griffiths' Career Stats
Year   GP-S   G  A  Pts  Sh  SOG  YC-RC  GW  PK-Att2006   16-15  4  6   14  40   17   3-1    2   1-1
Read more