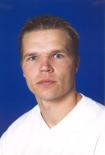 7
Ilkka

Jantti
height

6-0

class

Redshirt

High school

Salpausselan Lukio
Second-Team All-America
First-Team All-Great Lakes Region
Mid-American Conference Player of the Year
First-Team Academic All-America
Athletic
2001 – Second team All-America, first team All-Great Lakes Region, first team All-Mid-American Conference and MAC Player of the Year… Co-Captain started all 19 games in which he played to move into third all-time at UK… Finished career second all-time at UK with 80 games played… Led UK defensive corps that surrendered just 15 goals on the year to finish ninth in the nation with a 0.67 goals-against average… Tallied five goals on just 15 shots… Tied for second on the team with five assists and 15 points… Assisted game-winning goal in 2-1 victory over Akron for MAC regular-season title and scored gwg against Akron in MAC Tournament Championship game… Championship-winning goal earned him second College Soccer News Team of the Week honor and first from Soccer America… Named to MAC All-Tournament team… Scored game-winner in 3-0 win over Marshall… Tallied game-tying goal in 3-1 win over Buffalo… Scored goal in 56th minute to give UK a 1-0 lead at Bowling Green… In opening game against Butler, assisted on first goal and scored game-winner… Tallied an assist against No. 13 Ohio State and UNC Asheville… Named to College Soccer News Team of the Week for outstanding overall play against OSU and UNCA… At No. 4 Indiana, led the staunch UK defense which held the Hoosiers scoreless for 112 minutes while playing a man down for 75 minutes… Preseason second-team All-America selection by College Soccer News and honorable mention choice by collegesoccer.com.
2000 – Started all 20 games in which he appeared, leading the Cats to the second round of the NCAA Tournament for the first time in school history… Natural leader on the field who helped hold opponents to just 26 goals and 223 shots… Second on team in shots (31), goals (3) and points (8)… Scored game-winning goal in 79th minute in 3-2 triumph over IUPUI… Tallied an assist against Louisville and one on the game-winning goal at Buffalo… Named to the Ohio State Nike Classic All-Tournament team… Named to the All-MAC first team, the MAC All-Tournament team and the All-Great Lakes Region first team… Earned honorable mention All-America honors from collegesoccer.com.
1999 – Started all 20 games in which he appeared, helping lead team to its first NCAA Tournament appearance… Named first-team All-MAC and second-team All-Mid-East Region… Garnered All-Tournament honors at the Kentucky Invitational, after getting an assist in the opener against Navy and overall solid play… Also got an assist in 6-0 rout of Marshall.
1998 – Named MAC Newcomer of the Year… Played in all 21 games, starting 20… Selected second-team All-MAC and third-team All-Mid East Region… Assisted on the game-winner versus Miami… Found the net against Belmont and Western Michigan and registered assists versus Vanderbilt and South Alabama.
Academic
2001-02 – Named to MAC and SEC Academic Honor Rolls… Verizon Academic All-District IV first team and Academic All-America first team… Inducted into UK's prestigious Society of Character… President of UK's Student-Athlete Advisory Committee… National Soccer Coaches Association of America/adidas Scholar All-America first team… Member SEC At-Large Good Works Team… Recipient of NCAA Postgraduate scholarship.
2000-01 – Member of the MAC and SEC Academic Honor Rolls, while being named to the Verizon Academic All-District IV first team… Also earned PNC Bank Scholar-Athlete of the Week honors… Took 37 credit hours in 2000-01 while starting for the Cats, maintaining a 3.84 grade-point average including a 4.0 in the spring… Member of Athletics Director?s Honor Roll in the Spring 2001 semester.
1999 – Member of SEC and MAC Academic Honor Rolls.
Pre-College – Attended Salpausselan Lukio, the equivalent of a U.S. high school, in Lahti, Finland… Was a member of the Finnish Olympic Team… Played for the FC Lahti club team… Scored three goals in 58 games for Lahti in the Finnish Men?s National Division I… Placed third in the 1993 Finnish National Skills Competition.
Personal – Born Jan. 3, 1977… Son of Anne and Esa Jantti… Also plays badminton, table tennis and floor hockey… Was the first Finnish player at Kentucky… Has served a term of mandatory military service.
Jantti's Career Stats
Year
GP/GS
Shots
Goals
Assists
Points
2001
19/19
15
5
5
15
2000
20/20
31
3
2
8
1999
20/20
25
0
2
2
1998
21/20
17
2
3
7
Totals
80/79
88
10
12
32
Read more