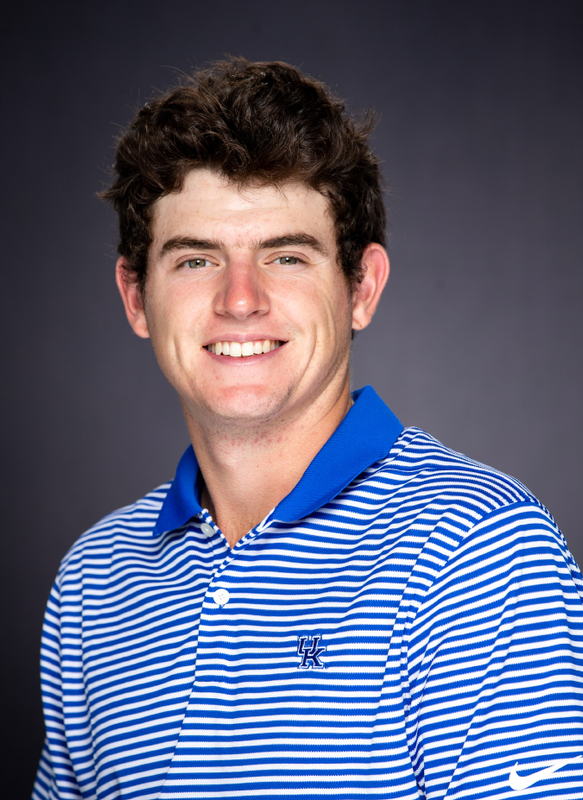 Zach

Norris
class

Redshirt Freshman

Hometown

McKee, Ky.

Major

Master of Science in Accounting

High school

Jackson County
SUMMER ACHIEVEMENTS
2021 Sixth at Lexington Men's City Championship (-5)
2021-22 (Senior): Made six appearances on the season and started five events … Registered a 74.50 stroke average and produced three par-or-better rounds … Went 3-1-0 in match play at the SEC Match Play Championship in the fall … It was the best mark on the team … Had a career-low round of 68 during the second round of the Old Town Collegiate Invitational … Logged a 212 tournament score at the event which marked the second-lowest of his career … Tied for 27th at the Island Resort Intercollegiate … Placed in a tie for 48th at Old Town … Tied for 47th at the Steelwood Collegiate Invitational … Earned a tie for 54th at the Lake Las Vegas Intercollegiate … Graduated with a master's degree in accounting in May.
2020-21 (Junior): Started five events for the Wildcats … Had a 74.73 stroke average … Produced his first career top-10 finish … Tied for sixth at the Kiawah Invitational … Finished the event at 8-under par with rounds of 71-68-69 … The 68 was a career-low round and his 208 score also was a career-best mark … Tied for 44th at the Jerry Pate National Intercollegiate in his first start of the season … Had four par-or-better rounds … Had 12 rounds account towards the team's score … Academic All-SEC selection … Graduated in May with a degree in finance and accounting.
2019-20 (Sophomore): Made five starts in his sophomore season … Earned a career-low 73.92 stroke average … Logged a trio of par-or-better rounds … Matched a career-low round of 70 three times … Tied for 21st at the Bearcat Invitational to help the Cats to a third-place finish … He shot 1-under par over the final two rounds … Earned a tie for 23rd during the team's final event at the Tiger Invitational … Had a 2-under par scorecard during the final round as UK moved into fourth place … Academic All-SEC … Early Wave Srixon/Cleveland Golf All-America Scholar.
2018-19 (Redshirt Freshman): Academic All-SEC selection … Appeared in seven events and made two starts in 2018-19 … Made his postseason debut when he appeared in the third and final round of the NCAA Athens Regional with a score of 75 to count towards UK's third-round score … Averaged a 74.26 stroke average with six par-or-better rounds and a pair of top-20 finishes … Tied for 12th to lead the way for the Wildcats in the starting lineup at the Seminole Invitational … Had a career-low 54-hole total of 214 and a career-low round of 70 in the third round … Also tied for 19th at the Steelwood Collegiate playing as an individual … Tied for 30th in his first career event at The Grove which included rounds of 70 (first) and 71 (third).
2017-18 (Freshman): Did not compete in any tournaments … All-SEC First Year Academic Team member.
High School: An all-state selection and one of the top-rated junior players in the country … Among the top-performing high school golfers in the nation … Garnered more than 10 top 10 finishes on the American Junior Golf Association tour … That includes five top-five individual finishes … He advanced to the 2014 US Open sectional qualifying as a freshman in high school … A two-time all-state performer in the state of Kentucky, with his highlight round coming in the form of a 64 at the Madison Central Invitational.
Personal: Son of Kendall and Elizabeth Norris … Born on March 29 … Graduated in May of 2021 with an undergraduate degree in finance and accounting … Pursuing a Master of Science in Accounting.
Norris' Career Stats
| | | | | | |
| --- | --- | --- | --- | --- | --- |
| Year | Tournaments | Rounds | Strokes | Average | Low Round |
|  2018-19 |  7 |  19 |  1,411 |  74.26 |  70 |
|  2019-20 |  5 |  13 |  961 |  73.92 |  70 |
|  2020-21 |  5 |  15 |  1,121 |  74.73 |  68 |
|  2021-22 |  6 |  18 |  1,341 |  74.50 |  68 |
|  Career |  23 |  65 |  4,834 |  74.37 |  68 |
Read more