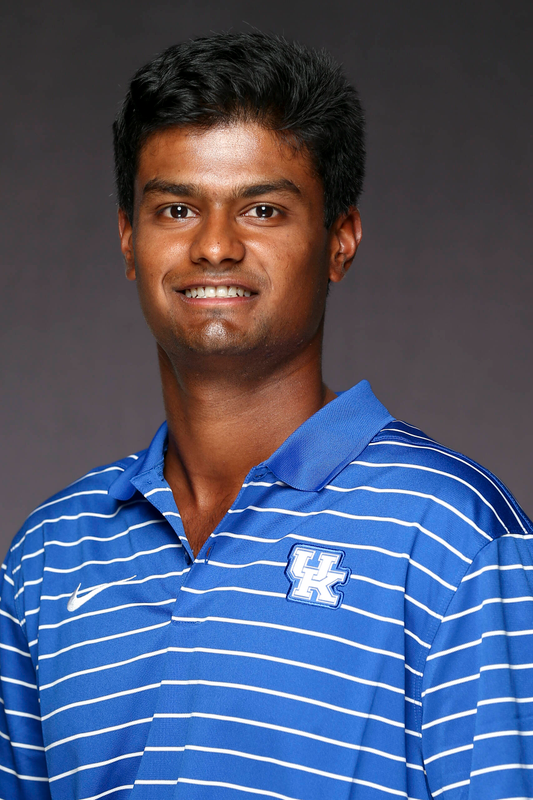 Dhaivat

Pandya
class

Graduate Student

Hometown

Dayton, Ohio

Previous School

University of Maryland

Major

Master's of Science in Finance
2022-23 (Graduate): Competed in 10 events, including one as an individual … Ranked fourth on the team with a 74.10 scoring average … Carded eight rounds of par-or-better and posted 17.5 team counted rounds … Tied his career best with two top 20 finishes … Opened the season with a tie for 16th at the Island Resort Intercollegiate, posting scores of 71-74-72 for a 1-over-par finish … Followed that up by going 73-69-71 to tie for 14th at even-par at the Bearcat Invitational … Earned a 37th-place finish in difficult conditions at the Hamptons Intercollegiate … Opened the spring with a tie for 36th at 6-over at the Battle at Briar's Creek … Used a 3-under 69 in the second round on his way to a tie for 40th at the Lake Las Vegas Intercollegiate … Carded a career-low 6-under 66 as an individual at the Hootie at Bulls Bay Intercollegiate … Bounced back from an opening-round 7-over 79 to go 69-70 over the final two rounds to tie for 45th at 5-over at the Lewis Chitengwa Memorial … Finished third in the Wildcat lineup, going 75-73-72 to tie for 58th at 10-over at the SEC Championship.
2021-22 (Senior at Maryland): Started each of Maryland's nine events as a senior … Totaled a career-low 73.85 scoring average … Also charted career bests with a 211 tournament score and a round of 67 … Tied for 11th at the VCU Shootout with rounds of 67-75-69 for a 211 (-5) result … Earned a tie for 25th at the Mountaineer Invitational after posting rounds of 70 and 71 to close out the week … Best finish of the season was a tie for third at the BIG 10 Championship … Totaled rounds of 72-74-71 to lead the Terrapins … Shot 1-over par for the week.
2020-21 (Junior at Maryland): Saw action in six events during his junior campaign, including making his first career postseason appearance at the BIG 10 Championship … Earned a third-place finish at the ECU Intercollegiate with a 2-under scorecard and a season-low round of 69 … Tied for eighth at the Tar Heel Intercollegiate with a career-best 212 (-4) score … Finished the season with a 75.44 scoring average.
2019-20 (Sophomore at Maryland): Tied for 53rd at the VCU Invitational with a 7-over score in his debut with the Terrapins … COVID-19 pandemic cut the season short.
2018-19 (Freshman at East Tennessee State): Saw action in six events … Had a low round of 70 … Best finish was a tie for 41st in his collegiate debut at the Rod Myers Invitational.
High School: Four-year letterwinner at Centerville High School in Dayton … Finished in fifth in the state in both his sophomore and junior seasons … Totaled the lowest scoring average at Centerville High School and broke the nine-hole scoring record (36.1) … Team MVP … Named the GWOC East Division Player of the Year … Earned medalist honors at the 2018 Kiely Cup and 2017 Findlay Invitational … Won the 2015 Golfweek Jr. Tour event at Dayton Country Club … Also competed in soccer … Earned the Congressional Gold Medal Award.
Personal: Son of Mehul and Megha Pandya … Has one sibling, Meha … Born on Dec. 10 … Pursuing a master's of science in finance … Chose Kentucky because it best aligned with his goals from an athletic and academic standpoint … Course record holder at the NCR Country Club with a round of 60 … Placed second the 2021 Ohio Amateur … 2020 and 2021 Miami Valley Invitational champion.
Pandya's Career Stats
| | | | | | |
| --- | --- | --- | --- | --- | --- |
| Year | Events | Rounds | Strokes | Average | Low Round |
| 2018-19 | 6 | 18 | 1,347 | 74.83 | 70 |
| 2019-20 | 1 | 3 | 223 | 74.33 | 68 |
| 2020-21 | 6 | 18 | 1,358 | 75.44 | 69 |
| 2021-22 | 9 | 27 | 1,994 | 73.85 | 67 |
| 2022-23 | 10 | 30 | 2,223 | 74.10 | 66 |
| Career | 32 | 96 | 7,145 | 74.43 | 66 |
Read more