UK Athletics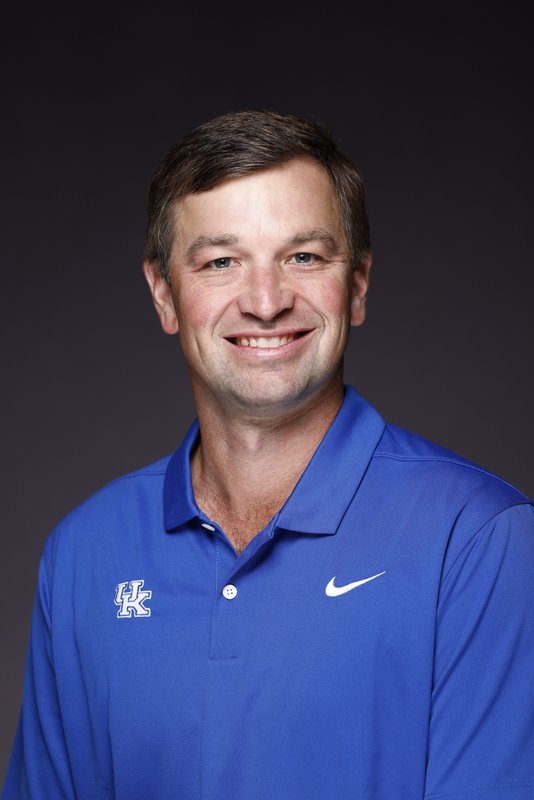 Gator Todd enters his first season as head coach of the Kentucky men's golf team in 2023-24. The former professional golfer comes to Lexington from Vanderbilt, where he spent six seasons, most recently as associate head coach.
"We're certainly excited to have Gator, Mary Katherine and Sylvie join our UK family," Kentucky director of athletics Mitch Barnhart said. "Gator has been impressive in many ways through the evaluation process. He has a championship pedigree as a player at Alabama and experience as a professional golfer. He's had incredible success working with Coach (Scott) Limbaugh, including a season still in progress, and has been relentless on the recruiting trail. His combination of outstanding playing and coaching career, along with his intense desire to make his home here and put UK in the national golf conversation, are a great recipe for the foundation and future of Kentucky golf."
Working alongside head coach Scott Limbaugh, Todd helped lead VU to four top-10 finishes at the NCAA Championships, the first two NCAA Regional championships in school history and two Southeastern Conference crowns.
During Todd's time in Nashville, the Commodores accumulated 22 regular-season and postseason tournament titles. VU totaled 18 All-Americans – including six first-team honorees – 24 All-Region selections, four SEC Players of the Year and 18 first- and second-team All-SEC choices.
"First, I'd like to thank Mitch Barnhart for believing in me and my vision for Kentucky men's golf," Todd said. "This is a dream scenario for my family and me, we could not be more excited to plant our roots in Lexington.
"I believe in this state and I believe in Kentucky golf. There is so much talent here and I believe we can build something special. I can't wait to get to work. Go Cats!"
The 2022-23 Commodores won six team titles while advancing to the NCAA Championships for the ninth-consecutive season. Four Commodores earned Division I PING All-America honors, headlined by first-team selection and Ben Hogan Award finalist Gordon Sargent, who was the fourth different SEC Player of the Year Todd coached. Sargent would go on to become the top-ranked amateur in the world while the Commodores finished the season ranked No. 1 nationally.
The 2021-2022 season, Todd's fifth in Nashville, was the best campaign in VU history. Todd helped lead the Commodores to a No. 2 end-of-season national ranking as Vandy won the stroke-play portion of the NCAA Championships, earning the No. 1 seed, and advanced to the semifinals in match play. Sargent won the NCAA individual title and was named national freshman of the year.
Todd, selected as a Golf Coaches Association of America representative for assistant coaches, was named a finalist for the 2022 Jan Strickland Outstanding Assistant Coach Award. The Commodores went 133-2 during the spring portion of the '22 schedule, marking one of the best runs in college golf history.
Todd also helped Vanderbilt win a second straight SEC Championship. The Commodores won the stroke-play portion of the event to earn the No. 1 seed, then defeated Mississippi State, LSU and Florida, respectively, all by a 3-2 score, in match play. Sargent was named SEC Freshman of the Year and Todd assisted Limbaugh to his fourth SEC Coach of the Year honor.
Todd coached four All-Americans, including first-team selections Sargent and Cole Sherwood. Sargent and Sherwood were also Haskins Award finalists and selected to represent the United States on the 2022 Palmer Cup team.
During the 2020-2021 season, Todd helped guide Vanderbilt to the program's second SEC Championship after beating Tennessee 4-1, Alabama 4-1 and Arkansas 3-2, respectively, in match play. He then helped lead VU to its first-ever NCAA Regional title.
The Commodores advanced to the Elite Eight at the national championship for the fifth time in a six-year span. Vanderbilt ended the season ranked seventh nationally. William Moll was selected to the United States Palmer Cup and was second team All-America.
During the 2019-2020 season, Todd helped steer Vanderbilt to two team titles and a No. 9 national ranking. Although the season was cut short because of the COVID-19 pandemic, Todd coached two All-Americans and his third straight SEC Player of the Year in John Augenstein. Augenstein was tabbed first-team All-America while being named to the United States Walker Cup and Palmer Cup teams.
During the 2018-2019 season, Todd helped lead Vanderbilt to an end-of-season No. 2 national ranking as the Commodores advanced to the semifinals of the national championship after finishing second in the stroke-play portion of the event. Todd coached three All-Americans, including first-team selection and SEC Player of the Year Will Gordon. Todd assisted Limbaugh in becoming SEC Coach of the Year while Limbaugh also was named Palmer Cup captain for the United States team. VU was represented by All-Americans Gordon, Augenstein and Patrick Martin in the Palmer Cup.
Todd helped guide Vanderbilt to four team titles and a No. 4 end-of-year national ranking during his first season in Nashville, 2017-18. VU had four All-Americans, including a first-team selection and SEC Player of the Year, Theo Humphrey. The Commodores advanced to the national championship and finished ninth in the stroke-play portion, missing match play by a single stroke.
In 2021 Todd helped sign the nation's No. 1 recruiting class as Vandy added Gordon Sargent and Jackson Van Paris. Sargent entered college as the No. 1 junior in the World Amateur Golf Rankings as well as being tabbed National Player of the Year by USA Today.
Todd came to Vanderbilt after spending one season at Marquette. Marquette won the 2017 Big East title and, along with head coach Steve Bailey, Todd was part of the Coaching Staff of the Year. Todd coached All-Big East players Oliver Farrell and Matt Murlick as well as Big East Freshman of the Year Matthew Bachmann. Marquette advanced to its third NCAA Regional appearance in program history.
From 2010-2015, Todd competed in more than 75 professional events in the United States, Europe and South America. He earned 17 top-10 finishes during that time on the NGA and EGOLF Tours. In 2011 Todd advanced to the final stage of PGA Qualifying school after finishing tied for second at the second stage of PGA Tour Q School. He went on to earn conditional status on the Nationwide Tour for the 2012 season.
While competing as a professional, Todd was based and experienced high-level instruction at The Sea Island Golf Performance Center in St. Simons Island, Georgia, under world renowned and PGA winning instructors Todd Anderson and Randy Myers. The GPC was used by multiple major champions and Ryder Cup players such as Davis Love III, Lucas Glover, Zach Johnson, Brandt Snedeker and Harris English.
Todd played college golf at the University of Alabama under head coach Jay Seawell from 2004-08. Todd was a first-team All-SEC selection while notching 14 top-10 finishes in 44 tournaments, highlighted by a career-low round of 64. Todd played in three NCAA Championships and, in his senior season, the Tide won the 2008 SEC Championship for the first time in more than 30 years and earned the program's first-ever season-ending No. 1 national ranking.
Todd is a native of Florence, Alabama, where he won the Alabama high school individual championship and was tabbed a junior golf All-American at Coffee High School. His father, Richard Todd, was a national champion quarterback at Alabama and was the sixth overall pick by the New York Jets and first quarterback taken in the 1976 NFL Draft.
Todd is married to the former Mary Katherine Lake of Tuscaloosa, Alabama, and they have a daughter, Sylvie.
Read more