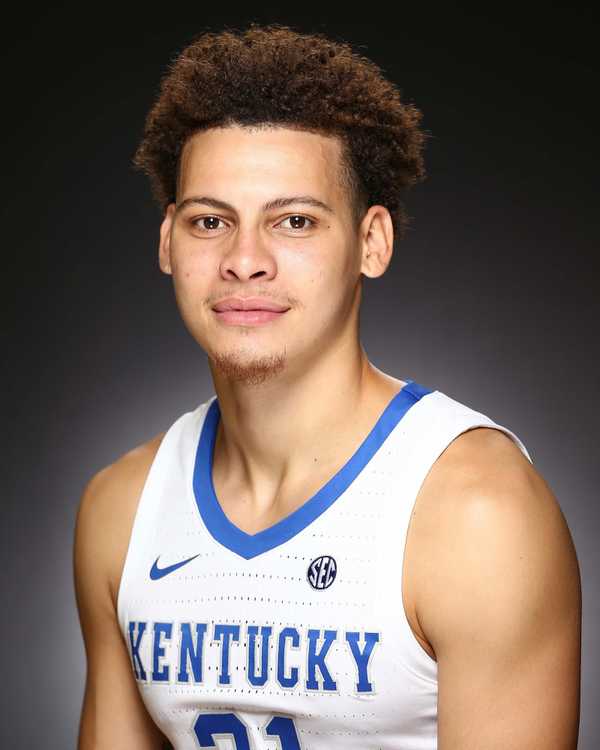 31
Kellan

Grady
position

Guard

height

6-5

Weight

205

class

Graduate Student

Hometown

Boston

Previous School

Davidson College

High school

Northfield Mount Hermon School
2021-22
Graduate: Finished his collegiate career ranked No. 111 in all-time scoring at the collegiate level with 2,389 career points … Started all 34 games for the Wildcats … Averaged 11.4 points, 2.1 rebounds and 1.3 assists per game … Drained a team-high 88 3-pointers which ranked eighth all-time in a single-season in UK history … Led the SEC and ranked 15th nationally with a career-best 41.7 3-point field-goal percentage … Made three or more 3s in 15 games … Had 17 double-figure scoring games and finished with 113 for his collegiate career … Paced UK in scoring five times … Had six games with three or more assists … Averaged 11.7 points and made 2.5 3-pointers in regular-season SEC action … Had eight points and four assists in the NCAA Tournament against Saint Peter's … Logged eight points and had two 3-pointers in the SEC Tournament quarterfinals vs. Vanderbilt … Scored 11 points and added three assists at Florida … Tallied 13 points with three rebounds and three assists in 40 minutes against LSU as lead guard … Had a season-high 25 points with a career-high-matching seven 3-pointers in the home win over Alabama … Tallied 15 points with four 3s at home vs. Florida … Made four 3-pointers at Kansas … Scored 18 points with four 3-pointers in the overtime win over Mississippi State, playing a season-high 43 minutes … Had 17 points and made four 3s at Auburn … Had 16 points and four 3s in the historic home win over Tennessee … Tallied 23 points and a career-high-tying seven 3-pointers at home against High Point … Logged 18 points with a season-high six boards against North Carolina … Logged 14 points against Albany … Had 19 points with four 3s in his home debut against Robert Morris … Tallied nine points against Duke in the Champions Classic.
2020-21 (at Davidson)
Senior: Became the sixth player in program history to score 2,000 or more points in his final game as a Wildcat … Named an All-Atlantic 10 First Team performer … Averaged 17.1 points, 4.6 rebounds and 2.4 assists per game while starting in all 22 games … Scored in double figures in 19 games and made three or more 3s in 11 outings … Recorded 32 points and six boards against George Mason … Dished out a season-high-tying five assists to go along with 18 points at St. Bonaventure … Logged three straight games with 20 or more points against Fordham (24), UMass (22) and Southern Virginia (25) … In the game vs. Southern Virginia, tied his career high with seven 3-pointers … Also set his season high with five assists in the game vs. UMass … Tied his season high with seven rebounds vs. Fordham … Scored 27 points with five 3s against Dayton … Had 23 points and a season-high-tying seven boards vs. Charlotte … Opened the season with 20 points, six rebounds and four assists vs. High Point.
2019-20 (at Davidson)
Junior: Named to the All-Atlantic 10 Second Team … Averaged 17.2 points per game, which ranked fifth in the league … Scored in double figures in a team-high 25 games … Averaged 18.0 points per game against league foes … Sunk three or more 3s in 11 games … Over his final 11 games, averaged 20.6 points per game while shooting 51.7% from the floor … Made 25 of 51 (49.0%) from long range during that stretch …  Scored 20 or more points in five straight games during that run … Averaged 3.5 assists per game over the final eight games … Logged 27 points at VCU … Finished with 19 points and six boards at UMass … Matched his season-high with 28 points in a quadruple overtime game at George Washington … Logged 18 points and seven rebounds vs. Saint Louis … Back-to-back games of seven rebounds vs. Coppin State and at Northeastern … Recorded his first-career double-double with 28 points and 10 rebounds against Marquette … Totaled 24 points, six assists and a career-high four steals in a win over Nevada.
2018-19 (at Davidson)
Sophomore: Selected to the All-Atlantic 10 First Team … National Association of Basketball Coaches All-District Team honoree … Three-time Atlantic 10 Player of the Week … Ranked third in the league with 17.3 points per game … Topped double digits in 22 games, including 13 20-point efforts … Sunk five or more 3s in five outings … Capped the season with a season-high 31 points to go along with seven rebounds and four assists against Lipscomb in the NIT … Totaled 23 points with five 3s at home against St. Bonaventure … Had 25 and six boards points vs. Fordham … Totaled 28 points and made 10 at the charity stripe at Fordham … Scored 29 points with five treys at St. Bonaventure … Scored 20 or more points in four straight against Northeastern (30), Charlotte (25), UNC Wilmington (25) and Winthrop (20) … Opened the season with back-to-back games of 20 or more points with 24 against Cleveland State and 23 against Dartmouth.
2017-18 (at Davidson)
Freshman: Named the Atlantic 10 Rookie of the Year … Also was tabbed an All-Atlantic 10 Second Team performer and was named to the Atlantic 10 All-Rookie Team … Made the Atlantic 10 All-Tournament Team … Five-time Atlantic 10 Rookie of the Week honors … Started in 32 of the 33 contests he appeared … Just the second freshman in school history to begin his career with consecutive 20-point outings (John Gerdy) … Second on the team and led the Atlantic 10 for freshmen with 18.0 points per game … Shot 50.1% from the field and 37.2% from long range … Hit 73 3-pointers … Scored in double figures in 29 games and topped 20 points in 11 games … Drained at least four 3s in eight games …Had a career-high 39 points in Davidson's triple-overtime win at St. Bonaventure … Hit a school-record 16 of 16 free throws against the Bonnies while playing 53 of the 55 minutes … Scored 30 points at Duquesne … 28 points and five rebounds at home vs. Fordham … Totaled 23 points and a season-high eight rebounds at George Washington … Posted 26 points and six boards vs. La Salle … 25 points with four made 3-pointers at Richmond … Had 30 points on 12-of-19 shooting and five 3s against Akron in the Diamond Head Classic in Hawai'i … Debuted in college with back-to-back 20 point games vs. Charleston Southern (23) and UNC Wilmington (24).
HIGH SCHOOL
Earned All-New England Preparatory School Athletic Council First Team honors as a senior at Northfield Mount Hermon in Gill, Massachusetts … Also captured All-State First Team, ESPN Boston All-State First Team, Boston Globe All-Scholastic and Boston Herald Dream Team accolades … Named a Catholic Conference All-Star and NEPSAC Class AAA Honorable Mention as a junior … Was also a Catholic Conference All-Star in 2014 … Helped his squad win the 2015 Massachusetts Division I state title and the 2016 New England Championship. 
PERSONAL
Born Sept. 11 in Barnstable, Massachusetts … Earned a degree in sociology at Davidson … Pursuing an undergraduate certificate in business and economics at UK … Parents are Rob and Danielle Grady … Has two siblings, Liam and Kayla … Launched CARE (College Athletes for Respect and Equality), a social justice initiative aimed at raising awareness about racial injustice and to promote and create change in equality … Grandmother is Sophia Theresa Williams-de Bruyn, a former South African anti-apartheid activist .. She was the first recipient of the Women's Award for exceptional national service and is the last living leader of the Women's March … Father, Rob, competed in track and field at Bucknell and American … Chose No. 31 because his father wore it playing basketball in high school … Lists his most prized possession as his Atlantic 10 Rookie of the Year trophy … Stephen Curry has most influenced his life and is his favorite player … When he's not on the court, he's hanging with his friends or watching his favorite TV shows … Chose Kentucky over Virginia, Duke and North Carolina.
Read more