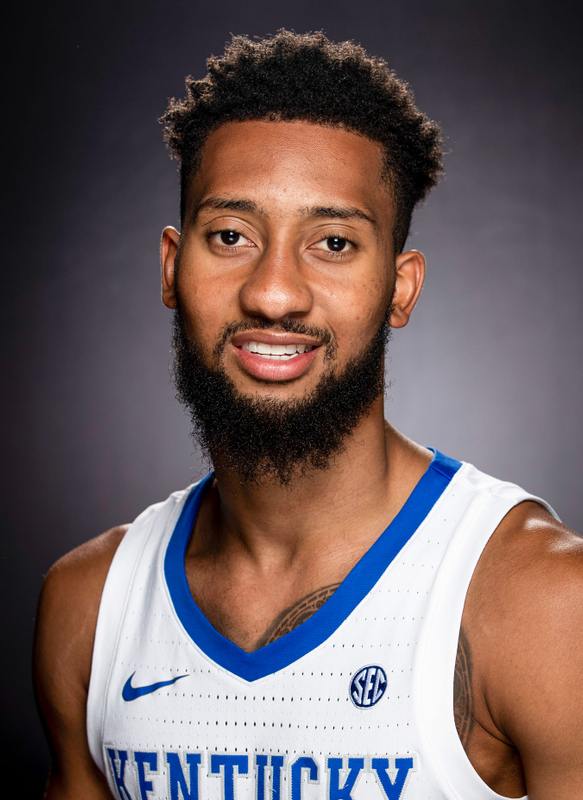 10
Davion

Mintz
position

Guard

height

6-3

Weight

196

class

Graduate Student

Hometown

Charlotte, N.C.

Previous School

Creighton

High school

North Mecklenburg
2021-22 
Graduate: CoSIDA Academic All-District Team honoree and the first UK player to achieve the honor since 2016 … Saw action in 31 games and made six starts … Missed three games due to illness … Averaged 8.5 points, 2.2 rebounds and 1.8 assists per game in a sixth-man role … Ranked second on the team with 44 3-pointers … Became a 1,000-point collegiate scorer at LSU … Tallied 14 double-figure scoring efforts … Had seven games with three or more 3-pointers … Averaged 9.9 points per game during regular-season SEC action … Had eight points in the NCAA Tournament against Saint Peter's … Scored 10 points and dished out a season-high five assists in the SEC Tournament semifinals loss to Tennessee … Tallied 10 points and added three rebounds in the SEC Tournament quarterfinals against Vanderbilt … Logged 13 points and added a pair of steals in the win over LSU at home … Notched 11 points in back-to-back games against Tennessee and Florida … Scored 10 points at South Carolina … Had a career-high-tying 21 points with four 3-pointers in the home win over Vanderbilt … Scored 10 points and had a season-high eight rebounds in the come-from-behind win at Texas A&M … Posted 10 points in the home victory over Tennessee … Had 19 points and a season-high five 3-pointers against Georgia … Scored 16 points at LSU … Had 10 points against High Point … Contributed 12 points and a season-high-tying eight boards in the home win over Ohio … Logged 13 points behind four 3-pointers in the home opener against Robert Morris.
2020-21 
Graduate: Southeastern Conference First-Year Academic Honor Roll member … Declared for the 2021 NBA Draft but decided to return to school and take advantage of the COVID-19 extra season of eligibility, his sixth year in college … One of 30 candidates for the Senior CLASS Award, which recognizes student-athletes who display excellence in the community, in the classroom, with their character and in competition … One of three team captains … Added valuable leadership both on and off the court on a young and inexperienced team … Led the team in scoring with 11.5 points per game … Led the Wildcats in scoring a team-high nine times … Tied for the team lead with 17 double-figure scoring games … Led UK with 56 3-pointers on 37.8% shooting, including 29 of 64 over the last eight games … Finished with 77 assists, the top mark on the team … Emerged as Kentucky's top scoring threat and go-to option late in games over the second half of the season … Team-high-tying two games with 20 or more points … Finished strong to close the season, averaging 16.7 points over the last six games with 24 combined 3-pointers on 47.1% shooting … Hit multiple 3-pointers in 11 of the last 12 games … Moving to the primary point guard spot for the last three games, dished out a combined 23 assists, the best three-game stretch of his career … Posted 16 points on 6-of-10 shooting with four 3-pointers and a career-high-tying eight assists in the SEC Tournament loss to Mississippi State … Ended the regular season with 20 points in 28 minutes vs. South Carolina, making 7 of 13 from the floor and setting a career high with six 3-pointers on 11 attempts … Made five 3-pointers in less than a three-and-a-half minute span early in the second half vs. South Carolina to break the game open … Also dished out seven assists vs. South Carolina … Tied a career high and set a season high with eight assists at Ole Miss in his first game as the primary point guard … Scored a season high and career-high-tying 21 points vs. Florida at home on 7-of-14 shooting to go along with a season-high three steals … Fueled by five 3-pointers, totaled 15 points in the upset win at No. 19/20 Tennessee … Recorded 18 points with four 3-pointers in addition to five boards at Vanderbilt … Hit a crucial 3-pointer with 33 seconds to go to break a 77-77 tie in the 82-80 home win vs. Auburn … Made three treys and scored 11 points in the loss vs. Arkansas, nearly winning the game with a go-ahead 3-pointer in the game's final seconds … Totaled 18 points on 6-of-12 shooting with four 3-pointers in the narrow loss at No. 18/17 Missouri … Solid all-around game at No. 9/8 Alabama with 12 points, five rebounds and four assists … Played a key part in the runaway victory at Florida with 13 points four assists and two steals … Scored 11 points and hit the game-winning 3-pointer with 47 seconds left in the home victory vs. Vanderbilt … Nearly willed Kentucky to a victory at rival Louisville with 19 points on 6-of-12 shooting, including four 3-pointers … Also grabbed seven rebounds and recorded two steals vs. the Cardinals … Making 6 of 11 shots, including three treys, scored 17 points in the loss vs. No. 22/21 North Carolina, plus grabbed a season-high eight rebounds … Dished out six assists vs. Georgia Tech … Scored 12 points in the narrow defeat vs. No. 7/5 Kansas … Began his UK career with 10 points and three assists in the rout of Morehead State, his first game since March 2019 at Creighton after missing the 2019-20 season with an injury.
2019-20 (at Creighton)
Senior: Redshirted for Creighton's Big East champion team that finished 24-7 after battling ankle injuries throughout the season … In a preseason exhibition tour in Australia, averaged 13.3 points with a team-high 13 assists.
2018-19 (at Creighton)
Junior: Started all 35 games in the backcourt, averaging 9.7 points, 3.0 assists and 3.0 rebounds in 28.8 minutes per game … Ranked second on the team with 40 steals, third with 60 free throws made and fourth with 43 3-pointers made … Developed a defensive stopper's mentality while splitting time between point guard and off-guard roles … Poured in a career-high 21 points and made 5 of 8 trifectas vs. No. 21 Marquette  … Opened his junior year with 10 points and five rebounds in a win over Western Illinois … Scored 12 points vs. Ohio State … Finished with seven points, five rebounds and four assists vs. Boise State … Secured seven rebounds and added three steals at Oklahoma … Contributed 15 points at No. 24 Nebraska … Dished a season-best six assists and scored 13 points in win vs. UMKC … Scored 16 points and added four rebounds and two steals at St. John's … Scored 17 points in road win at Georgetown, adding five rebounds, three assists and two steals … Had 14 points, six assists and six rebounds vs. Butler … Grabbed season-high eight rebounds and scored 19 points, including CU's first eight in overtime, while playing all 45 minutes at No. 14 Villanova … In that game against Villanova, he became the first Bluejay in the last 25 years to never leave the floor in an overtime game … Scored 16 points and added six rebounds and five assists vs. Seton Hall … Had 12 points in road win at DePaul … His six steals in win at No. 10 Marquette were the most by a Bluejay since 2008.
2017-18 (at Creighton)
Sophomore: Started all but one game at point guard … Averaged 6.1 points, 3.2 rebounds and a team-high 3.1 assists per game … Led the Big East and ranked 15th nationally in assist-to-turnover ratio … Also led the Big East in assist-to-turnover ratio in league play only … Helped CU to a win over UCLA with 10 points and career-high six rebounds … Scored 10 points at No. 23 Seton Hall, making 4 of 5 shots … Tied his season-high with 17 points at Georgetown, setting a personal best with four 3-point baskets … Had a season-high seven assists with six rebounds in win over No. 19 Seton Hall … Iced win at St. John's with two free throws with 13 seconds left in a 68-63 win … Owned seven assists with no turnovers at No. 1 Villanova … In 10 games vs. ranked teams, had 38 assists and only 10 turnovers … Finished with 10 points, six assists and career-high nine rebounds vs. Villanova … Recorded 14 points and six assists vs. Providence in the Big East Tournament … Posted 10 points, five rebounds and three assists in NCAA Tournament game vs. Kansas State in his hometown of Charlotte.
2016-17 (at Creighton)
Freshman: Started 12 of 29 appearances, averaging 3.3 points, 1.8 assists and 1.1 rebounds per game … Averaged 1.7 points in 5.8 minutes per game during Creighton's first 19 games before averaging 4.5 points in 17.4 minutes per game in CU's final 16 contests … In first game without injured teammate Maurice Watson Jr., had 17 points, eight assists and four rebounds off the bench vs. Marquette … Started 12 of the last 14 games … Only Creighton reserve under Greg McDermott with a game of at least 17 points and eight assists … Made first career start vs. DePaul, when he had four points, two assists and a rebound in an 83-66 victory, becoming Creighton's first freshman point guard to start since Isacc Miles on March 4, 2007 … Scored eight points in second half of win at No. 16 Butler, adding three assists … Recorded eight points, two assists and two rebounds in Big East Tournament debut vs. Providence.
HIGH SCHOOL
Four-year starter in high school who scored more than 1,000 career points … Named North Mecklenburg's Senior Male Athlete of the Year in 2015-16, as well as the Class of 2016 Student of the Year … Three-time MECKA 8 Conference All-League and Lake Norman Weekly All-Area Team pick … As a senior, named All-State First Team by the North Carolina Basketball Coaches Association … Also tabbed Player of the Year in his district, as well as the 2016 Huntersville Herald Weekly Boys basketball Player of the Year … Averaged 20.7 points, 6.9 assists, 5.4 rebounds and 1.9 steals per game as a senior as he helped his team to a 27-3 record … Recorded 41 points and eight assists in his final regular-season game vs. Mallard Creek … Topped that total a week later in a conference tournament semifinal when he scored 43 points and drained 10 three-pointers against Vance … Finished with 25 points, 11 assists and 10 rebounds in a win against Richmond Senior in the second round of the state playoffs … Led North Mecklenburg to a conference title as a junior, when he averaged 12.3 points, 4.2 rebounds and 2.8 assists per game … His junior year team finished 23-4 and was ranked No. 1 in the state after a 13-0 start … Averaged 9.3 points, 2.9 assists and 2.1 rebounds per game as a sophomore … Played quarterback on the junior varsity football team as a high school freshman … Earned honor-roll accolades in the classroom, where he was a member of the Top 100 Young Black High School Students of Charlotte and a North Carolina Boys State Delegate.
PERSONAL
Born June 30 in Gastonia, North Carolina … Pursuing a graduate degree in kinesiology and health promotion … Parents are Sean and Sandy Mintz … Has three siblings, Da'Sean, Damare and Danali … Godfather is NFL legend Randy Moss … Chose his jersey number because it means complete and is one of his favorite numbers … Favorite movies are Home Alone and Home Alone 2: Lost in New York … Listens to Eric Thomas, a hip-hop motivational preacher, R&B and gospel before games … His most prized possession are his dogs … Hidden talent is the ability to solve the Rubik's Cube.
Read more