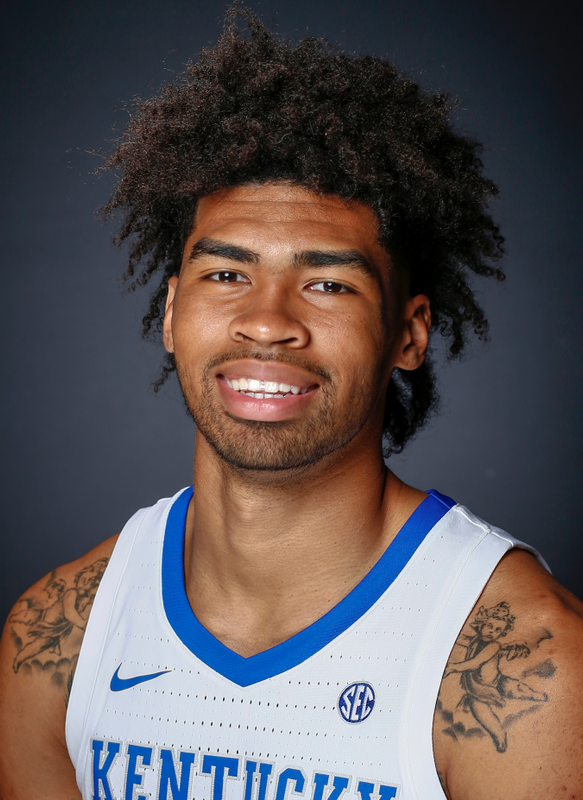 4
Nick

Richards
position

Forward

height

6-11

Weight

247

class

Junior

Hometown

Kingston, Jamaica

High school

The Patrick School
Follow @iamnickrichards on Twitter | Follow @nickrichards_ on Instagram | Follow @nicholas.p.richards on Facebook
2019-20
Junior: Selected 42nd overall by the New Orleans Pelicans (and then traded to the Charlotte Hornets) in the 2020 NBA Draft … Enjoyed a breakout junior campaign in which he set all sorts of personal bests and became one of the most best big men in the country … Selected to the All-Southeastern Conference First Team by both the league's coaches and the Associated Press … Was also tabbed an All-SEC Defensive Team member by the coaches … Named to the National Association of Basketball Coaches All-District 20 Team and the United States Basketball Writers Association All-District IV Team … USBWA Oscar Robertson National Player of the Week and SEC Co-Player of the Week following the Louisville … NCAA March Madness National Player of the Week and the SEC Co-Player of the Week following the win at Texas Tech … Logged career bests in a number of major categories, including points per game (14.0), rebounds per game (7.8), blocks per game (2.1) and field-goal percentage (.644) … Led the team in rebounds, blocks and field-goal percentage … His field-goal percentage topped the SEC and ranked fourth nationally … Averaged 14.8 points, 7.8 rebounds and 2.0 blocks per game in SEC play … UK was 22-2 when he scored in double figures and 10-0 when he grabbed double-digit boards … Had a career-high 10 double-doubles after recording one during his previous two seasons … Recorded a team-high 67 dunks … Scored in double figures in 24 games and led the team in scoring on eight occasions … Registered double-digit boards 10 times and was the team leader in that category in 15 games … His 66 blocked shots ranked 15th in program history in a single season and he had 11 games with three or more rejections … Led the team 19 times in blocks … Played a central role in the 18-point comeback at Florida with 17 second-half points … Finished the game in Gainesville, Florida, with 19 points and seven rebounds … Had 14 points on 5-of-5 shooting in helping UK clinch the SEC regular-season crown in the win over No. 15/15 Auburn … Game-changer with six blocks to go along with 13 points and six rebounds at LSU … Recorded 15 points on 5 of 5 from the field and added seven boards at Tennessee … Registered a double-double, his 10th of the season, with a career-high 27 points and 11 rebounds vs. Mississippi State, including a career-best 13-of-15 performance at the free-throw line … Scored 25 of his 27 points after intermission in the game vs. MSU, the most in a half by a player in the John Calipari era … Dominant in the win at No. 18/18 Texas Teach with 25 points to go along with 14 rebounds and four blocks … Only the second player in the Calipari era (Anthony Davis) to log his stat line at Texas Tech … Charted 20 points, eight rebounds, three blocks and was a perfect 8 for 8 from the free-throw line in the home win over Georgia … Had 17 points and nine rebounds at Arkansas … Tallied 13 points, 11 rebounds and five rejections in vs. Alabama … Logged 21 points and 12 rebounds to go with four swats against Missouri … Tallied 13 points and 10 boards against No. 3/4 Louisville … Scored seven straight points in overtime and took two key charges late – all with four fouls – over the final eight minutes and into overtime in the win … Had 12 points and 10 boards against Fairleigh Dickinson … Totaled 10 points, 13 rebounds and a career-high seven blocks against Lamar, the most blocks by a UK player since Karl-Anthony Towns in 2014-15 … Scored 21 points and added 10 rebounds vs. Utah Valley … Boasted 21 points, 10 rebounds and four blocks in the home opener against Eastern Kentucky … Returned from a sprained ankle he suffered during the exhibition slate to contribute seven points and four rebounds in 25 minutes in the win over No. 1/1 Michigan State in Madison Square Garden.
2018-19
Sophomore: Declared for the NBA Draft but elected to return to school for his junior season … Appeared in all 37 games in 2018-19 with 147 points, 123 rebounds and a career-high 47 blocks … His 47 blocks led the team … Led UK in blocks in a team-high 16 games … Posted two double-figure scoring games and two double-figure rebounding games … Filling in admirably without the injured PJ Washington, scored eight points and grabbed four rebounds in 17 minutes vs. Abilene Christian in the first round of the NCAA Tournament … Posted six points and four rebounds in the Southeastern Conference Tournament semifinals vs. No. 8/8 Tennessee … Recorded nine points in the SEC Tournament opener vs. Alabama … Blocked three shots in three of the five games Reid Travis missed due to injury from Feb. 23 to March 9 …. Scored eight points, grabbed seven rebounds and blocked three shots in his third start of the season at No. 7/7 Tennessee … Put together one of the best games of his career with seven points, 15 rebounds and three blocked shots in the win vs. Arkansas … Scored seven points with four rebounds at Missouri … Recorded a season-high 14 points on 4-of-5 shooting in addition to four blocked shots in the win at Vanderbilt … Swatted a career-high five shots in nine minutes in the win vs. No. 9/10 Kansas … Productive 10 minutes in the home victory vs. No. 22/22 Mississippi State with eight points and six rebounds … Posted four points, seven rebounds and three blocks at Georgia … Had six points and three blocks in nine minutes in the victory against Monmouth … Made back-to-back starts vs. Tennessee State and Monmouth … Scored 10 points on a perfect 4-of-4 day from the floor … Monster game vs. Southern Illinois with eight points, a career-high 19 rebounds and three blocks in a career-high 27 minutes … The 19 rebounds were the most by a UK player since Michael Kidd-Gilchrist hauled in 19 vs. Louisville on Dec. 31, 2011 … The 19 rebounds also matched SIU's team total.
Bahamas:  Averaged 12.0 points, 4.8 rebounds and 1.5 blocks per game in four wins … Scored 10 or more in three of the four games … Best efforts included 19 points vs. the Bahamas national team and 15 points, nine boards, two assists and two blocks against Mega Bemax … Shot 80.0 percent from the floor and 84.2 percent from the foul line.
2017-18
Freshman: Started all 37 games for the Wildcats in his freshman season … Averaged 5.1 points, 4.4 rebounds and 0.9 blocks per game … Scored in double figures in seven games, including a career-high 25-point effort vs. Fort Wayne … Led the team in rebounding in eight games and in blocks on 12 occasions … Finished the season ranking second on the team in total blocks (33) and fourth in rebounds (163) … Had 10 points, four rebounds and a block in a win over Alabama that jump started a four-game winning streak for Kentucky late in the season … Hauled in eight boards and added five points in the home game vs. No. 15/14 Tennessee … Scored 10 points with six rebounds and a pair of blocks in the overtime thriller against Vanderbilt … Secured nine boards, while adding eight points and two blocks in the home game vs. Florida … Poured in 12 points with four boards at South Carolina … Had nine points and eight rebounds at No. 23/22 Tennessee … Tallied eight points and corralled six rebounds vs. UCLA … Narrowly missed on a double-double with 10 points and eight rebounds vs. Monmouth in Madison Square Garden … Scored 11 points and swatted three shots in the win over Harvard … Had his first career double-double with career highs in points (25) and rebounds (15) in a win over Fort Wayne … His 15 rebounds tied for the most by a Wildcat in 2017-18 … Totaled eight points and eight rebounds in a win over Troy … Snared nine boards vs. No. 4/3 Kansas in the Champions Classic … Debuted with 10 points, three boards and three blocks in a win over Utah Valley.
High School
Ranked in the top 20 by the major recruiting services, including 247Sports (No. 15), ESPN (No. 17), Rivals (No. 17) and Scout (No. 17) … 247Sports tabbed him as the second-best center in the class … Was a consensus five-star prospect …  Joined fellow UK players Karl-Anthony Towns and Isaiah Briscoe as other high school stars to lead their teams to the New Jersey Tournament of Champions when he led The Patrick School to a 64-45 win as a senior … Scored 24 points and had 12 rebounds in the win … Second UK player from the Patrick School to play for the Cats, joining Michael Kidd-Gilchrist as the other … The 2017 winner of the Mr. New Jersey Basketball honor … Participated in the McDonald's All American Game, the Jordan Brand Classic, Nike Hoop Summit and the Elite 24.
Personal
Born Nov. 29 in Kingston, Jamaica … Major is community leadership and development … His mom is Marion Tenn … Has one sibling, Sharique … A soccer enthusiast who lists Cristiano Ronaldo as his all-time favorite athlete … His mother has influenced his life the most … A talent he most wishes he had is the ability to draw well … Chose Kentucky over Arizona, Connecticut and St. John's.
Read more