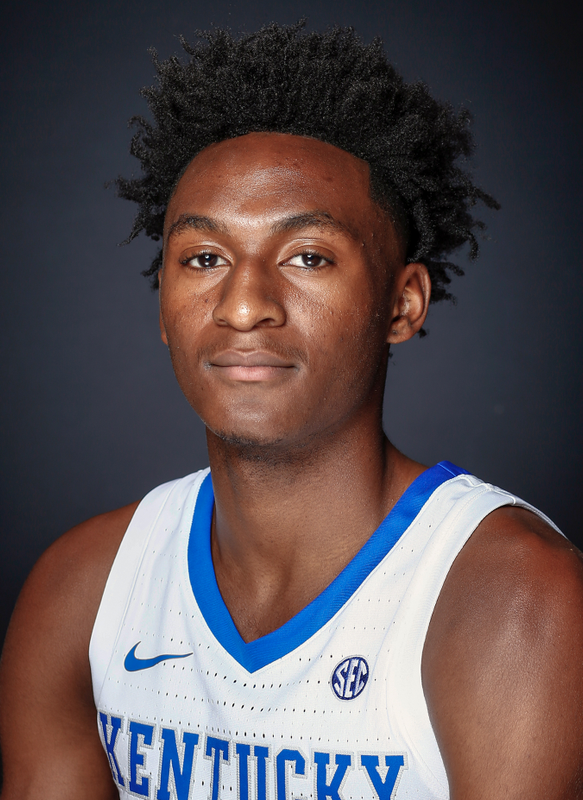 5
Immanuel

Quickley
position

Guard

height

6-3

Weight

188

class

Sophomore

Hometown

Havre de Grace, Md.

High school

The John Carroll School
Follow @IQ_GodSon on Twitter | Follow @immanuelquickley__on Instagram | Follow @immanuelquickley5 on Facebook
2019-20
Sophomore: Selected 25th overall by the Oklahoma City Thunder (and then traded to the New York Knicks) in the 2020 NBA Draft … Member of UK's Student-Athlete Advisory Committee … Breakthrough season that saw him evolve from a key reserve to one of the best scorers in the country … Named Southeastern Conference Player of the Year by the league's coaches and All-SEC First Team … Tabbed an All-American by The Athletic, CBS Sports and Bleacher Report, all of which awarded him third-team honors … U.S. Basketball Writers Association District IV Player of the Year and USBWA All-District IV Team … Selected for the National Association of Basketball Coaches All-District 20 Second Team … Three-time SEC Player of the Week and the first Wildcat in school history to win in back-to-back weeks … Improved in every major statistical category in his sophomore season … Led the SEC regular-season champions in scoring (16.1 points per game), 3-pointers (62) and 3-point shooting (42.8%) … As Kentucky won 17 of 20 games to close the season, became the team's go-to player with countless 3-pointers and free throws in some of the season's biggest moments, especially late in games … Scored in double figures in 20 straight games to end the season, the best stretch by a Wildcat since Malik Monk's 30 consecutive games in 2016-17, totaling 20 or more points in six of the last 13 games … Averaged 18.6 points per game with 50 3-pointers on 47.2% shooting from long range during the 20-game run … Played particularly well in hostile territory, averaging 19.1 points and 4.8 boards per game with 29 3-pointers on 59.2% long-range shooting in road games … Shot 92.3% (144 of 156) from the free-throw line, ranked second in school history and third nationally … Made 30 of 31 at the line when it was a two-possession game with three minutes or less … Played nearly every second in the SEC championship-clinching victory at home vs. No. 15/15 Auburn and posted his second career double-double with 18 points and 12 rebounds, going 11 of 11 from the free-throw line … Scored a career-high 30 points at Texas A&M, the first Wildcat with 30 points in a game since Shai Gilgeous-Alexander went for 30 vs. Vanderbilt on Jan. 30, 2018 … Made 11 of 19 from the floor, including eight 3-pointers, two off the school record … Scored 22 points in the second half with four 3-pointers en route to 26 points at home vs. Florida … With UK trailing Florida 40-33, scored 20 of the Wildcats' next 28 points … With the back-to-back performances vs. Texas A&M and Florida, became the first UK player with consecutive games of 25 points or more since Monk in 2016-17 … Scored 21 points at LSU, the start of a three-game 20-point scoring streak, to go along with a career-high-tying five assists and a career-high-tying three steals … Made 14 of 14 free throws in the home win vs. Mississippi State, tying the school record for most free throws without a miss, en route to 21 points … Recorded 23 points in the loss at No. 17/16 Auburn … Key in the road victory at No. 18/18 Texas Tech with 21 points, six rebounds and four 3-pointers, including a half-court buzzer beater to end the first half … Posted his first career double-double with 13 points and 10 boards at Arkansas, which included a critical 3 in the comeback win … Scored 20 points and tied the game with a jumper with just seconds left in the loss at South Carolina … Made five 3-pointers en route to 19 points to lead the home victory vs. Alabama … Made all three 3-point attempts in the first road victory of the season, at Georgia … Dominant in the win against Missouri to open the conference season with 23 points on four 3-pointers and a 9-of-9 performance at the free-throw line … Began his 20-game double-figure scoring stretch vs. Louisville with 17 points, including 14 in the second half and overtime with a couple of key 3-pointers and late free throws … Held Jordan Nwora, Louisville's leading scorer who entered the game averaging 21.2 points per game, to eight points on 2-of-10 shooting … Scored 16 points in the home win vs. Georgia Tech … Made three 3-pointers en route to 13 points vs. Mount St. Mary's … Missed the Utah Valley game with a chest contusion … Just missed out on a double-double with 16 points and nine rebounds vs. Evansville … Scored 16 points to go along with a season-high-tying five assists in the victory over Eastern Kentucky.
2018-19
Freshman: One of UK's most improved players … Appeared in all 37 games and made seven starts as a freshman … Registered 193 points, 65 rebounds, 44 assists and 16 steals in his first season … Scored in double figures in six games … UK was a perfect 6-0 in such games … Made 82.8 percent of his foul shots … Drained two from the charity stripe in clutch situations in wins against Arkansas and Ole Miss … Sunk nine 3-pointers over his final nine games, including making two in a win over No. 11/9 Houston in the Sweet 16 … Had 12 points with a career-high-tying three 3-pointers in the Southeastern Conference Tournament win over Alabama … He went 4 of 4 from the field … Scored eight points on 3-of-5 shooting and 2 of 4 from 3-point range at No. 7/7 Tennessee … Dished out a career-high-tying four assists vs. South Carolina … Scored a combined 30 points over a three-game stretch between Jan. 5-12, including making at least two 3-pointers during the span …  Scored 10 points with a career-high three steals against Texas A&M … Made a career-high three 3s at Vanderbilt … Scored 12 points in the win over Utah on 4-of-7 shooting with a couple of 3s … Scored eight points with two made 3-pointers vs. Seton Hall … Posted nine points against Tennessee State … Posted a career-high six rebounds in a win over Winthrop … Recorded 12 points and four assists to go along with two steals vs. North Dakota … Scored a team-high-tying 15 points in the win over Southern Illinois … Made 6 of 10 from the floor and 2 of 4 from 3-point range vs. Southern Illinois.
Bahamas: Averaged 7.3 points, 4.5 rebounds and 4.5 assists per game … Dished out a team-high 18 assists with only two turnovers … Had four or more assists in all four wins … Scored 12 points with five assists and a steal against Mega Bemax.
HIGH SCHOOL
Two-time state champion with the John Carroll School … Three-time All-State selection … Also a member of the USA U17 and U19 teams, winning gold with U17 team at the FIBA Championships …  Made the McDonald's All American Game … Crowned the Power Jam Fest 3-Point Contest winner at the McDonald's Game … Injury-riddled senior season but averaged 20.0 points, 6.0 rebounds and 6.0 assists per game … Averaged 25.7 points, 4.7 rebounds and shot 42.1 percent from 3-point range in the Adidas Summer Championships prior to his senior campaign … Played under John Calipari for the USA U19 World Cup Team, which competed in Cairo, averaging 6.7 points and 2.4 assists per game in 18.3 minutes … Named the Baltimore Sun Metro Player of the Year … Ranked as a top-three player at his position by all three scouting services … Ranked as high as No. 19 overall by 247Sports, No. 22 by Rivals and No. 25 by ESPN.
PERSONAL
Born June 17 in Havre de Grace, Maryland … Major is undeclared/exploratory studies in agriculture … Parents are Nitrease and Marcellous Quickley … Has two siblings, Shiloah and Paris … Mother played basketball at Morgan State … Was an honor roll student in high school … Can play both the saxophone and the drums … His greatest fear in life is being average … Lists his mom as the person who has most impacted his life … Lists his game-winning shot in the state championship game his sophomore season as his greatest basketball memory … Chose Kentucky over Maryland, Kansas and Miami.
Read more