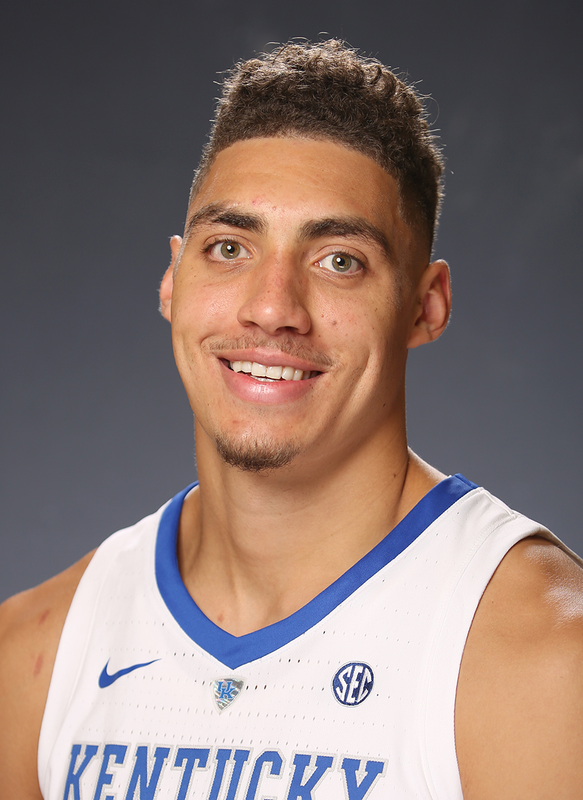 22
Reid

Travis
position

Forward

height

6-8

Weight

238

class

Graduate Student

Hometown

Minneapolis

Previous School

Stanford

High school

DeLaSalle
Follow @2ReidTravis2 on Twitter | Follow reid_travis_22 on Instagram
2018-19
Graduate Student: Senior CLASS Award finalist … 2018-19 SEC Academic Honor Roll member … Finished his decorated collegiate career at Kentucky and Stanford with 1,786 points, 987 rebounds, 83 steals and 44 blocks … Posted 11.2 points and 7.2 rebounds per game in his lone season at Kentucky … His rebounding average was second on the team … Provided valuable leadership and experience on a young UK team … Led UK in rebounding in 10 games … Scored in double figures in 17 games … Grabbed double-digit rebounding numbers in six games, three of which resulted in double-doubles … Blocked more shots (23) than he had the rest of his career combined (21) … Steady presence in the postseason, averaging 11.0 points and 8.3 rebounds per game while shooting 64.1 percent from the floor and 75.0 percent from the free-throw line, all immediately following a five-game absence with a knee injury … Played a career-high-tying 44 minutes in the final game of his career with nine points and six rebounds vs. No. 14/18 Auburn … Grabbed 11 hard-fought rebounds in the Sweet 16 victory over No. 11/9 Houston … Carried the load in the frontcourt during PJ Washington's two-game injury absence in the opening two rounds of the NCAA Tournament by averaging 16.0 points and 10.0 rebounds … Posted a double-double with 14 points and 11 rebounds vs. No. 19/19 Wofford in the NCAA Tournament second round … Scored 18 points and grabbed nine rebounds in the NCAA Tournament opening-round game against Abilene Christian … Recorded 11 points and six rebounds vs. No. 8/8 Tennessee in the Southeastern Conference Tournament semifinals … In his first game back from a knee injury, posted eight points, seven rebounds and three blocks in 23 minutes vs. Alabama in the SEC Tournament quarterfinals … Suffered a right knee sprain in the second half of the Missouri game and missed the next five games … Workman's effort in the win vs. top-ranked Tennessee with 11 points, eight rebounds and two blocks while doing a sensational defensive job on eventual SEC Player of the Year Grant Williams … Just missed out on a double-double with nine points and nine rebounds vs. eventual SEC champion LSU … Eight points and eight rebounds in the victory at Mississippi State … Another near double-double with 11 points and nine boards, plus a season-high three steals, vs. South Carolina … Dominant performance in the victory over No. 9/10 Kansas with 18 points and 12 rebounds … Went 7 for 11 in the game vs. Kansas … Hauled in a season-high-tying 12 rebounds in the home victory vs. No. 22/22 Mississippi State … Scored 17 points on a 6-for-7 day from the floor and 5-for-5 performance at the free-throw line in the victory at No. 14/12 Auburn … Grabbed 12 boards in the home victory over Vanderbilt … Scored 12 points at Alabama … Scored in double figures in nine of his first 11 games at Kentucky and six straight from Nov. 23 to Dec. 22 … Recorded 20 points, seven rebounds and a season-high three assists in the win vs. No. 9/10 North Carolina in the CBS Sports Classic … Scored 16 points on 6-of-10 shooting vs. Utah … Dominated UNC Greensboro with a season-high-tying 22 points and 12 rebounds for his first double-double at Kentucky … Just missed out on a double-double with 13 points and nine rebounds vs. Tennessee State … Went for 22 points on 6-of-8 shooting vs. VMI … UK's best player in the matchup with Duke with 22 points and seven rebounds in his Wildcat debut.
Bahamas: Averaged 10.9 points and a team-high 10.3 rebounds in four wins … Had 19 points and 15 rebounds against Team Toronto … Also drained a pair of 3s in that game … Had 14 boards against the Bahamas National Team.
2017-18 
Redshirt Junior (Stanford): First Team All-Pac-12 selection … NABC All-District First Team … USBWA All-District selection … One of three Stanford players in program history to have at least 1,400 points and 700 rebounds in less than 100 games played … Hank Luisetti team MVP … Third-year captain … Ranked third in the Pac-12 in both scoring (19.5 ppg) and rebounding (8.7 rpg) … Scored in double figures in all but one of his 35 games played … Tallied a career-high 33 points at Washington … Knocked down a career-high 11 3-pointers, including three against Arizona State … Had a career-high 16 double-doubles.
2016-17 
Redshirt Sophomore (Stanford): First-team All-PAC 12 selection … NABC All-District second team selection … Only player in Pac 12 and one of only five players in Power 5 conferences to finish the season ranked in the top five of his conference in both scoring and rebounding … Started all 27 games and averaged 17.4 points and 8.9 rebounds per game … Posted nine double-doubles … Scored 29 points and had nine boards at No. 4 Kansas … Set both Stanford and Kansas records for free-throws made (19) and attempts (22) … Posted 24 points and 17 rebounds at Harvard. 
2015-16 
Sophomore: Saw action in eight games before suffering a left leg injury that kept him out of the season's final 22 games … Led the team in rebounds (7.1), was second in points (12.8) and third in minutes (32.8) at the time of the injury … Scored a season-high 18 points in 34 minutes at Saint Mary's … Had four steals against DePaul. 
2014-15 
Freshman: Played in 28 games, making 12 starts … Averaged 6.2 points and 5.6 rebounds per game … Shot 48.9 percent from the field … Made collegiate debut against Wofford, scoring 14 points and grabbing four rebounds … Contributed nine points and eight rebounds against UNLV … Had 12 rebounds against Duke … Totaled 12 points and five boards vs. DePaul … Scored a season-high 15 points and snared six rebounds at BYU … Hauled in a season-best 14 rebounds to go along with seven points in 32 minutes at Texas … Posted 14 points and six rebounds at Washington … Produced first career double-double with 10 points and 10 rebounds at UC Davis.
HIGH SCHOOL
Ranked among the nation's top 50 players by Scout (40), Rivals (40) and ESPN (23) … Averaged 26.1 points and 9.0 rebounds per game while leading his high school to a third straight Class AAA state title his senior season … A McDonald's All-American Game participant … Member of the USA Basketball Junior National Select Team, competing at the Nike Hoop Summit … Tabbed the Minneapolis Star Tribune Metro Player of the Year … Earned MaxPreps Second Team honors his junior season … Named co-state Player of the Year … Also an accomplished football player. 
PERSONAL
Parents are Nathaniel and Jacqueline Travis … Has two brothers and two sisters … Brother, Jonah, played basketball at Harvard … Graduated from Stanford with a degree in science, technology and society.
Read more