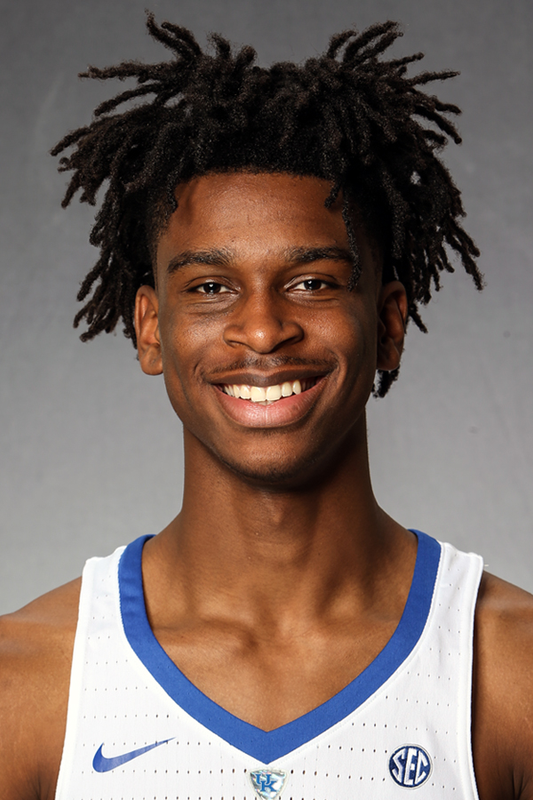 22
Shai

Gilgeous-Alexander
position

Guard

height

6-6

Weight

180

class

Freshman

Hometown

Hamilton, Canada

High school

Hamilton Heights
Follow @shaigalex on Twitter | Follow @sav_shai2 on Instagram
 
2017-18
Freshman:  Selected 11th by the Charlotte Hornets and then traded to the Los Angeles Clippers in the 2018 NBA Draft … Named to the All-Southeastern Conference Second Team by the league's coaches … Also a member of the All-SEC Freshman Team and a United States Basketball Writer's Association District IV Team member … Tabbed to the All-SEC Tournament Team after taking home most valuable player honors … Averaged a team-best 21.0 points, 6.7 rebounds and 5.0 assists per game while shooting 55.3 percent from the floor, capped by 29 points in the championship game … SEC Freshman of the Week on Jan. 15 after averaging 19.0 points, 5.5 assists and 2.0 rebounds a game in wins over Texas A&M and Vanderbilt … For the season he saw action in all 37 games and made 24 starts … Was second on the team in scoring at 14.4 points per game … Led UK in assists (189), steals (61), free-throw percentage (.817) and 3-point field-goal percentage (.404) … His 5.1 assists-per-game average ranked fourth in the SEC, while his 61 steals were the third most among league players … Only two UK freshmen, John Wall (241) and Marquis Teague (191), had more assists in their first season, and only two Wildcats, Rajon Rondo (87) and Wall (66), had more steals as a freshman …  Averaged 20.7 points, 6.3 assists, 5.7 rebounds and 2.0 steals in the postseason (NCAA and SEC Tournament play) … Knocked down at least two 3-pointers in six games, including five of the last 10 … Moved into the starting lineup on Jan. 9 vs. Texas A&M and averaged 16.4 points, 5.7 assists and 4.6 rebounds per game the rest of the way … Dished out five or more assists in 16 of his final 22 games and had at least three in 34 games … Scored in double figures in 21 of his last 26 games, including the final 10 games of the year … Posted 15 points, five assists and five rebounds in UK's Sweet 16 loss to Kansas State … Had 27 points, six boards, six assists and two steals in the win over Buffalo in the second round of the NCAA Tournament … Logged 19 points, eight rebounds, seven assists and a career-high five steals in the NCAA Tournament opener vs. Davidson … Scored 29 points in the SEC championship game, while also contributing seven rebounds, three assists and a pair of steals … Scored 19 points to go along with eight assists against Alabama in the SEC Tournament … Had 15 points, nine assists and two steals to begin SEC Tournament action vs. Georgia … Record a double-double with 17 points and a career-high 10 assists in the home finale vs. Ole Miss … Charted 14 points, eight assists and five rebounds in the win over Missouri … Notched 18 points, seven assists and five rebounds at Arkansas … Scored 19 points to go along with eight assists in a loss at Texas A&M … Had 15 points, six boards and six dimes at home against No. 15/14 Tennessee … Poured in a career-high 30 points in an overtime win over Vanderbilt … He scored or assisted on 32 of UK's final 56 points in that come-from-behind win, including scoring eight of UK's final 10 points of the second half when the Wildcats were staring at a loss — even hitting the two clutch free throws with just over two seconds left and Kentucky down two … Had 16 points, six assists and four rebounds in a win over Mississippi State … Scored 22 points with six assists and four rebounds at Vanderbilt … Tallied 18 points, four assists, two steals and two boards in a win at LSU … Scored 20 or more points off of the bench in back-to-back games against Louisville and Georgia to become the first UK player to score 20 or more off the bench since Deron Feldhaus on Jan. 21 and 25, 1992 … His then-career-high 24-point, five-rebound, four-assists, three-steal effort against Louisville earned him the Bluegrass Sports Commission MVP honor … Had 15 points and a then career-high nine assists in a win over Monmouth in Madison Square Garden … Totaled 14 points, six assists and five rebounds against UIC … Notched 10 points to go along with six assists and a pair of steals vs. ETSU … Scored in double-figures with 13 points and had four assists in his UK debut in a win over Utah Valley.
High School
Erupted for a game-high 29 points, nine rebounds and six assists in just 19 minutes at Freedom Hall in Louisville, Kentucky, en route to winning MVP honors at the Kentucky Derby Festival … Also won the all-star game's 3-point contest, making 12 of 24 shots in the final round … Originally from Canada, Gilgeous-Alexander was a member of the 2016 Canadian Men's U18 National Team that captured the silver medal at the 2016 FIBA Americas U18 Championship … He averaged 7.8 points, a tournament-best 5.4 assists and 3.0 steals per game … He is considered a consensus top-50 prospect in the 2017 class and is ranked as high as No. 20 overall by 247Sports … He capped his senior season by averaging 18.4 points, 4.4 rebounds and 4.0 assists per game … Also played in the Nike Hoop Summit, where he scored 11 points. 
Personal
Born July 12 in Toronto … Major is undeclared/exploratory studies in agriculture … His parents are Charmaine Gilgeous and Vaughn Alexander … Mom competed in track at Alabama and at the 1992 Summer Olympics for Canada … Has one brother, Thomasi … Played soccer growing up … His definition of a true hero is someone who gives hope to others … Enjoys drawing in his spare time … His most memorable moment as a basketball player is winning the state title … Chose Kentucky over Syracuse, UNLV, Kansas, NC State, Florida and Texas.
Read more