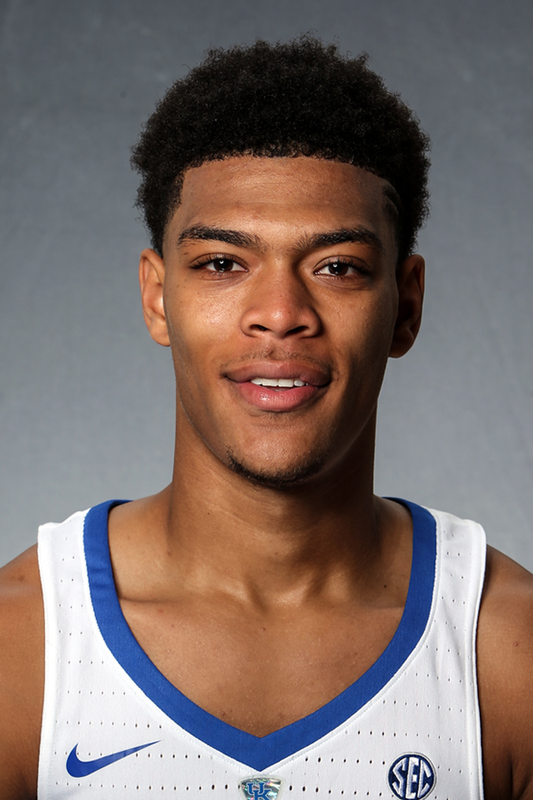 0
Quade

Green
position

Guard

height

6-0

Weight

180

class

Freshman

Hometown

Philadelphia

High school

Neumann-Goretti
Follow @Q_Green1 on Twitter | Follow @q_boogi on Instagram
2018-19
Sophomore:  Elected to transfer in December after appearing in nine games … Left UK with 43 career games, 13 starts, 387 total points, 112 assists and 52 3-pointers … Averaged 8.0 points in his sophomore season while shooting 44.9 percent from the floor and 42.3 percent from 3-point range … Totaled 21 assists … At the time of his departure, his 3-pointers and assists both ranked second on the team … Scored in double figures in four games. Scored 14 points in 18 minutes vs. Monmouth with a career-best four 3-pointers … Scored 11 points and was a perfect 4 for 4 from the free-throw line vs. Winthrop … Totaled a season-best 17 points with three 3-pointers vs. VMI … Dished out five assists vs. North Dakota … Scored 14 points with three assists vs. Southern Illinois. 
Bahamas:  Averaged 9.0 points and 2.8 assists while shooting at a 50-percent clip from the field in four games … Totaled 10 or more points in each of the final three games … Had five assists and a pair of steals against the Bahamas National Team.
2017-18
Freshman:  Started 13 of the 34 games in which he appeared as a freshman … Averaged 9.3 points, 2.7 assists and 1.8 rebounds per game … Led the team in scoring three times, steals four times and assists on seven occasions … Topped double-figure scoring 17 times, including in six of his final 11 games played … Had three or more assists in 17 games … Was third on the team with a 37.6 field-goal clip from beyond the arc … Made 41 3-pointers on the season, including hitting at least three in four games … Ranked second on the team with an .808 free-throw percentage … Made two 3-pointers in the Sweet 16 against Kansas State … Had 10 points and two assists in the SEC Tournament championship win vs. Tennessee … Dished out a career-high eight assists in the SEC Tournament vs. Alabama … Scored in double figures and made at least two 3-pointers in five straight games beginning with a win over Alabama on Feb. 17 … Had 18 points and four assists in the win over Missouri … Logged 12 points, a career-high six rebounds and four assists at Arkansas … Scored 15 points vs. No. 15/14 Tennessee at home … Posted 12 points, including an end-to-end drive for the game-winning layup at home vs. Vanderbilt with four seconds remaining in overtime … Scored 14 points at No. 23/22 Tennessee and then suffered a back injury and missed UK's next three games … Had 15 points and four boards vs. Georgia … Posted 13 points and five assists in the dominating win over Louisville … Tallied 17 points and dished five dimes in the win over Virginia Tech … Scored 12 points, had six rebounds and four assists in the win over UIC … Scored a career-high 21 points on 9-of-13 shooting against ETSU … Posted 15 points, four rebounds and four assists in a win over Vermont. 
High School
Considered a five-star point guard prospect by Rivals, ESPN and Scout …  Rivals ranks him as high as the No. 22 overall prospect, ESPN ranks him No. 24, Scout tabs him at No. 24 and 247Sports has him ranked at No. 33 … Green enjoyed a prolific high school career that saw him capture four state championships, including a 22-point, eight-assist and two-steal performance in the title game during his senior season … Green was named the 2016 and 2017 Pennsylvania Class 3A Player of the Year  … Was a part of the 2016 FIBA Americas U18 Championship team that won a gold medal in Chile … He averaged 20.8 points and 8.0 assists in leading Neumann-Goretti High School in his senior season … Participated in the McDonalds All-American Game, the Jordan Brand Classic and was the MVP of the HoopHall Classic.
Personal
Born May 12 in Philadelphia … Major is undeclared/exploratory studies in agriculture … His mom is Tamika Johnson … Lists his nicknames as Q, Q-Boogie and Day-Day … Participated in baseball and football as a youth, including earning MVP honors in baseball in middle school … His most prized possession is his gold medal … A talent he lists as unknown is the ability to dunk … Chris Paul has influenced his game the most … Most memorable basketball moment is scoring 40 points in a game … Chose Kentucky because of the elite talent every day in practice.
Read more