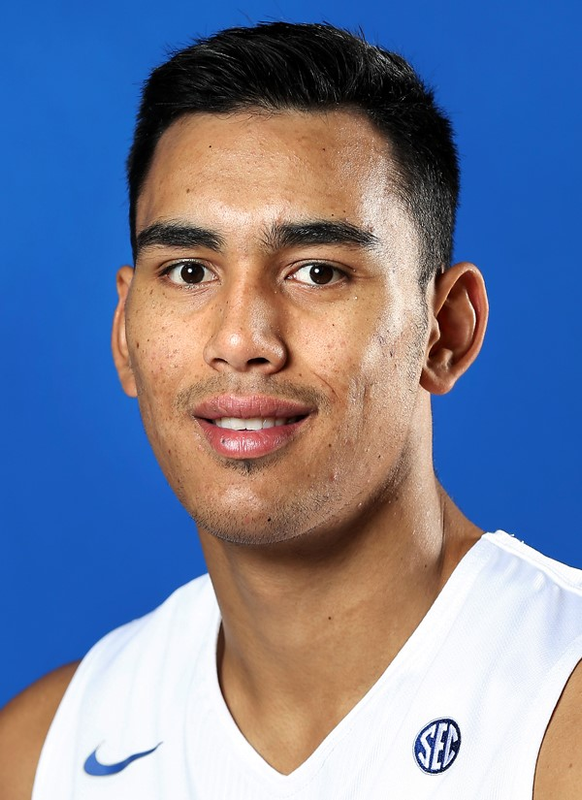 14
Tai

Wynyard
position

Forward

height

6-10

Weight

225

class

Freshman

Hometown

Auckland, New Zealand

High school

Rangitoto College
Follow @taiwynyard on Twitter | Follow @taiwynyard on Instagram
2017-18
Redshirt Sophomore: Appeared in eight games and recorded eight points, 14 rebounds, three steals and a block … Last appeared in a game Dec. 31 vs. Georgia because of a back injury … Appeared in six straight games before his back flared up …. Played a career-high 12 minutes vs. Monmouth and recorded a career-high-tying four points, a career-high six rebounds and a career-high two steals … Made both of his field goals for a career-high-tying four points and grabbed three rebounds in five minutes vs. UIC … Pulled in three rebounds vs. Troy … Blocked a shot vs. ETSU … Logged seven key minutes vs. No. 4/3 Kansas in the State Farm Champions Classic.
2016-17
Redshirt Freshman: Suited up for New Zealand at the 2017 FIBA U19 World Cup … Averaged team highs in points (13.8) and rebounds (9.2) in six games for his native country … SEC Academic Honor Roll member … Made 15 appearances in his first full season … Scored 11 points, had 13 rebounds and three blocks, while averaging 3.6 minutes a game … Scored two points in seven minutes at No. 24 Florida … Played in a career-high 12 minutes in the overtime win over Georgia … Swiped a steal and added a block vs. the Bulldogs … Made a free throw in five minutes at Mississippi State … Scored two points, had a rebound and a block vs. Arizona State in the Bahamas … Scored a career-high four points against Cleveland State while also hauling in a career-best three boards … Hit the first bucket of his career in a win over Duquesne … Pulled in two rebounds in Madison Square Garden against No. 13/13 Michigan State … Made his Kentucky debut with two minutes of action in the season opener against Stephen F. Austin.
2015-16 
Freshman: Midyear enrollee who joined the Wildcats on Dec. 17 … Became eligible for the Ohio State game on Dec. 18 … Did not play in any games in 2015-16 and ended up redshirting.
 
HIGH SCHOOL 
Midyear enrollee who joined the Wildcats on Dec. 17 after graduating from Rangitoto College in Auckland, New Zealand … Became the youngest player ever to make the New Zealand National Team when he was named to the team at 16 years old … Named the most valuable player of the FIBA 3-on-3 World Championships after leading New Zealand to a gold medal … Tabbed the MVP of his high school nationals in New Zealand after leading his team to the national championship … Member of the World Team that defeated USA Basketball in the 2015 Nike Hoop Summit … Played in the 2014 International Jordan Brand Classic.
 
PERSONAL
Son of Jason and Karmyn Wynyard … Born Feb. 5 … Major is pre-communication … Has a brother, Tautoko, and a sister, Moananui … His father is a world-champion lumberjack who owns more than 150 individual titles … He's also a lumberjack and considers his axe his most prized possession … His mother played college basketball at the Division II level … His greatest fear is the dark … He chose No. 14 because No. 17, his high school number, isn't available in college … He says his father has been the
greatest influence in his life.
Read more