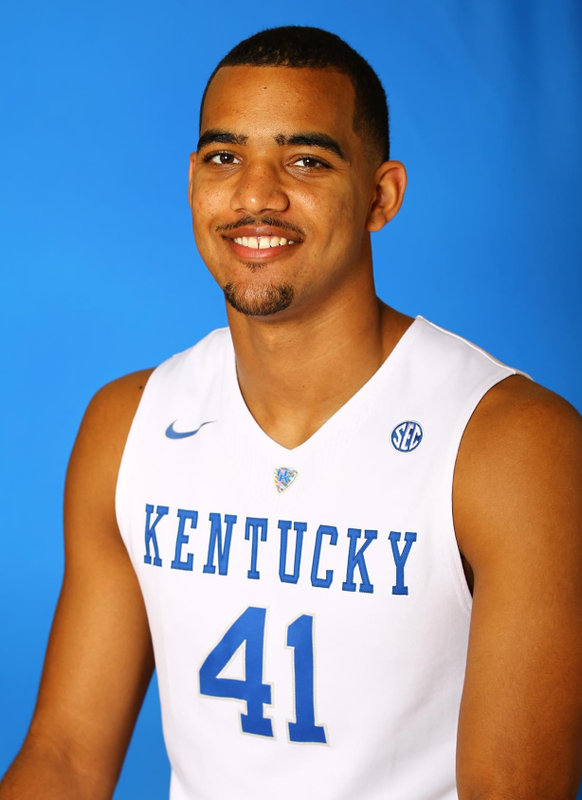 41
Trey

Lyles
height

6-10

Weight

235

class

Freshman

Hometown

Indianapolis

High school

Arsenal Tech
Follow @TreyMambaLyles on Twitter | Follow @treymamba41 on Instagram
2014-15 (FRESHMAN): Made the All-SEC Freshman Team, as chosen by the league's coaches … Two-time winner of the SEC Freshman of the Week award … Appeared in 36 games with 21 starts … Started 14 of the final 15 games of the season … Averaged 8.7 points and 5.2 rebounds in his freshman season … Scored in double figures in 13 of 36 games, including eight of the season's final 14 games … Recorded two double-doubles on the year … Averaged 10.9 points and 5.4 rebounds over the last 14 games of the season … Scored nine or more points in the season's final seven games … Notched nine points in the Final Four game vs. Wisconsin … Recorded nine points and five boards to lead UK to a Midwest Regional championship game victory over No. 8 Notre Dame … Tallied 14 points and seven rebounds in the rout of No. 20 West Virginia … Notched his second career double-double with 11 points and 11 rebounds in the NCAA Tournament game vs. Cincinnati … Opened his NCAA Tournament career with 10 points and six rebounds vs. Hampton … Posted a balanced nine points and seven rebounds in the SEC Tournament championship game vs. No. 21 Arkansas … Made 4 of 7 shots and 4 of 4 at the free-throw line en route to 12 points against Auburn in the SEC Tournament … Poured in 14 points on 7-of-12 shooting in the season's home finale vs. Florida … Posted back-to-back career-high scoring games of 18 points at Mississippi State and at home vs. No. 18 Arkansas … Recorded 10 points and five rebounds in just 18 minutes at Tennessee … Missed three straight games from Jan. 31 to Feb. 7 with an illness … Blocked a career-high three shots to go along with seven points and six rebounds in the road victory at Texas A&M … Opened his SEC career with 10 points against Ole Miss … Grabbed nine boards and dished out a career-high-tying four assists in the victory at No. 4 Louisville … Just missed out on a double-double with seven points and 10 rebounds at home vs. Columbia … Recorded his first career double-double with 10 points and 10 rebounds in a dominating victory at home against Eastern Kentucky … One board shy of a double-double with 10 points and nine rebounds vs. UT Arlington … Notched 12 points, rebounds and three assists in a home win over Buffalo … Opened his career with 14 points and four rebounds vs. Grand Canyon.
HIGH SCHOOL: Named Indiana Mr. Basketball and the state's Gatorade High School Player of the Year after leading Tech to the state title his senior season …A three-time All-State performer … Averaged 23.7 points, 12.9 rebounds and 3.5 assists while leading Tech to a 27-2 overall record … Lyles clinched the state title with a game-winning free throw and a 16-point, 12-rebound, 3-block, 3-assist outing in his final high school contest … Finished his career as Tech's all-time leading scorer and rebounder … Earned McDonald's All-America honors and also appeared in the Jordan Brand Classic contest … Lyles suited up for the West in the McDonald's game, scoring eight points and hauling in a team-high eight rebounds … Poured in 17 points, while adding six boards and a pair of blocks in a win for the East in the Jordan Brand Classic game … Is rated as the No. 6 overall player in the 2014 class by ESPN and second at his position … Scout lists him as the No. 11 overall player, but the top player at his position, while Rivals rates him at No. 13 overall and seventh at the forward position.
PERSONAL: Son of Jessie and Thomas Lyles … Born on Nov. 5, 1995 … Chose Kentucky over Louisville and Butler.
Read more