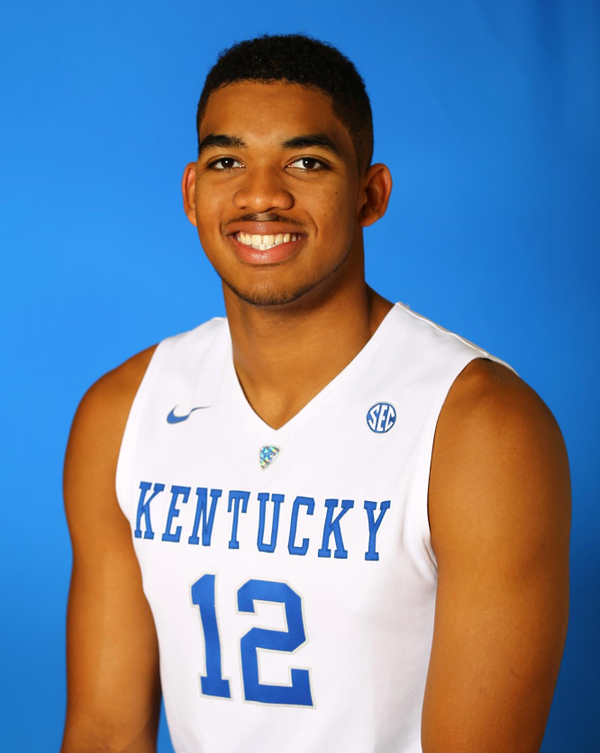 12
Karl-Anthony

Towns
height

6-11

Weight

250

class

Freshman

Hometown

Piscataway, N.J.

High school

St. Joseph
Follow @KarlTowns on Twitter | Follow @karltowns on Instagram
2014-15 (FRESHMAN): Consensus Second Team All-American as a freshman … Named an NABC Third-Team All-American … Tabbed a Third Team All-American from the Sporting News … Earned NCAA Midwest Most Valuable Player honors after leading the Wildcats to the Final Four … Tabbed the SEC Freshman of the Year by both the league's coaches and the AP … First-Team All-SEC selection by both the media and the conference coaches … Named First Team All-American by USA Today … Also earned Second Team All-America from Sports Illustrated … Three-time SEC Freshman of the Week, including two straight honors to start December … Tied for the team high with most 20-plus point games (two) and most 15-plus point games (eight) … Started all 39 games … Averaged 10.3 points, second most on the team, and a team-high 6.7 rebounds per game … Led the team in blocked shots with 88 … Blocked four our more shots in nine games … Posted a team-best eight double-doubles … Led the team in rebounding a team-high 18 games … … Made 81.3 percent of his shots at the foul line, including 30 of his last 34 free throws … Just missed out on a double-double with 16 points and nine rebounds in the Final Four game vs. No. 3 Wisconsin … Virtually unstoppable vs. No. 8 Notre Dame with a career-high 25-point performance on 10-of-13 shooting … Notched a double-double (21 points and 11 rebounds) in his first career NCAA Tournament game vs. Hampton … Made 19 straight free throws during a stretch from March 7 to March 19 … Flirted with a triple-double in the regular-season finale vs. Florida when he tallied 13 points, nine rebounds and six blocks … Scored a team-high 19 points vs. Auburn at home thanks to an 8-for-9 shooting afternoon … Preserved a comeback win at LSU with a double-double (12 points and 13 rebounds), including two key offensive rebounds in the closing minutes and the go-ahead shot with 1:30 left in the game … Led a come-from-behind victory at Florida with 19 points and a game-high eight rebounds … Recorded a double-double at home vs. Georgia with 15 points and 13 rebounds … Averaged a team-best 14.5 points and 8.8 rebounds during a four-game stretch from Jan. 31 to Feb. 10 … Blocked a career-high seven shots at home vs. Vanderbilt … Notched a double-double vs. Missouri in Rupp Arena with 12 points and 10 rebounds … Just missed out on a double-double at Texas A&M with nine points and nine boards … Dominated Eastern Kentucky with a game-high-tying 19 points, nine rebounds and four blocks … Recorded his first career double-double (13 points and 11 rebounds) vs. UT Arlington … Averaged a team-best 13.3 points and 7.3 rebounds during a four-game stretch from Nov. 25 to Dec. 7, which included two ranked opponents … Impressed vs. No. 5 Kansas with nine points, eight rebounds, four blocks and three assists … Opened his career with eight points and eight rebounds at home vs. Grand Canyon.
HIGH SCHOOL: Claimed the 2014 Gatorade National Player of the Year honor … A three time first-team All-State selection … Led St. Joseph to the 30-2 record and a title at the NJSIAA Tournament of Champions … Averaged 20.9 points, 13.4 rebounds and 6.2 blocks per game as a senior … He shot 66.1 percent from the field and 82.2 percent from the free throw line as a senior … He also hit 127 3-pointers over his final three high school seasons … Owned a 3.96 high school grade point average … Advanced to the Final Four in the Tournament of Champions in each of his final three seasons … A member of the Dominican National Team … Appeared in both the McDonald's All-America and Jordan Brand Classic games … Scored six points and added five rebounds in the McDonald's game, while pouring in nine points, hauling in seven boards and adding three assists in the Jordan game … Is the No. 4 overall player in the 2014 class per Scout while ranking second at his position … Rivals rates him at No. 5 and second at his position, while ESPN lists him at No. 9 overall and third at his position.
PERSONAL: Son of Jacqueline Cruz and Karl Towns … Born on Nov. 15, 1995 …Chose Kentucky over Florida, Kansas, Rutgers and Duke … Father played basketball at Monmouth.
Read more