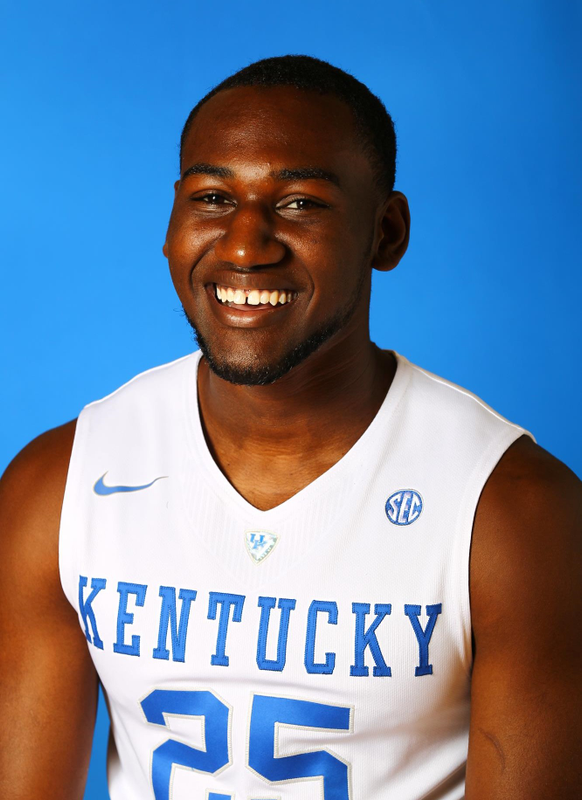 25
Dominique

Hawkins
height

6-0

Weight

195

class

Sophomore

Hometown

Richmond, Ky.

High school

Madison Central
Follow @Dhawk_25 on Twitter | Follow @dhawk_25 on Instagram
2016-17
Senior: Senior leader who appeared in all 38 games and made four starts … Enjoyed the best season of his four-year career by setting new career-best marks in minutes, field goals, field-goal percentage, 3-pointers, 3-point field-goal percentage, free throws, free-throw percentage, rebounds, assists, steals and points … Named to the Southeastern Conference All-Tournament Team after scoring a career-high 14 points in the championship game … Averaged 4.7 points, 1.7 assists and 1.6 rebounds a game … Boasted a team-best 3.6 assist-to-turnover ratio … Owns the second-best assist-to-turnover ratio (2.943) for a career in the John Calipari era … Played in 121 career games, the most of any Calipari-coached player … Recorded four double-figure scoring games after having just two during the first three years of his career … Three of the four double-digit scoring outputs came during the season's last five games … Led the team in steals seven times and in assists twice … Had 10 games with three or more assists … Scored four or more points in 18 of the team's last 22 games of the season, including each of the last eight games … Had 10 first-half points while adding three rebounds against eventual national champion and No. 6/8 North Carolina in the Elite Eight … Posted 11 points and connected on a career-high three 3-pointers with a steal vs. No. 8/6 UCLA in the Sweet 16 … Poured in 14 points vs. Arkansas in the SEC Championship Game and added a career-high four steals in the win … Had five points, two rebounds and two steals in the SEC Tournament opening game vs. Georgia … Logged eight first-half points to provide a boost in the regular-season finale at Texas A&M as UK overcame a 15-point win on the road, its largest road deficit overcome in the Calipari era …  Had three points, a career-high six rebounds, four assists and two steals in a win at home over No. 13/12 Florida that saw the Cats rally from a 12-point first-half deficit … Posted 10 points, four rebounds and a pair of assists in a home victory over Tennessee, his first double-figure scoring effort of the year … Had five points, three rebounds and seven assists in a win over eventual Final Four participant South Carolina … Totaled seven points, three boards and three assists in a win over Arizona State in the Bahamas … Recorded six points, four rebounds and a career-high nine assists against UT Martin … Began the season by dishing out 31 assists over his first 11 games played, including registering three or more in six of those games. 
2015-16
Junior: SEC Academic Honor Roll member … Saw action in 27 games during an injury-plagued junior season … Had career-highs in points, blocks, free throws, 3-point field goals and shooting percentage … Averaged 2.3 points with a 2.2 assist-to-turnover ratio … Missed seven games in January due to an ankle sprain and also broke his hand during fall camp … Had a career game in a win over rival No. 16/15 Louisville with career bests in points (13), 3-pointers (three) and minutes played (26) … Prior to that game he had never made more than one 3-pointer in a game … He became the first Kentucky native to score in double figures for the Wildcats against Louisville since Darius Miller did so in the 2012 Final Four … Posted three points with three rebounds in the loss to Indiana in 14 minutes of action in the second round of the NCAA Tournament … Played in 17 minutes of the NCAA Tournament win over Stony Brook … Scored two points and hauled in a season-high four rebounds … Scored seven points vs. Alabama in the SEC Tournament quarterfinals … Posted nine points on 2-of-3 shooting from the floor and a perfect 4-for-4 at the charity stripe in a home victory over Georgia … Saw 24 minutes of action in a win over Illinois State … Contributed seven points, a block and a steal in the win over the Redbirds.
2014-15
Sophomore: Appeared in 23 games while making nine starts in his sophomore season … Averaged 1.3 points and a 2.8 assist-to-turnover ratio … Notched career highs in points per game, assists, steals and 3-point field goals … Had a steal in the NCAA Tournament victory over West Virginia … Registered a pair of assists and a rebound in the win over Auburn at home … Drained a 3-pointer at home vs. South Carolina … Snatched a career-high two steals at Florida … Scored the first points of the game in a win over Georgia with a 3-pointer from the top of the key … Logged four points, three rebounds and an assist at Missouri … Scored six points while adding two steals, a block and three assists in the best game of his career in a career-high 20 minutes at home vs. Missouri … Dished out a career-high six assists in a win over his hometown team Eastern Kentucky … Tallied a career-high seven points, including a spectacular alley-oop dunk from Devin Booker in his first career start against Boston.
2013-14
Freshman: Saw action in 33 games as a freshman as UK's top defensive stalwart … Scored 25 points, hauled in 23 rebounds and dished out 12 assists on the year … Scored a bucket in 11 minutes of action in UK's Final Four win over Wisconsin … Played a key defensive role for Kentucky in 15 minutes of action vs. Louisville and 11 minutes vs. Michigan … Notched four points, two rebounds and two assists to open SEC play against Mississippi State … Pulled down four rebounds and dished out three assists in a 93-80 UK win over Belmont … Tallied five points in 17 minutes vs. Providence … Drained a 3 in Kentucky's win over UT Arlington … Notched four points and handed out three assists in 18 minutes vs. Robert Morris … Dished out an assist and grabbed a rebound in six minutes of action vs. Northern Kentucky … Saw four minutes of action and registered a rebound in the win over UNC Asheville … Had a made free throw, one rebound and one assist in five minutes of action in a win over Montevallo … Played 12 minutes in UK's win over Transylvania.
HIGH SCHOOL
Averaged 20.4 points and 5.3 rebounds per game as a senior … Was named the 2013 Kentucky Mr. Basketball and is the 17th player in UK history to claim the honor … Also hauled in state Gatorade Player of the Year honors … Directed Madison Central to the state championship and captured most valuable player honors after averaging 20.4 points, 5.6 rebounds, 2.9 assists and 1.8 steals per game throughout the Kentucky Boys' Sweet Sixteen … Rated as the No. 44 point guard by 247 Sports … Rivals and Scout ranked him as a three-star player.
PERSONAL
Son of Denise Hawkins and Doug Farris …  Born June 27, 1994, in Louisville, Kentucky … Has three sisters, Nia Hawkins, Keraura Hawkins and Sarah Anderson, and a brother, Gerius … Chose No. 25 because that is also the number he wore in high school … Names his mother as his greatest influence in life … His most memorable moment as a basketball player was being a part of the 2011 Final Four run when Aaron Harrison hit the late-minute 3-pointers.
Read more