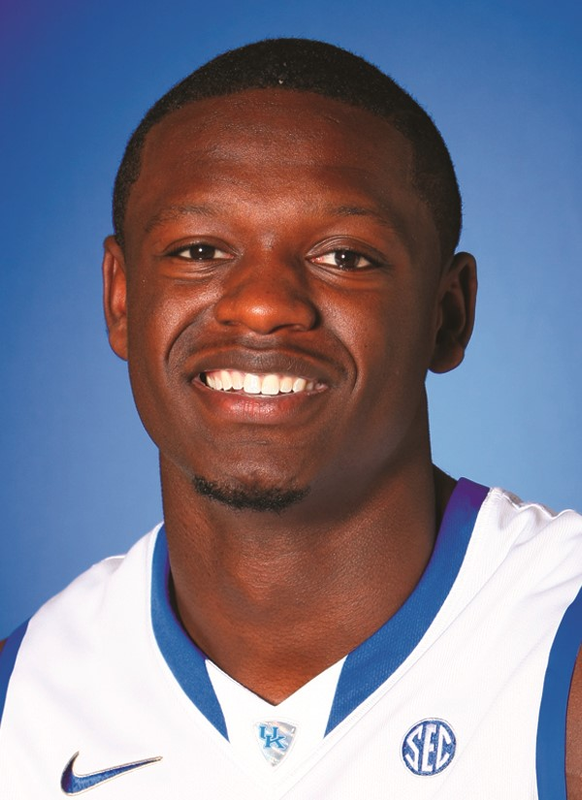 30
Julius

Randle
height

6-9

Weight

250

class

Freshman

Hometown

Dallas

High school

Prestonwood Christian
Final Four NCAA All-Tournament team
Midwest Region NCAA All-Tournament team
Lute Olson CollegeInsider All-America team
USBWA Freshman All-America
NABC Third-team All-America
AP Third-team All-America
SEC All-Tournament team
SEC Freshman of the Year (Coaches)
SEC Newcomer of the Year (AP)
All-SEC First team (Coaches, AP)
All-SEC Freshman team (Coaches)
USBWA District IV All-Region team
Two-time SEC Player of the Week
One-time SEC Freshman of the Week
Oscar Robertson National Player of the Week (2/25/14)
Wayman Tisdale National Freshman of the Week (2/25/14)
CBS National Player of the Week (11/11/13)
2013-14 (FRESHMAN): Appeared and started in all 40 games for UK … Led the squad with 15.0 points and 10.4 rebounds per game … Set UK single-season freshman records in rebounds (417), double-doubles (24) and made free throws (204) … Notched 10 points, six rebounds and four assists vs. Connecticut in the National Championship … Tallied 16 points and five rebounds as UK knocked off Wisconsin in the Final Four … Recorded his nation-leading 24th double-double with 16 points and 11 rebounds in UK's win over Michigan … Notched 15 points and 12 rebounds in UK's Sweet 16 win over Louisville … Posted 13 points, 10 rebounds and a career-high six assists to help UK knock off Wichita State … Added another double-double with 19 points and 15 boards vs. K-State … Named to the SEC All-Tournament Team … Notched his sixth consecutive double-double with 12 points and 11 boards vs. Georgia in the SEC Tournament … Tallied a double-double with 17 points and 16 boards vs. LSU in the SEC Tournament … Named SEC Freshman of the Year, while also being selected First Team All-SEC and SEC All-Freshman … Recorded a double-double with 16 points and 10 boards at Florida … Notched 10 points and 15 rebounds at South Carolina … Tallied a double-double with 14 points and 10 rebounds vs. Arkansas … Scored with 3.9 seconds left in overtime to give UK a 77-76 victory over LSU … Notched another double-double at Ole Miss, leading UK with 25 points, while grabbing 13 rebounds … Tallied 13 points and 13 rebounds vs. Florida for his 13th career double-double … Tallied 18 points, nine rebounds, three assists and three steals in UK's win over Missouri … Notched his 11th double-double with 13 points and 11 rebounds in UK's win over Texas A&M … Recorded 18 points and four assists as UK knocked off Tennessee … Notched 20 points, including 10 free throws and 14 rebounds in a losing effort at Arkansas … Tallied 17 points, shooting 7-of-8 from the field in the first half to help the Wildcats knock off Louisville … Scored 29 points, with 13 free throws, and grabbed 10 boards in UK's win over Belmont … Recorded his eighth double-double of the year with 17 points and 11 boards in UK's win over Boise State … Notched 16 points, eight rebounds and four assists vs. Baylor … Recorded a double-double with 15 points and 15 rebounds in UK's win over Cleveland State … Tallied 22 points, 10 rebounds, four assists and two blocks in a win over UT Arlington for a fifth consecutive double-double … Notched a fourth consecutive double-double to open the season with a 10-point, 15-rebound performance while adding a pair of blocks against Robert Morris … Went for 27 points, including 23 in the second half, and 13 rebounds vs. Michigan State, his third consecutive 20-point, 10-rebound game … Tallied a double-double with 22 points and 14 rebounds vs. Northern Kentucky … Posted a double-double effort in his debut with 23 points and 16 rebounds vs. UNC Asheville, while making 11 free throws … Among watch list candidates for the Oscar Robertson Trophy and the Wayman Tisdale Award … Media preseason selection for SEC Player of the Year … A preseason All-America candidate for NBC and CBS … Earned preseason All-SEC honors by the media.
HIGH SCHOOL: Averaged 32.5 points and 22.5 rebounds per game as a senior en route to claiming the state title … Won state titles at Prestonwood Christian Academy during his freshman, junior and senior seasons … Is the nation's consensus top power forward and is ranked the No. 2 overall player by Rivals, the No. 3 overall player by ESPN and the No. 5 overall player by Scout … The McDonald's All-America selection posted 11 points and seven rebounds in the annual all-star game … He earned co-MVP honors of the Jordan Brand Classic game with 19 points and seven rebounds … Played in the FIBA tournament with Team USA's U18 squad where he averaged 14.2 points and 6.6 rebounds per game … In his final three high school contests he poured in 34 or more points and 15 or more rebounds in each contest.
PERSONAL: Son of Carolyn Kyles … Born Nov. 29, 1994 in Dallas, Texas … His mother played basketball at Texas … Chose Kentucky over Kansas, Texas and Florida.
Loading…
Read more