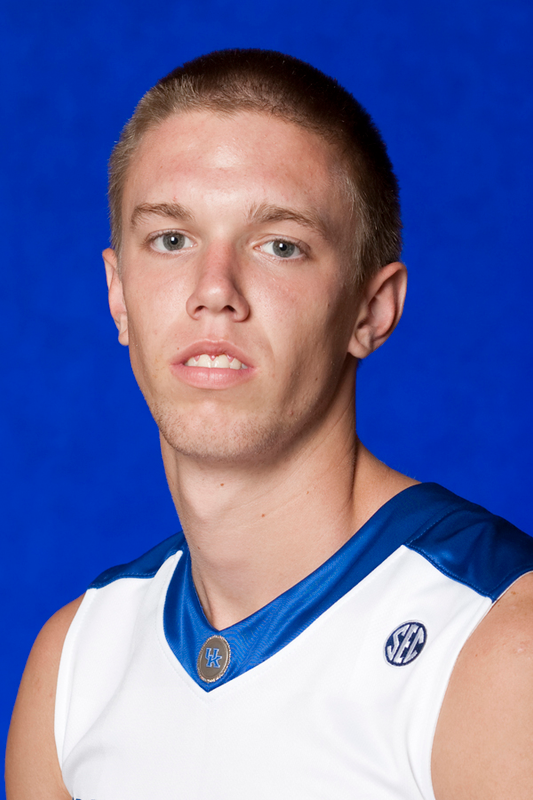 4
Jon

Hood
position

Guard-forward

height

6-7

Weight

215

class

Freshman

Hometown

Madisonville, Kentucky

High school

North Hopkins
2014 SEC Community Service team 
2013-14
Senior: Named to the SEC Community Service team for excellence shown in the community … Appeared in 13 games making one start … Poured in 15 points including a trio of 3-pointers … Finished his career by making nine consecutive shots from the charity stripe … Nailed a 3 in six minutes of action in a winning effort vs. Alabama on Senior Night … Knocked down a 3 in a season-high 13 minutes at Mississippi State … Nailed a jump-shot from the corner and added an assist in action vs. Georgia … Had an assist in the win over Mississippi State … Drained a pair of free throws after swiping a steal vs. UT Arlington … Nailed a 3-pointer and two free throws to score five points in UK's win over Northern Kentucky … Logged a steal and an assist in six minutes of action vs. UNC Asheville … Had four points and a blocked shot in 11 minutes of a win over Montevallo … Logged two points and an assist in the victory over Transylvania.
2012-13
Redshirt Junior : Graduated in the spring of 2013 … Saw action in 23 games, averaging 1.5 points and 1.2 rebounds per outing … Drained a 3-pointer on his first shot attempt while also notching a steal in 15 minutes of action in the SEC Tournament … Logged his first blocked shot of the season in five minutes of action in win over Florida … Recorded four points and three rebounds in seven minutes at Georgia … Tied career-high with four rebounds at Arkansas … Posted five points, three rebounds, an assist and a steal in 16 minutes against Mississippi State … Totaled four points and three rebounds in game at Tennessee … Hit his only shot attempt in two minutes against South Carolina … Grabbed season-high three rebounds and dished out an assist in eight minutes at Ole Miss … Nailed a 3 and grabbed a rebound in nine minutes against Lipscomb … Hit a pair of 3s late in the game vs. Samford for a season-high six points … Hit his only shot attempt in four minutes against Notre Dame … Hit his first 3-pointer since Dec. 28, 2010 as he finished with three points, two steals and one rebound in seven minutes against LIU Brooklyn … Played a season-best 11 minutes against Lafayette, grabbing two rebounds and tallied two steals … Saw one minute of action against Duke, his first since injuring his knee at the beginning of the 2011-12 season.
2011-12
Junior: Suffered a torn ACL in summer workouts and sat out the season.
2010-11
Sophmore: Played in 33 of 38 games, averaging 0.8 points and 0.7 rebounds … Grabbed a rebound and a steal vs. Ole Miss in the SEC?Tournament … Hit his only shot attempt at Florida, a jumper as time expired in the first half, which brought UK within two … Had a career-day against LSU by playing a career-high 20 minutes, pulling down a career-high four rebounds, dishing out a career-high three assists, and scoring two points to go with one steal … Had two rebounds in six minutes of action against Auburn … Had one rebound in four minutes against Georgia … Was a perfect 1-for-1 from the field against Penn with two points and one rebound … Totaled career-highs with seven points and one block in 14 minutes vs. Coppin State … Logged nine minutes against Winthrop … Played two minutes against both MVSU and Indiana … Played four minutes against Notre Dame and connected on his only 3-point field goal attempt … Played two minutes on the road against North Carolina … Scored two points against Boston in nine minutes of action … His two points against Boston came from a dunk, the first of his career … Logged 10 minutes vs. UConn at the EA Sports Maui Invitational, making his first 3-pointer of the season … Grabbed two key late rebounds in only three minutes vs. Oklahoma … Pulled down three rebounds against Portland to tie a career high … Played a career-high 12 minutes and attempted a career-high four free throws … Scored two points and pulled down one rebound in six minutes of action against East Tennessee State … Scored 18 points on 7-of-9 shooting from the floor and 4-of-6 shooting beyond the arc in the exhibition against Dillard.
2009-10
Freshman: Played in 17 games, averaging 1.2 points … Totaled two points and a season-high three rebounds in UK's Second Round win over Wake Forest in New Orleans … Grabbed two rebounds and made 2-of-2 free throws vs. ETSU at the NCAA Tournament … Made 2-of-2 free throws and grabbed one rebound vs. Tennessee at the SEC Tournament … Scored three points in three minutes at LSU … Earned his first minutes in SEC play, nailing a three-pointer vs. Arkansas … Totaled a season-high five points and two rebounds in the win over Drexel … Nailed his first three-pointer and had two assists vs. Cleveland State in Cancun … Earned a career-high 10 minutes in the win vs. Rider … Totaled one rebound and one assist in eight minutes vs. Sam Houston State … Scored seven points with four rebounds in UK's second exhibition win over Clarion.
High School
Averaged 29.4 points, 12.9 rebounds, 3.3 assists and 3.1 blocked shots per game his senior season … Posted 18 double-doubles in 22 games as a senior…Named 2009 Kentucky Mr. Basketball … 2009 Gatorade Kentucky Player of the Year … Participated in the 2009 Wazoo Sports Derby Festival Basketball Classic, where he scored 13 points … Ranked the 40th best recruit by Rivals.com.
Personal
Born on May 9, 1991 … Son of Brian and Kelly Hood … Chose Kentucky over Ole Miss, Tennessee and Georgia.
Read more