UK Athletics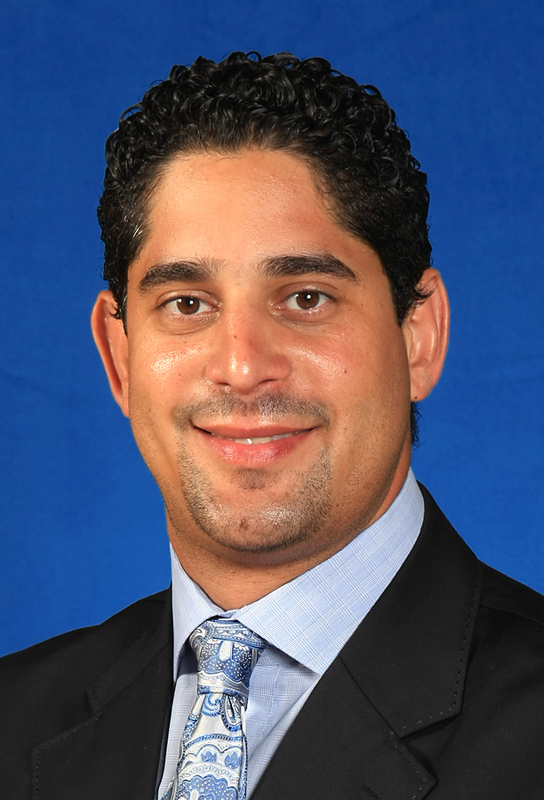 Orlando Antigua returned to Kentucky for a second stint with the program in 2021-22, bringing 20 years of college coaching experience. In Antigua, Kentucky has a proven recruiter, a tireless on-court developer, and a relationship-driven coach both on and off the court.
During Antigua's first stop at Kentucky, featuring the 2009-10 season through the 2013-14 national runner-up run, UK compiled a 152-37 record (80.4%) with a national championship, three Final Four appearances, and two Southeastern Conference regular-season titles and two SEC Tournament crowns.
Known for his eye on the recruiting trail, Antigua helped UK pull in five straight top-ranked recruiting classes (Recruiting Services Consensus Index). In his initial season with the Wildcats, Antigua saw three of his signees drafted in the first round of the 2010 NBA Draft. He was a central figure in the 2010 and 2011 No. 1 classes, which led UK to its eighth national title in 2012 and its first since 1998.
As a result, Antigua was named one of Yahoo! Sports' top 10 college basketball recruiters. In May of 2012, he was listed by ESPN.com as the top assistant coach in the country under the age of 40. ESPN included Antigua in the top five of the most feared assistant coaches on the recruiting trail in 2013.
UK enjoyed a program resurgence under Antigua. Outside of recruiting, Antigua played important roles in the development of some of the Wildcats' staples of the first half of the dominant John Calipari era.
In the final season at Kentucky, Antigua took over as the head coach of the Dominican National Team after serving the previous two seasons under Calipari as an assistant. After helping Calipari and the program build a foundation in the first two years, Antigua and the Dominicans secured a spot in the 2014 FIBA Basketball World Cup for the second time in the country's history and the first time since 1978.
Antigua was a vital part of the development of the unanimous National Player of the Year in Oscar Tshiebwe in 2021-22. He swept the six major awards after leading the nation in rebounding with 15.1 boards per game. Tshiebwe became the first Division I player to average at least 15.0 points and at least 15.0 rebounds per game since the 1979-80 season and first major-conference player to average at least 16.0 points and at least 15.0 rebounds since Bill Walton at UCLA in 1972-73.
The Wildcats went 26-8 and had an unblemished 18-0 record at home. Antigua also hit the ground recruiting and was responsible for hauling in Shaedon Sharpe, the No. 1 overall recruit in the 2023 class, as well as two additional top-10 players in Cason Wallace and Chris Livingston. Kentucky signed the nation's No. 1 recruiting class for 2023 featuring Justin Edwards, DJ Wagner, Aaron Bradshaw, Rob Dillingham and Reed Sheppard.
Antigua earned a head coaching opportunity with South Florida after the 2013-14 season with Kentucky and spent two and a half seasons in Tampa, Florida.
Following the USF tenure, Antigua joined Illinois as an assistant coach, where he has spent the last four seasons. With Antigua playing a leading role with the Illini's frontcourt players and on the recruiting trail, Illinois posted back-to-back 20-win seasons over the last two years and was a No. 1 seed in the 2021 NCAA Tournament.
Antigua was instrumental in the development of Kofi Cockburn, an NCAA Consensus All-America Second Team selection and All-Big Ten First Team member in 2021. Cockburn arrived at Illinois as a talented but unproven big man out of Jamaica and Antigua helped mold him into one of the nation's most dominant post players over the last two seasons. Cockburn was named Big Ten Freshman of the Year in 2020 and posted 28 double-doubles over the last two years, fourth most in the country.
Other Antigua success stories include Giorgi Bezhanishvili, who, in 2019 arrived as an under-the-radar recruit but went on to lead the team in rebounding and ranked among the national leaders in field-goal percentage. He broke the Illini school single-game scoring record by a freshman. In 2018, under Antigua's tutelage, Leron Black earned honorable mention All-Big Ten accolades after leading Illinois in both scoring and rebounding.
Antigua originally joined Calipari for the 2008-09 season at Memphis, helping the Tigers to a 33-4 record, a spot in the 2009 NCAA Sweet Sixteen, and regular-season and tournament conference crowns in Conference USA.
Prior to his brief stay in Memphis and beginning with the 2003-04 season, Antigua worked at his alma mater, Pittsburgh. During his five years at Pitt – the first three as a director of basketball operations and the second two as an assistant – he helped lead the Panthers to an overall record of 132-40 (76.7%) and a Big East mark of 55-27 (67.0% winning percentage). Pittsburgh recorded five straight 20-win campaigns and won 10 or more league games in five consecutive years.
The Panthers had just as much success in the postseason during Antigua's years. Pitt earned NCAA Tournament bids during all five of Antigua's years and advanced to the Sweet Sixteen in 2004 and 2007.
Antigua's first stint with Pittsburgh was his collegiate playing days in the early 1990s. A four-year letterwinner and two-time team captain, Antigua ranked in the top 15 on the Panthers' all-time 3-pointers made, blocked shots and career 3-point percentage at the end of his career.
A 1992 Big East Conference All-Rookie Team pick, Antigua helped lead the Panthers to an 18-16 record and a National Invitation Tournament berth as a freshman. The following year, Antigua's Panthers went 17-11 and earned an NCAA Tournament bid. In 1994, he was named the U.S. Basketball Writers Association Most Courageous Athlete, an honor presented annually to the college basketball player who displays courage on and off the court. Antigua graduated from Pittsburgh with a degree in social sciences in December 1995.
After graduation, Antigua was selected to play for the world-renowned Harlem Globetrotters, becoming the first player of Latin American descent to play for the squad. Nicknamed "Hurricane" for his dazzling moves, Antigua played with the Globetrotters for seven years until 2002.
Antigua also played in the Puerto Rico Superior Basketball League for eight years, and in both 1994-95 and 1997-98, he was a member of the Dominican Republic national team. Because of his dedication to the community, Antigua was named one of the nation's top 100 most influential Hispanic Americans by Hispanic Business magazine.
A Dominican Republic native who was raised in Bronx, New York, Antigua recovered from a 1988 Halloween incident where he was shot in the head near his left eye. Undeterred by the incident, Antigua quickly returned to the playing court two weeks later and went on to play three seasons at Pittsburgh with the slug in his head. Doctors initially ruled out removing the bullet as being too risky, but Antigua began suffering severe headaches and had the bullet surgically removed.
Antigua's family also went through a period of homelessness. The oldest of three brothers, Antigua was credited with keeping the family together while housing was secured. He overcame these difficulties and went on to serve as student council president at St. Raymond's High School. As a member of the school's basketball squad, Antigua played a major role in the team's New York Catholic League championship run. As a senior, he earned McDonald's All-America Second Team honors and was also named All-New York City.
Fluent in Spanish, Antigua and his wife, Dana, have a daughter, Olivia, and a son, Orlando Anthony.
Read more