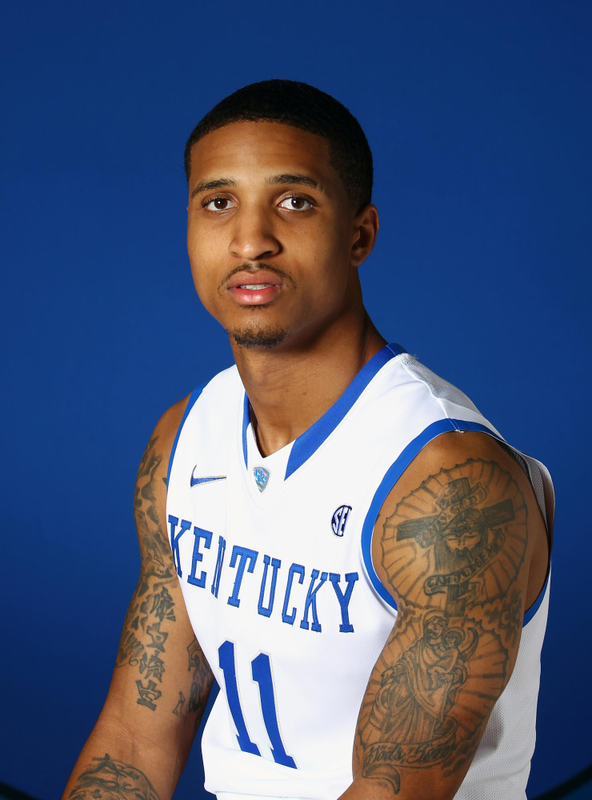 11
Twany

Beckham
position

Guard

height

6-5

Weight

202

class

Senior

Hometown

Louisville, KY

High school

Ballard
2012-13
Redshirt Senior: Had back surgery and missed the final part of the season … Played nine minutes against Eastern Michigan, a personal best in a UK uniform … Logged a minute of action against Marshall recording an assist and a blocked shot … Saw first action of the season against Lafayette logging four minutes and scoring his first career points at UK on a lay-up … Saw 11 minutes of action in annual Blue-White Scrimmage grabbing a rebound and tallying two steals.
2011-12
Redshirt Junior: Saw action in 16 games and pulled down eight rebounds … Appeared in UK's win over WKU in the NCAA Tournament … Saw action in the SEC Championship game against Vanderbilt … Played four minutes in Kentucky's win over Georgia … Saw action in UK's win over Ole Miss … Pulled down a pair of rebounds in a UK career-high nine minutes of action in a win at South Carolina … Snagged a rebound in a win over Tennessee … Notched a steal and pulled down a rebound in four minutes of action in a win over Arkansas … Saw his first conference action of the season in a win at Tennessee … Dished out an assist in a win over Louisville … Saw action in a win over Lamar … Had a rebound in a win over Loyola … Pulled down three rebounds and dished out an assist in seven minutes vs. Samford … Saw his first career action in the Blue and White in a win over Chattanooga … Sat out the first semester due to NCAA transfer rules.
2010-11
Redshirt Sophomore: Played in 14 games as a sophomore for Mississippi State before transferring to UK after the fall semester … Started five of the 14 games he played … Had a career-high nine points against Detroit … Career-best seven assists verus Appalachian State
2009-10
Redshirted entire year after having surgery on both hips to remove bone spurs.
2008-09
Freshman: Due to a foot injury, did not play the first three games … Saw first action against Fairleigh Dickinson and responded with four points on 2-of-2 shooting … He also had two rebounds, two assists and two steals against the Knights … Had his most productive outing at St. Bonaventure, scoring a career-high eight points on 2-of-3 shooting from the floor and 4-of-6 shooting at the foul line in 20 minutes … He also dished out three assists, had one steal and just one turnover … Played in the last 32 games and was one of MSU's first players off the bench … Averaged 1.6 points and 1.5 rebounds … Logged a total of 33 minutes in the SEC Tournament and averaged 1.5 points, 2.0 rebounds and dished out three assists … Best game was against Georgia, where he tallied three points and was credited with two assists … Played seven minutes against Washington in the NCAA Tournament and did not score.
Prep School
Averaged 15.0 points, 6.0 rebounds and 8.0 assists as a fifth-year player for coach Pete Hutchins at the New Hampton School in the highly competitive Class Adivision of the New England Preparatory School Athletic council … Led the Huskies in assists … Ranked as the team's second-leading scorer.
High School
Three-year starter for coach Chris Renner at Ballard High School in Louisville, Ky., where he helped pace the Bruins to a three-year composite mark of 86-16 (.843) and a pair of Sweet 16 state tournament appearances. … Averaged 16.1 points, 8.1 rebounds, 4.2 assists and 2.3 steals per game to earn first-team all-state honors. … Chosen the 7th Region Player of the Year in 2006-07. … Capped his Ballard High School career by representing his home state in the Indiana Kentucky All-Star series. … Recorded 11 double-doubles in 2006-07, including a triple-double with 12 points, 11 assists and 10 rebounds in only 18 minutes against Manual in the regional tournament. … Posted 10 games with 20 or more points in 2006-07, including a season-high 31 points, 11 boards, seven steals and five assists versus St. Xavier. … Named MVP of the prestigious 2007 Louisville Invitational Tournament (LIT), averaging 22.5 points on 65-percent shooting (39-60 FGs) during the four-game tournament … Tipped off the LIT with a 29-point performance (13-18 FGs) against Pleasure Ridge Park. … Capped a mid-season, six-game stretch, in which he averaged 24.0 points on 62.6 percent shooting (57-91 FGs), with a 28-point effort versus Waggener. … Credited with double-digit rebounds 12 times in 2006-07, including 20 and 16 boards (22 of the 36 rebounds were offensive) his first two outings of the year. … Named to the 2007 Kentucky High School Athletic Association (KHSAA) Sweet 16 All-Tournament Team after leading the Bruins to a 35-3 record and a state runner-up finish. … Averaged 14.3 points, 6.6 rebounds, 4.9 assists and 2.2 steals per contest as a junior to earn third-team all-state laurels from the Courier- Journal newspaper and help pace the 2005-06 Ballard club to a 22-10 mark. … Averaged 6.9 points, 4.0 assists, 3.4 rebounds and 2.1 steals an outing as a sophomore starter for the Bruins' 29-3 Sweet 16 ballclub in 2004-05.
Personal
Twany Beckham was born November 14, 1988, in Louisville, Ky. … Majoring in Communications … The son of Debra Beckham.
Read more