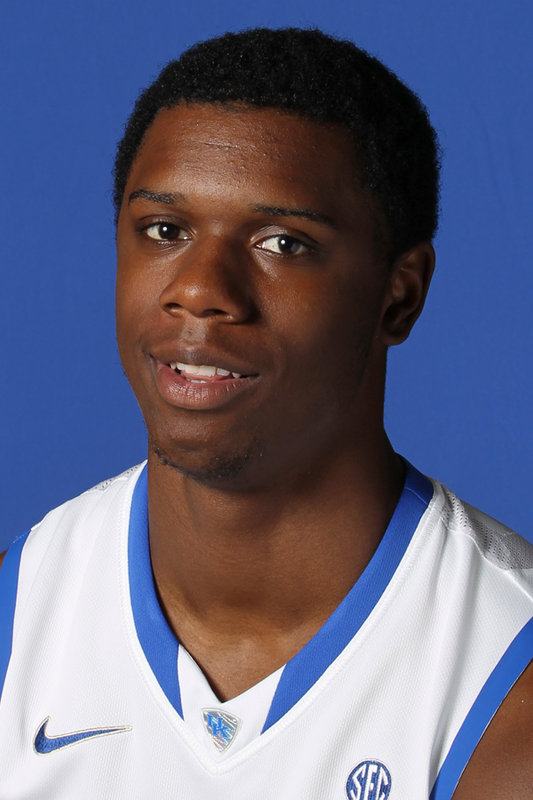 3
Terrence

Jones
position

Forward

height

6-9

Weight

252

class

Sophomore

Hometown

Portland, OR

High school

Jefferson
2011-12
Sophomore: Started 34 of 38 games played … Averaged 12.3 points and 7.2 rebounds per game … Scored nine points with seven rebounds in a win over Kansas … Tallied 12 points with nine rebounds and a career-high six assists in a win over Baylor … Scored 12 points in a win over Indiana … Pulled down 11 boards in a win over Iowa State … Notched a double-double with a team-high 22 points and 10 rebounds in a win over WKU … Recorded a double-double with 12 points and 10 rebounds in a loss to Vandy … Posted 15 points with nine rebounds in a win over Florida … Recorded his second double-double of the season with 15 points and 11 rebounds, including going on a personal 9-0 run early in the second half in a win over LSU … Notched his first double-double of the year with 15 points and 11 rebounds in a win over Ole Miss … Had 16 first-half points to go along with a team-high four assists in a win at South Carolina … Erupted for a season-high 27 points, nine boards and three blocked shots in a win at LSU … Tallied 13 points, nine rebounds while adding a career-high five blocks in a win over Arkansas … Logged 20 points on 8-of-9 shooting in a win over South Carolina … Had a season-high 11 rebounds, three steals and a bucket in a win over Louisville … Suffered a dislocated finger in a win over Chattanooga and missed the Samford and Loyola games due to the injury … Posted 14 points, seven rebounds and three blocks in the win over UNC … Poured in a season-high 26 points while adding nine rebounds, four blocks and a career-high tying four steals in a win over St. John's … Paced the squad with 19 points in a victory over Portland … Had an all-around performance with 15 points and team-highs in rebounds (9) and assists (5) in a win over Penn State … Tallied 15 points, seven rebounds and three blocks in a win over No. 11 Kansas.
2010-11
Freshman: Started 35 of 38 games, averaging 15.7 points per game and 8.8 rebounds per game … Had 11 pts., 15 rebs. and four steals in the Final Four vs. UConn … Had eight pts. and eight rebs. vs. Ohio St. … Recorded 12th double-double in NCAA Tournament game vs. West Va., with 12 pts. and 10 rebs. … Scored 16 pts. in SEC Championship game vs. Florida … Had 15 pts., and 12 rebs. at Tennessee … Earned his fifth SEC?Freshman of the?Week honor after home wins over USC and MSU … Recorded fourth double-double in six games vs. USC at home with 19 pts. and 12 rebs. … Had double-double vs. Miss. State with 17 pts. and 10 boards … Led UK with 25 pts. and nine rebs. at Vanderbilt … Led team with double-double of 22 pts., 12 rebs., and four blocks at Ole Miss … Broke teammate Doron Lamb's UK?freshman scoring record with 35 pts. vs. Auburn … Tied career highs for 3-pointers made (four) and steals (three) against Auburn … Earned his third SEC?Freshman of the?Week honor after UK's wins over Auburn and LSU … Led UK with 24 pts. and grabbed 10 rebs. at Georgia … Tied a career-high of five assists at Louisville … Scored a game-high 27 pts. and tied a career-high 17 rebs. vs. Notre Dame … Earned SEC?Freshman of the Week honors after his performance in the Maui Invitational … Led UK with 24 pts., including 4-of-4 from 3-point range, vs. UConn … Earned All-Tournament honors at Maui Invitational, averaging 23.0 pts., 11.3 rebs. and 3.3 blocks … Posted double-double with 16 pts, 17 rebs and four blocks vs. Washington … Led UK with 29 points, 13 rebounds and four blocks vs. Oklahoma … Scored 25 pts. and grabbed 12 rebs. against ETSU, both team-highs, earning SEC Freshman of the Week … First UK freshman to begin career with a double-double since Jules Camara in 1998-99 … Joined Sam Bowie as only freshman in UK history with 20-10 game in debut … Along with Lamb, became first freshman duo in UK history to score 20 pts. in a debut.
High School
Averaged 30.0 points, 14.0 rebounds and 6.0 assists as a senior, leading Jefferson High School to its third consecutive state championship, a feat no other 5A or 6A Oregon school had ever accomplished … One of only three players to twice be named The Oregonian newspaper's Class 5A Player of the Year (UCLA's Kevin Love and Oregon's Fred Jones) … Ranked ninth on ESPNU's Top 100, 13th overall by Rivals.com and eighth by Scout.com … Received 2010 McDonald's All-America Honors … Scored 14 points in 14 minutes at the 2010 McDonald's All-American game and posted 17 points and nine rebounds in the 2010 Jordan Brand Classic All-American game … Averaged 32 points, 13 rebounds, five assists, three blocks and three steals as a junior … Named to 2010 USA Junior National Select Team.
Personal
Born Jan. 9, 1992 … Son of Linda Mashia-Jones and Dennis Jones … Chose Kentucky over Kansas, Oklahoma, UCLA and Washington … Cousin of former Arizona All-American and NBA?Rookie of the Year Damon Stoudamire.
Read more