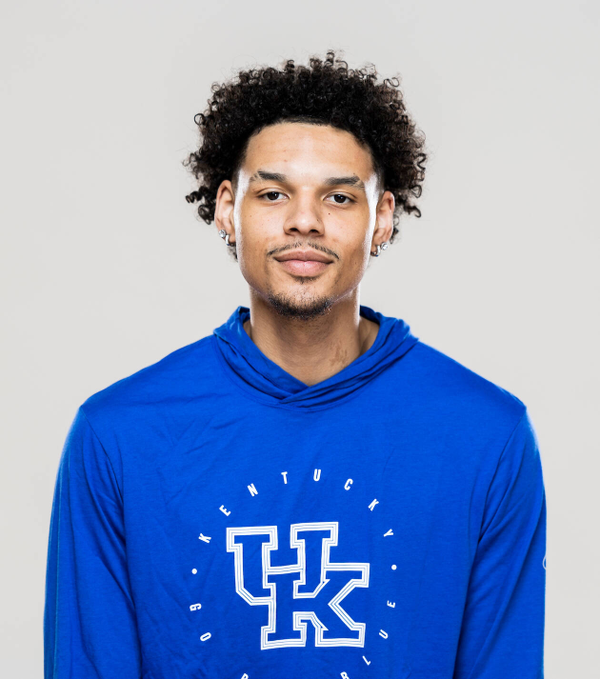 4
Tre

Mitchell
position

Forward

height

6-9

Weight

225

class

Graduate Student

Hometown

Pittsburgh
2022-23 (at West Virginia)
Started 32 of 34 games, averaging 30.0 minutes per game … Averaged 11.7 points and 5.5 rebounds per game … Shot 47.0% from the field … Led WVU with 142 defensive rebounds … Had 61 assists, 21 blocks and 28 steals … Finished with 11 points and seven rebounds vs. Kansas in Big 12 Championship … Scored 17 points with nine rebounds and four steals against Texas Tech in Big 12 Championship … Had 14 points and six rebounds against Kansas State … Scored 20 points at Kansas … Recorded a season-high 22 points against Oklahoma State … Scored 15 points with six rebounds and three blocks at TCU … Had 12 points and eight rebounds against Texas … Scored 16 points on 7-of-8 shooting at Oklahoma … Double-double with 14 points and 15 rebounds vs. Baylor … Scored 15 points against Kansas … Finished with 16 points and seven rebounds at Oklahoma St. … First WVU double-double with 16 points and 13 rebounds at Kansas State … Named Big 12 Player of the Week for Dec. 12 … Finished with 17 points and six rebounds vs. Buffalo … Scored 13 points with seven rebounds vs. UAB … Had 19 points and six rebounds against Navy … Scored a team-high 17 points against Florida … Posted a game-high 16 points against Portland State … Had 11 points against Penn … Scored a game-high 21 points with six rebounds against Morehead State … Had 13 points in his WVU debut vs. Mount St. Mary's.
2021-22 (at Texas)
Started 17 of 24 games played … Averaged 8.7 points and 4.0 rebounds per game … Shot 47.8% from the field and 80.0% from the free-throw line … Had a season-high 19 points and 11 rebounds at Seton Hall … Had double figures in nine games.
2020-21 (at UMass)
Played in 13 of a possible 15 games … Earned a spot on the Atlantic 10 All-Conference First Team … Became the first UMass player to receive the honor since 2013 … Named to the Atlantic 10 All-Academic Team … One of 10 midseason candidates for the Karl Malone Award, given annually to the top power forward in Division I men's college basketball … Averaged a team-best 18.8 points and 7.2 rebounds in 32.3 minutes per contest … Converted 51.9% from the floor, including a 37.5% mark from 3-point range … Also hit 76.8% from the free-throw line … Posted 31 points and 11 rebounds in the season opener against Northeastern … Tallied a career-high 37 points at La Salle … The 37 points tied for the eighth-highest point total in UMass single-game history.
2019-20 (at UMass)
Played and started all 31 games … Named the Atlantic 10 Conference Rookie of the Year … Atlantic 10 All-Conference Second-Team selection … First UMass freshman to earn all-league honors since Marcus Camby in 1993-94 … Six-time honoree as Atlantic 10 Rookie of the Week … Finished the regular season by winning five-straight A-10 Rookie of the Week honors, the most by an Atlantic 10 player since Lamar Odom of Rhode Island in 1998-99 … Averaged a team-best 17.7 points and 7.2 rebounds in 30.8 minutes per contest … Added 32 blocks and 31 steals on the year … Converted 48.1% from the floor and 72.8% from the free-throw line … His 19.6 points-per-game scoring average in A-10 games ranked second in the conference behind only A-10 Player of the Year Obi Toppin … Set a UMass freshman record for most field goals in a season with 206 … His 548 points were fourth in the nation among NCAA Division I freshmen and eight shy of breaking the UMass rookie record for single-season points … Tallied 30 points at Rhode Island … Recorded 15 points and a career-high 19 boards at Fordham … Posted 34 points and 12 rebounds against Rhode Island.
HIGH SCHOOL
Played his junior and senior years of high school at Woodstock Academy in Woodstock, Connecticut … Named the 2019 state of Connecticut Gatorade Boys Basketball Player of the Year … Ranked as the No. 72 overall prospect in the nation by Rivals and No. 73 by ESPN in the class of 2019 … Averaged 16.6 points, 13.5 rebounds, 3.6 assists and 2.6 blocks per game as a senior in 2018-19 … Led Woodstock to a 38-2 record in his senior year … Averaged 13.5 points, 10.5 rebounds, four assists and two blocks per game in his junior season (2017-18) … Paced the Centaurs to a 35-5 mark and the semifinals of the National Prep Tournament … Two-time Power 5 Conference AAA Player of the Year … Two-time Hoophall Classic Most Valuable Player … Scored over 1,000 points in his two seasons at Woodstock … Attended Elizabeth Forward High School in Elizabeth, Pennsylvania, during his freshman and sophomore years.
PERSONAL
Born Sept. 24 in Bumberg, Germany … Parents are Erin and Tony Tortorice and Vincent Mitchell … Has three siblings, Justice, Journee and Peter …  Mother played college basketball at College of Charleston … Off the court he enjoys spending time with his dog and playing video games … Can sketch and draw and has aspirations to learn to play the saxophone … His mother is his life's greatest influence … His dog and a pocket watch passed down through his family are his most prized possessions … Favorite food is steak … Favorite movie is Remember the Titans … Favorite player is Kevin Durant and his favorite UK player is DeMarcus Cousins.
Read more