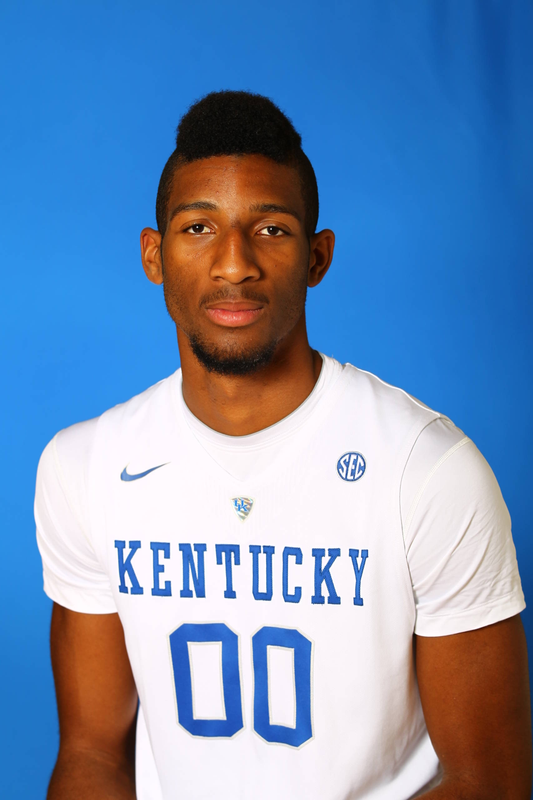 00
Marcus

Lee
height

6-9

Weight

224

class

Junior

Hometown

Antioch, Calif.

High school

Deer Valley
Follow @JustMarcusLee on Twitter | Follow @justmarcuslee on Instagram
2015-16
Junior: Made the SEC Community Service Team for a second straight season … Chosen as an Allstate Good Works Team nominee … Selected as the male representative of the SEC at the 2016 NCAA Leadership Forum … Member of UK's Student-Athlete Advisory Committee … Played in every game in 2015-16 … Started 20 games … Recorded career highs in points, rebounds, blocks and assists … Shot a team-best 68.0 percent from the floor, the best single-season field-goal percentage in school history with a minimum of 150 attempts … Tied for the team lead with a career-best 6.0 rebounding average … Led UK in rebounding a team-high 13 times … Averaged 1.6 blocks per game, tied for seventh in the SEC … Led UK in blocked shots a team-high 18 times … Collected a team-best 87 offensive rebounds … Led the Wildcats with 51 dunks … Became the first junior or senior at UK with at least five blocks in consecutive games since Andre Riddick turned the trick in 1993-94 … Blocked three or more shots eight times …  Posted four double-doubles … Notched a double-double (12 points and 10 rebounds) in the regular-season finale vs. LSU … Swatted four shots in addition to five points and eight rebounds at Florida … Grabbed a game-high 12 rebounds in the home win over Alabama … With several UK big men in foul trouble, posted a double-double (11 points and a career-high 13 rebounds) in the road win at South Carolina … Led the Wildcats with nine rebounds in the Mississippi State victory … Flirted with a double-double with 13 points and eight rebounds in the SEC opener vs. Ole Miss … Scored in double figures in three straight games from Dec. 12 to Dec. 26 … Averaged 12.3 points and 8.0 rebounds during that stretch … Nearly got another double-double with a 12-point and team-high nine-rebound effort vs. Ohio State … Also blocked career-high-tying five shots vs. Ohio State for a second straight game … Solid game with 14 points, seven rebounds a career-high-tying five blocks in the home win over Arizona State … Made all five of his shots in an 11-point, eight rebound game vs. Eastern Kentucky … Double-double vs. Illinois State with 13 points and 12 rebounds … Averaged 10.7 points and 8.7 rebounds in the first three games of the season … Notched his first career double-double with 10 points and 10 rebounds in the victory over No. 5 Duke … Just missed out on a double-double in the win against NJIT with 10 points and eight rebounds … Opened the season with 12 points, eight rebounds, three assists and three blocked shots against Albany.
2014-15
Sophomore: Named to the SEC Community Service Team for his accomplishments away from the basketball court … Second-time member of the SEC Academic Honor Roll … Saw action in all 39 games for the Wildcats … Posted career highs in points per game, rebounds per game, minutes per game and field-goal percentage in 2014-15 … Averaged 2.6 points, 2.7 rebounds and blocked 27 shots … Shot a team-best 64.4 percent from the field … Made at least half his shots in 20 of the 26 games he attempted a shot in … Posted four points and five rebounds, including a jaw-dropping alley-oop dunk over teammate Devin Booker, in the win over No. 20 West Virginia … Had a career-high-tying eight rebounds in addition to six points vs. Auburn at Rupp Arena … Scored eight points and grabbed a team-high five boards in a win over Alabama at home … Blocked a career-high-tying four shots at South Carolina … Produced a balanced seven-point, six-rebound game in just 12 minutes in the home victory over Vanderbilt … Notched eight points on a perfect 4-for-4 day against No. 21 North Carolina … Scored a season-high 10 points on 5-of-6 shooting in just 13 minutes of play against Eastern Kentucky … Opened the season with three straight performances of five rebounds or more.
2013-14
Freshman: Midwest Region NCAA All-Tournament Team … Saw action in 25 games and made four starts in his freshman season … Averaged 2.4 points and 1.4 rebounds per game … Earned Midwest Region NCAA All-Tournament team accolades after pouring in 10 points and hauling in eight rebounds in a Sweet 16 win over Michigan … Tallied four points on two dunks in UK's 74-73 win over Wisconsin in the Final Four … Delivered his best performance of the season to help UK advance past Michigan in the Elite Eight, scoring 10 points, grabbing eight boards, including seven offensive, and swatting two shots in 15 minutes of action … Had a put-back dunk in two minutes of a win over LSU … Scored on a dunk in nine minutes of action vs. Missouri … Scored on a put-back and added a rebound in a win over Georgia … Had an assist in the win over Mississippi State … Tallied 10 points and three blocks in UK's win over UT Arlington … Made his first career start against Robert Morris … Pulled down six rebounds in UK's win over Northern Kentucky … Ranked second on the team with 17 points in collegiate debut vs. UNC Asheville … Scored three points and added a pair of rebounds in a win over Transylvania … Sunk a pair of free throws and added two rebounds in three minutes of action in a win over Montevallo.
HIGH SCHOOL
­­Notched 17.7 points, 19.5 rebounds and 6.7 blocks per game in his senior season at Deer Valley … Also an exceptional volleyball player who helped lead his team to a sectional title as a senior … Averaged 13.9 points, 13.1 rebounds, 9.1 blocks and 1.3 steals as a junior … In his first AAU competition he registered a triple-double that was highlighted by 11 blocked shots … Ranked as the No. 17 overall player and the No. 5 power forward in his class by Rivals … ESPNU Recruiting had him rated as the No. 30 overall prospect and the ninth-best power forward … Scout had him tabbed as the No. 40 overall player and the No. 3 center … Joined teammates Aaron and Andrew Harrison, Dakari Johnson, Julius Randle and James Young at the Jordan Brand and McDonald's High School All-America games. 
PERSONAL
Son of Sherri and Ronnie Lee …  Born Sept. 14, 1994 in San Francisco … Has three brothers, Bryan, Robert and Chris  … Chose Kentucky over Cal, Louisville and Duke … Selected No. 00 because he loves double numbers  and because teammate Alex Poythress already had his favorite number of 22 … He has pregame superstitions, but says one of his superstitions is that he can't tell anyone what his superstitions are … If he wasn't a basketball player, he would be a volleyball player or an advertiser for a tech company … He lists his mom and his brother Bryan as his life's greatest influences.
Read more