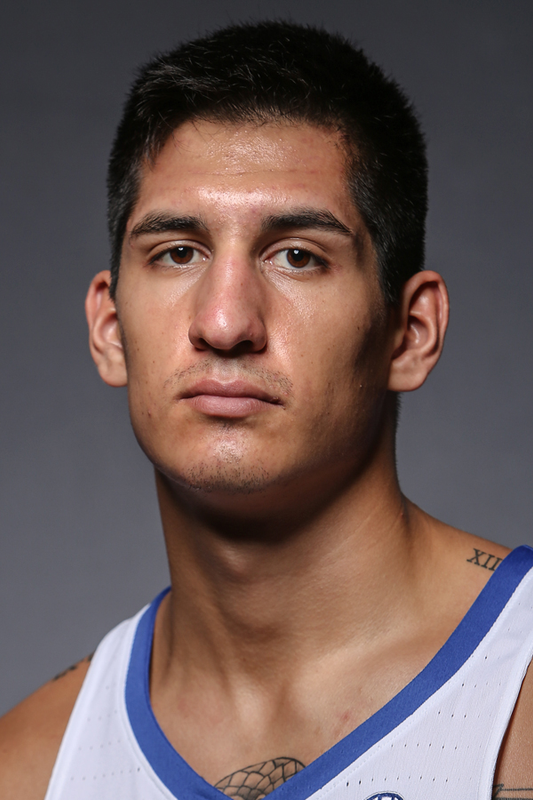 35
Derek

Willis
height

6-9

Weight

228

class

Senior

Hometown

Mt. Washington, Ky.

High school

Bullitt East
Follow @derek_willis33 on Twitter | Follow @dxw_33 on Instagram
2016-17
Senior: Appeared in all 38 games with 15 starts, including nine straight to end the season … Named to the SEC Community Service Team for his contributions in the community … Playing alongside of some of the best seniors in the country and in front of NBA and international scouts, averaged 7.3 rebounds, 4.7 rebounds and 3.0 assists at the Portsmouth Invitational Tournament … Tabbed the most valuable player of the West Team at the Reese's College All-Star Game after recording 13 points, a team-high eight rebounds, a block and a steal in 21 minutes … Also made 6 of 11 shots at the Reese's College All-Star Game … Posted career highs in nearly every major statistical category, including minutes, points, rebounds, assists, blocks and steals … Averaged 7.0 points and a career-high 5.4 rebounds … Scored in double figures in 10 games in 2016-17 … Finished second on the team with 49 3-point field goals … Averaged 7.0 points and 7.3 rebounds during postseason play … After not blocking a shot for eight straight games, totaled 18 rejections over the last nine games … Grabbed five or more rebounds in 18 of 38 games, including 10 of the last 12 … Hit at least two 3-pointers in six of the last eight games and at least one in nine straight prior to the Elite Eight … Just missed out on a double-double with eight points and eight rebounds in additional to a career-high-tying four assists vs. No. 8/6 UCLA in the Sweet 16 … Also nearly had a double-double vs. No. 19/19 Wichita State with nine points, eight rebounds and a career-high-tying three steals … Stuffed the stat sheet in the 2017 NCAA Tournament opener vs. Northern Kentucky with eight points, seven rebounds, three blocks, three assists and two steals … Grabbed 11 rebounds in addition to seven points and a career-high four blocks vs. Georgia in the SEC Tournament … Made three 3-pointers at Texas A&M en route to an 11-point, six-rebound, three-block game … Pulled in a career-high-tying 12 rebounds at Georgia … Scored 16 points on a season-high-tying six field goals made, including four 3-pointers, at home vs. Tennessee … Behind a season-best five 3-pointers, scored a seasons-best 18 points to go along with six rebounds vs. No. 2/1 Kansas … Solid all-around game with 12 points and seven rebounds in the win vs. No. 24/24 South Carolina … Scored 13 points with five rebounds at Mississippi State … Ultra-efficient 15 points in just 19 minutes vs. Arkansas on 6-of-8 shooting … Back-to-back nine-rebound games at Ole Miss and at Louisville … Scored in double figures in three straight games vs. Arizona State, at home vs. No. 11/9 UCLA and Valparaiso, his best scoring stretch of the season … Opened the year with 15 points, five rebounds and three blocks vs. Stephen F. Austin. 
2015-16
Junior:  Enjoyed a breakout season during his junior campaign where he saw action in 32 games and made 11 starts … Missed four games due to ankle injuries … Had career highs in points, points per game, blocks, assists, rebounds, rebounds per game, 3-pointers, field-goal percentage and minutes …  Became a reliable scoring option for the Wildcats … Averaged 7.7 points and 4.0 rebounds per game … Hit 53 3-pointers on the season, which ranked third on the team … His 44.2 field-goal percentage from behind the arc was tops on the team … Led the SEC in 3-point field-goal percentage in conference play with a 50.0-percent clip … Totaled two double-doubles on the year … Had a stretch of 17 games with at least one made 3-pointer … After scoring 122 points in his first 48 career games, scored 166 over the final 17 games of the season … Had eight points, five rebounds and two blocks in the NCAA Tournament win over Stony Brook … Drained three 3-pointers after halftime including the game-clinching one in overtime of the SEC championship game vs. Texas A&M … Swatted a career-high-tying four blocks and grabbed a team-high-tying seven rebounds while adding 14 points vs. Georgia in the SEC semifinals … Broke out for a career game in a home victory over Tennessee … He scored a career-high 25 points while adding a career-best seven made 3-pointers … His 25 points were the most by a junior in the John Calipari era … Had 11 or more points and at least six rebounds in back-to-back games vs. Florida and Georgia … Scored 18 points and hauled in a team-high 12 rebounds in a win over Missouri … The 18-point, 12-rebound effort was the first for a Kentucky native in an SEC game since Sean Woods on Feb. 13, 1991 … With a stretch of six rebounds in seven consecutive SEC games he became the first Kentucky native to achieve the feat since Winston Bennett in 1987-88 … Earned first career double-double with 12 points and 12 rebounds at Auburn … Had 11 points and six rebounds at UCLA … Made his first career start vs. NJIT and posted 11 points, including three made 3-pointers … Broke out for a career day in the season opener vs. Albany … He had career highs with 14 points and two steals against the Great Danes in a then career-high 28 minutes of play.
2014-15
Sophomore: Made the SEC Academic Honor Roll for a second straight season … Averaged career highs in minutes per game (3.9), points per game (1.3) and rebounds (0.7) … Appeared in 19 games, recording four minutes or more in eight of them … Posted 25 points and grabbed 14 rebounds, both career highs … Scored in seven of his first eight appearances … Logged time in three of UK's five NCAA Tournament games … Dished out two assists vs. Auburn in the SEC Tournament … Knocked down his only 3-point attempt of the day at home vs. Missouri … Scored three points, grabbed two rebounds and blocked a career-high three shots in 11 minutes vs. UCLA … Recorded five points and a rebound against Columbia, including the go-ahead free throw with 13:18 left in the game … Scored four points, dished out an assist and grabbed a rebound in the rout of UT Arlington … Grabbed a career-high five rebounds in a career-high 12 minutes in the win over Montana State … Scored five points , including a 3-point field goal on his only attempt, in the dominating victory of No. 5 Kansas.
2013-14
Freshman: An All-SEC Academic Team selection … Dean's List Spring 2014 … Appeared in 14 games as a freshman … Poured in 16 points and added eight rebounds … Scored a bucket and pulled down two rebounds in Kentucky's win over Georgia … Hauled in a rebound in the win over Mississippi State … Tallied six points, draining four free throws, in Kentucky's win over Robert Morris … Knocked down a 3-pointer and three free throws in UK's win over Northern Kentucky … Scored two points off free throws in collegiate debut vs. UNC Asheville … Averaged 4.0 points and 2.0 rebounds in two UK exhibition victories … Totaled six points in 10 minutes of a win over Transylvania … Scored two points and added four rebounds in the win over Montevallo.
HIGH SCHOOL
Scored 17.4 points and hauled in 9.4 rebounds per game as a senior … Averaged 18.0 points and 9.3 rebounds while leading his team to the Sweet 16 in Rupp Arena as a junior … Won two 6th Regional titles … The first player to commit to the 2013-14 class …  Rivals tabbed Willis as the No. 25 power forward, while Scout ranked him at No. 27 … ESPNU Recruiting rated him at No. 37 at his position … Appeared in the Derby Classic and the Kentucky-Indiana All-Stars games along with teammate Dominique Hawkins.
PERSONAL
Son of Trudy and Del Willis …  Born June 21, 1995, in Louisville, Kentucky … Has two sisters, Ashley and Kylee and one brother Taylor … Chose Kentucky over Indiana, Louisville and Purdue … Lists his parents as the most influential in his life … Wanted to be a police officer growing up … Chose No. 35 because Kevin Durant is his favorite player … Pregame superstition is making sure to listen to music. 
Read more