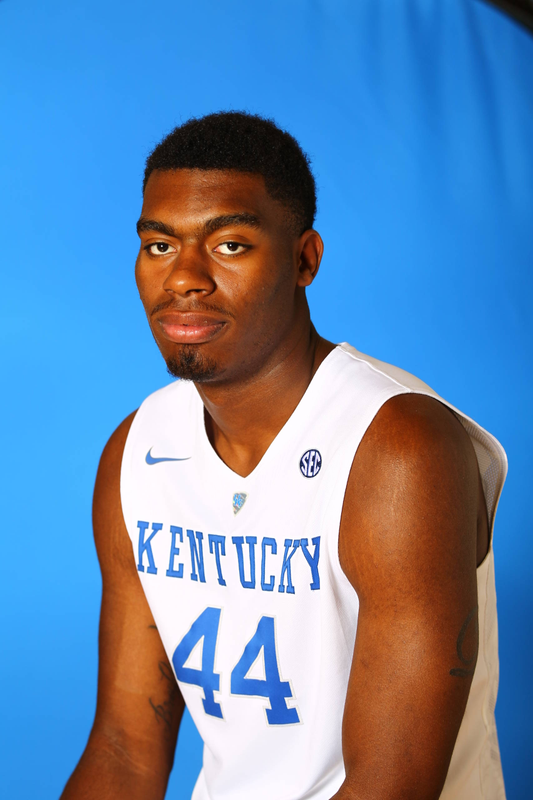 44
Dakari

Johnson
height

7-0

Weight

255

class

Sophomore

Hometown

Brooklyn, N.Y.

High school

Montverde Academy
Follow @SafariDakari44 on Twitter | Follow @dakarijohnson on Instagram
2014-15 (SOPHOMORE) Appeared in all 39 games for the Wildcats … Averaged 6.4 points and 4.6 rebounds in 16.4 minutes per game while connecting on 50.6 percent of his shots from the field … Registered career bests in points per game, rebounds per game, free-throw percentage, blocks, steals and assists during his sophomore campaign … Poured in 12 points and snatched six rebounds in the win over West Virginia … Scored seven points in 12 minutes of play in the NCAA Tournament opening-victory over Hampton … Posted a career-high 13 points and six rebounds on 6 of 7 made field goals in the dominating home victory over Auburn … Earned his second career double-double with 10 points, two blocked shots and a career-high 13 rebounds in a win over South Carolina at home … Had seven points, four rebounds and two blocks at LSU … Notched eight points and seven boards at Missouri … Registered double-figure scoring efforts in consecutive wins over Vanderbilt and Alabama … Had five points and career-highs in assists (six) and blocks (four) in the win over UCLA … Registered seven points, five rebounds, two blocks and a career-high three steals in the win over No. 21 North Carolina … Scored 11 points and added six rebounds in 19 minutes of action against No. 6 Texas … Strung together four consecutive games in double-digit scoring in wins over Kansas (11), Boston (11), Montana State (13) and UT Arlington (12) … Had nine points and 12 rebounds in the win over Buffalo … Opened the season with his first career double-double effort in a win over Grand Canyon with 10 points and a career-high 13 rebounds.
2013-14 (FRESHMAN): Was named to the SEC Academic team … Averaged 5.2 points and 3.9 rebounds per game … Appeared in 39 games and made 18 starts including every game in the postseason … Tallied 10 points and seven rebounds, including five offensive, to help UK past Wisconsin in the Final Four … Notched a career high in scoring with 15 points, while adding six rebounds in a season-high 31 minutes to help UK knock off Louisville … Grabbed a career-high 11 rebounds and scored nine points vs. LSU in the SEC Tournament … Tallied nine points and five boards at Florida … Recorded nine points and five rebounds vs. Alabama … Scored eight points and grabbed five rebounds at South Carolina … Tallied eight points, eight rebounds and two steals in UK's win over Auburn … Scored nine points and grabbed a team-high eight rebounds at Mississippi State … Recorded a career-high four blocks in UK's win over Ole Miss … Led Kentucky at LSU, scoring a career-high 15 points, shooting 7-of-8 from the field, and pulling down six rebounds … Tallied six points, seven rebounds and three blocks in 24 minutes as UK defeated Texas A&M … Scored four points and grabbed four rebounds in UK's win over Tennessee … Tallied four points and four rebounds in just nine minutes of action against Arkansas … Recorded eight points in just eight minutes of play in UK's win over Mississippi State … Notched 10 points and seven rebounds in UK's win over Eastern Michigan … Posted eight points and eight rebounds in Kentucky's win over UT Arlington … Recorded eight points in Kentucky's win over Robert Morris … Grabbed five rebounds vs. Michigan State … Tallied seven points and four rebounds in 17 minutes of action vs. Northern Kentucky … Scored five points in his debut as a Wildcat vs. UNC Asheville … Selected by the media as a preseason All-SEC second team honoree … Posted nine points and five rebounds in 15 minutes of action against Montevallo … Totaled nine points and nine boards with a steal in 19 minutes of a win over Transylvania.
HIGH SCHOOL: Averaged 17.0 points, 11.0 rebounds and 4.3 blocks per game in his only season at Montverde Academy … Johnson led his high school squad to a national championship at the National High School Invitational where he claimed MVP honors after logging 18 points and eight rebounds … Johnson was a McDonald's All-American as well as a Jordan Brand Classic selection … He notched 12 points and five rebounds in the McDonald's game, while pouring in eight points and snagging four rebounds at the Jordan Classic … In addition to his high school accolades, Johnson suited up for Team USA Basketball's U17 squad in the summer of 2012 where he averaged 20 points and five boards a game for the world champions … Johnson is rated as the No. 11 overall player by ESPN and the top player at his position … Rivals ranks him as the No. 9 overall player and Scout lists him at No. 18.
PERSONAL: Son of Makini Campbell … Born Sept. 22, 1995 in Brooklyn, N.Y. … Comes from a family of basketball players … Mother played basketball at Long Island University … An uncle (Kojo Campbell) suited up for Stony Brook, while a cousin (Michael Murray) played at Coppin State … Chose Kentucky over Syracuse, Georgetown, Kansas, North Carolina and Ohio State.
Read more