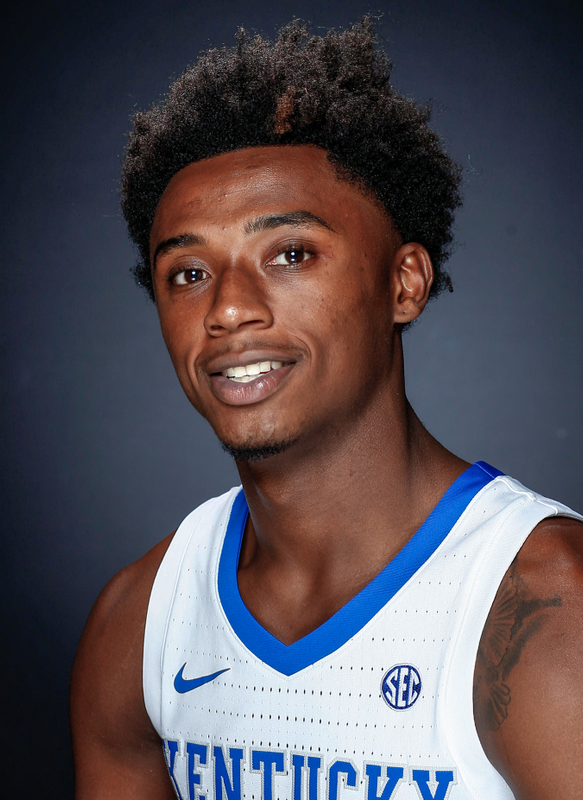 0
Ashton

Hagans
position

Guard

height

6-3

Weight

198

class

Sophomore

Hometown

Cartersville, Ga.

High school

Newton
Follow @H23Ash on Twitter | Follow @ashton.hagans on Instagram
2019-20
Sophomore: Declared for 2020 NBA Draft following the season … Embraced floor general and team leadership roles while continuing to be one of the nation's top defenders in 2019-20 … Improved in a number of major offensive areas, averaging career highs in points (11.5 per game) and assists (6.4 per game) … Also upped his rebounding average (3.9 per game) and his steals numbers (1.9 per game) … Started 29 of 30 games he played in … Named to the Southeastern Conference All-Defensive Team for the second season in a row … One of four Naismith Defensive Player of the Year finalists … His 6.37 assist average ranks fourth in single-season school history … Finished the season ranked 16th nationally in assists per game and first in the SEC … Ranked third in the SEC in assist-to-turnover ratio (1.85) … Posted at least three assists in every game he played and five or more in all but seven games played … Led the team with 191 assists and paced the Wildcats in assists in all but five games … Led the team with 58 steals and posted a team high in steals in 20 games … Boasted double-figure scoring in 20 games … Had a streak of 10 games with six or more assists midway through the season, the best run by a Wildcat since Roger Harden dished six or more in 12 straight in 1986 … Did not play in the season finale at Florida due to personal reasons … Made two 3-pointers en route to 11 points in the victory at LSU … Flirted with a triple-double with 11 points, 10 rebounds and eight assists to ignite a comeback win at Vanderbilt … Came up with two key defensive plays late in the win at No. 18/18 Texas Tech, including swiping the ball away on the Red Raiders' final attempt to tie the game … Scored 23 points on 8-of-17 shooting  to go along with nine assists and a season-high-tying four steals at home vs. Georgia …  Made two 3-pointers en route to 13 points, plus six assists, in the come-from-behind victory at Arkansas … Nearly posted a triple-double with 15 points, nine assists and nine rebounds in the win vs. Alabama … Tied a season high with four steals in the win at Georgia, adding 13 points as well … Had his fingerprints all over the Georgia Tech game with 21 points, seven assists and seven rebounds, going 8 for 10 from the floor while making two 3-pointers … Notched a double-double in the win vs. Fairleigh Dickinson with 11 points and 11 assists … Dished out a career-high 12 assists vs. UAB, just missing a double-double with nine points … Made a career-high three 3-pointers en route to 15 vs. Lamar … Posted 16 points, seven assists and seven rebounds against Mount St. Mary's … Scored a career-high 26 points to go along with six assists vs. Utah Valley … Made 7 of 14 shots and all 12 free throws in the rout of Utah Valley … Played a key defensive role in slowing down preseason national player of the year candidate Cassius Winston in the victory over No. 1/1 Michigan State to start the season.
2018-19
Freshman: Strong freshman season that included a number of accolades … Named the Southeastern Conference Co-Defensive Player of the Year alongside LSU's Tremont Waters … Also tabbed to the league's SEC All-Defensive Team … Selected for the Athletic's All-Glue Team … Made the CollegeInsider.com Kyle Macy Freshman All-America Team … Also tabbed to the CollegeInsider.com Lefty Drisell Defensive All-America Team … Naismith National Defensive Player of the Year semifinalist … Two-time SEC Freshman of the Week winner … Totaled 284 points, 160 assists, 96 rebounds and 61 steals in his freshman campaign … Led UK in assists, steals, games led in assists (26) and games led in steals (17) … Developed into UK's best on-ball defender … Started 30 of 37 games, including the final 29 … Tied Shai Gilgeous-Alexander for the third-most steals by a freshman in school history … Dished out the fifth-most assists by a freshman in school history … Had 29 games with three or most assists … Recorded 10 games with three or more steals … Scored in double figures in 13 games … Made nine 3-pointers over his final 12 games after making five in the prior 25 … Scored 10 points and grabbed five rebounds in the season finale vs. Auburn … Totaled 12 points, five rebounds and four assists in the NCAA Tournament second-round win over No. 19/19 Wofford … Posted a double-double with 10 points and a career-high 12 assists in the SEC Tournament semifinal game vs.  No. 8/8 Tennessee … The 12 assists tied for the most in SEC Tournament history … Scored 14 points in the regular-season finale vs. Florida … Recorded 10 points in the road win at Ole Miss … Notched 14 points thanks to two 3-pointers with five assists in the home victory against Auburn … Made a career-high two 3-pointers en route to 12 points at Missouri … Posted nine points and seven assists in the win over top-ranked Tennessee … Flirted with a double-double with eight points and nine assists at Mississippi State … Dished out six or more assists in four straight games from Jan. 19 to Jan. 29 … All-around solid game with seven points, eight assists and six rebounds at Vanderbilt … Played a key role in the home victory vs. No. 9/10 Kansas with 12 points, eight assists and three steals … Nine assists in the home win vs. No. 22/22 Mississippi State … First player in school history with at least three steals in seven straight games (Dec. 22 to Jan. 19), the longest such streak by a major-conference freshman since Chris Paul had a stretch of 10 straight games with three or more steals in 2003-04 … Grabbed a career-high seven rebounds to go along with six points and three steals at No. 14/12 Auburn … Enjoyed a career day in his return home to Georgia with a career-high 23 points, five rebounds, four assists and four steals … Scored 15 points on 7-of-9 shooting in addition to four assists and three steals at home against Vanderbilt … Thanks to a career-high 10 free throws, scored 18 points to go along with five assists and five steals vs. Texas A&M … Recorded 12 points and six assists at Alabama … Recorded his first career game in double figures with 11 points at Louisville … Broke through vs. No. 9/10 North Carolina in the CBS Sports Classic with a career-high eight steals, seven points, four rebounds and three assists … The eight steals vs. UNC tied the school record previously set by Rajon Rondo and Wayne Turner … Totaled eight points and four assists vs. Seton Hall … Made his first career start vs. Duke.
Bahamas: Defensive stalwart for UK in four wins in foreign tour … Averaged 5.0 points, 4.3 boards, 2.5 assists and 2.0 steals per game … Had two or more steals in three of the four games … Shot 53.3 percent from the field … Had a seven points, three assists and a pair of steals vs. Team Toronto.
HIGH SCHOOL
Forewent his final year of high school eligibility and enrolled at UK a year early … Swept the major awards in the state of Georgia, winning both the Gatorade Georgia Player of the Year and the Mr. Georgia Basketball honor … Averaged 20.2 points, 10.7 assists, 7.6 rebounds and 3.6 steals while leading Newton to the 7A state semifinals … Rated as the No. 12 overall player in the final Rivals rankings and No. 13 by 247 Sports … ESPN ranked him No. 20 overall … Consensus top three point guard in class of 2018 … Led his AAU team, Game Elite, in assists … Helped lead Newton to two regional championships.
PERSONAL
Born July 8 in Cartersville, Georgia … Major is community and leadership development … Parents are Monica Wheeler and Marvin Hagans … Has four siblings, India, Byron, Amoir and Imani… Cousin of former NFL and Auburn running back Ronnie Brown and former NBA player and All-SEC First Team selection at Georgia Trey Thompkins … Also participated in football and baseball … Won football little league state championship as a kid … Favorite activity away from the court is spending time with his family … Chose Kentucky because of its great coaching staff and he aspires to continue to improve as a player.
Read more