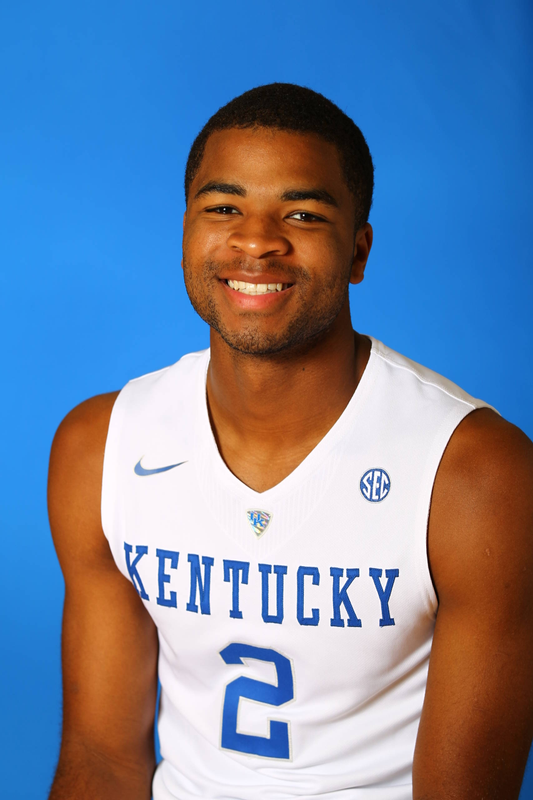 2
Aaron

Harrison
height

6-6

Weight

212

class

Sophomore

Hometown

Richmond, Texas

High school

Travis
Follow @AaronICE2 on Twitter | Follow @aaronice_ptp on Instagram
2014-15 (SOPHOMORE): Earned SEC All-Tournament Team honors after averaging 12.0 points and connecting on 6 of 11 3-point attempts in the league tournament … Named to the All-SEC Second Team by both the league's coaches and the Associated Press … Played in all 39 games in 2014-15, starting all but one of them … Averaged a team-high 11.9 points in SEC play … UK's leading scorer in 2014-15 at 11.0 points per game … Scored in double figures a team-high 24 times … Notched a team-high-tying eight games of 15 points or more … Finished his two-year career ranked 22nd on UK's all-time 3-point field goals made list … Led the team in 3-point field goals made (59) … Matched his career high with 43 steals, which was second on the team … Made three or more 3-point field goals in a game seven times … Recorded six games of three steals or more … Scored in double figures in six of Kentucky's eight postseason games … Posted 12 points on 5-of-10 shooting vs. Wisconsin in the Final Four … Threw down a dunk with UK trialing by five points late in the victory over No. 8 Notre Dame … Followed that with a crucial 3-pointer, his only one of the game, to give UK a lead vs. the Fighting Irish in the Midwest Regional finals … Dished out a season-high six assists to go along with 11 points vs. No. 21 Arkansas in the SEC Tournament championship … Tallied a career-high five steals at home vs. No. 18 Arkansas … Poured in a game-high 23 points, including a three 3-pointers and a perfect 8-for-8 performance at the free-throw line, in a come-from-behind win at Florida … Scored in double figures in 10 of 12 games From Dec. 10 to Jan. 31 … Averaged a team-high 13.4 points in the first eight SEC games of the season, only once failing to score in 10 or more … Went off for a season-high 26 points in the SEC opener vs. Ole Miss, sinking the two game-clinching free throws in overtime … Recorded 14 points or more in three straight games vs. Columbia, No. 21 North Carolina and UCLA … Dished out four assists in addition to 19 points in a victory over Boston.
2013-14 (FRESHMAN): Earned All-Tournament honors at the NCAA Midwest Regional and the SEC Tournament … Twice was named the league's freshman of the week … Averaged 13.7 points, 3.0 rebounds and 1.9 assists per game … Started all 40 games for UK … Sunk 62 3-pointers … Ranked among UK's all-time best freshman seasons in points, 3-pointers and assists … Delivered another game-winning shot for UK, nailing a 3 with six seconds to play to help UK defeat Wisconsin 74-73 in the Final Four … Knocked down a 3 with four seconds to play to give UK a 75-72 edge over Michigan in the Elite Eight, his fourth 3 of the second half … Notched 15 points with three steals in UK's win over Louisville, including knocking down a 3 with 39 seconds remaining to give the Wildcats a two-point lead … Tallied 19 points in 39 minutes as UK knocked off Wichita St. … Scored 18 points in UK's win over K-State … Named SEC All-Tournament Team … Tallied a team-high 16 points vs. Florida in the SEC Championships … Led Kentucky in scoring vs. Georgia, knocking down four 3s to score 22 points … Scored a team-high 21 points at South Carolina … Led UK in scoring with 21 points, four rebounds and two steals vs. LSU … Scored 16 points and dished out two assists at Ole Miss … Tallied nine points, six rebounds and six assists at Mississippi State … Scored 16 points and grabbed six boards in UK's win over Ole Miss … Led UK with 21 points in a winning effort vs. Missouri … Drained three 3s in the final minute to score 14 points vs. LSU … Scored 15 points and dished out three assists vs. Georgia … Notched 14 points and four rebounds as UK defeated Tennessee … Tallied 16 points in Kentucky's 87-85 loss at Arkansas … Scored 14 points and pulled down four rebounds as UK defeated Vanderbilt … Recorded 10 points and four rebounds in a win over Louisville … Notched more than 20 points for a second consecutive game with 23 points, six boards and a career-high seven assists in UK's win over Belmont … Tallied 20 points in just 24 minutes of action on the road at North Carolina … Scored 13 points and swiped three steals in UK's win over Boise State … Drained three 3s, scoring 15 points, while dishing out a season-best six assists vs. Baylor … Tabbed SEC Freshman of the Week after averaging 18.5 points, five rebounds and three assists in wins over Eastern Michigan and Providence … Scored 22 points and pulled down seven rebounds in Kentucky's win over Eastern Michigan … Tallied 11 points in UK's win over Cleveland State … Notched a career-high 28 points, including shooting a perfect 10-for-10 from the free throw line, in Kentucky's win over Robert Morris … Scored 16 points in Kentucky's win over Northern Kentucky … Posted 10 points and four steals in UK's win over UNC Asheville … One of four UK freshmen named to the Wayman Tisdale Preseason watch list for the National Freshman of the Year award … Averaged 9.0 points, 4.0 rebounds and 4.5 assists in two exhibition contests … Had seven assists and no turnovers in the win over Montevallo.
HIGH SCHOOL: Averaged 23.1 points, 5.2 rebounds and 2.5 assists in helping lead Travis to a state title in his senior season … He averaged 18.1 points, 4.7 rebounds, 2.7 assists and 2.6 steals, leading his team to a 36-4 record and 5A State Championship game in 2011-12 … His twin brother, Andrew, is also a member of the Wildcats' roster … The oldest of the Harrison twins by a minute, Aaron is ranked the No. 1 shooting guard in the country by all three recruiting services, while Rivals and Scout both rank him the fourth overall prospect in the country … ESPNU Recruiting ranks him fifth … Participated in both the Jordan Brand Classic Game as well as the McDonald's High School All-America game.
PERSONAL: Son of Aaron and Marian Harrison … Chose Kentucky over Maryland, SMU, Baylor, Kansas and Arizona … Born Oct. 28, 1994 in San Antonio, Texas.
Read more