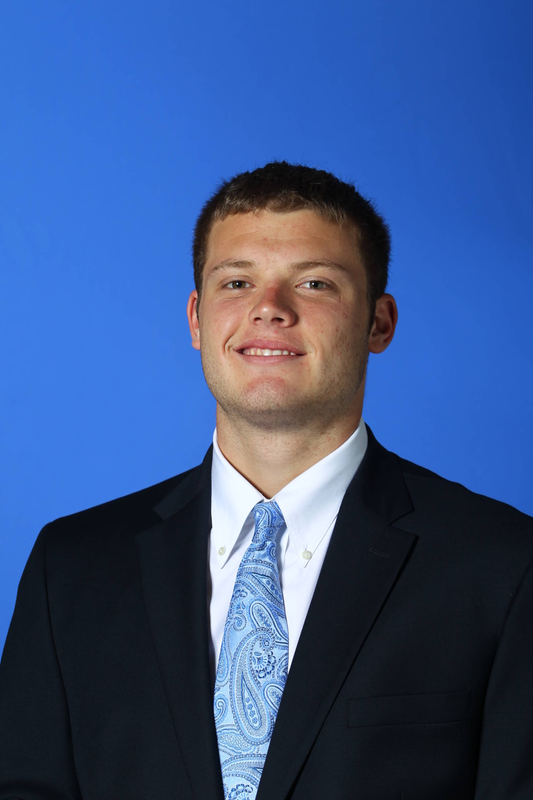 14
Patrick

Towles
height

6-5

Weight

240

class

Junior

High school

Highlands
* SEC?Academic Honor Roll (2013)
Returning starter at quarterback
… Accounted for more than 3,000 yards total offense last season —
joining Tim Couch, Dusty Bonner and Jared Lorenzen as the only players
in school history to top the 3,000-yard mark in their first season as a
starter … Remade his throwing mechanics during the winter of 2014, 
particularly his footwork and quickness of his release, providing the
springboard for his emergence last season … In addition to his passing
skills, he is adept as a runner … Redshirted his second year at UK
… Was projected to redshirt in 2012 as a true freshman but was pressed
into service when injuries struck at quarterback … Grandson of Jim
Bunning, a Hall of Fame baseball pitcher and former United States
Senator.
2014 (Sophomore):
Started all 12 games … Had 3,021 yards total offense … Completed
57.8 percent of his passes for 2,718 yards and 14 touchdowns … Ran for
303 net yards and six more TDs … Threw for 377 yards against UT
Martin in his first collegiate start and his 407 yards total offense was
only two yards shy of the school record for most total yards in a first
start … Threw for 369 yards and three touchdowns at Florida, making
him the first QB in school history to throw for at least 360 yards twice
in his first three starts … Threw for a career-high 390 yards vs.
Mississippi State … Also rushed for a career-high 76 yards and two TDs
against the Bulldogs … Threw 159 consecutive passes without an
interception, the second-longest streak in school history.
2013 (Sophomore): Redshirt season.
2012 (Freshman):
Played in five games … Completed 19 of 40 passes for 233 yards and a
touchdown … First career drive against Mississippi State was
impressive, completing 5-of-5 passes for 71 yards, capped by a 32-yard
TD pass … Completed 4-of-6 passes for 47 yards in the win over
Samford.
High School: Named
to the Parade magazine All-America team … "Mr. Football" for the
Commonwealth of Kentucky … Gatorade Player of the Year in Kentucky … Won
the Paul Hornung Award as the Kentucky Player of the Year … Finalist
for the National Scholar-Athlete Award by the National Football
Foundation … Big, strong-armed quarterback who also has notable
running ability … Led Highlands HS to three consecutive state
championships as the starting quarterback, Class AAAA as a senior and
Class AAAAA as a sophomore and junior … Team compiled a three-year
record of 44-1, including 38-1 with Towles as the starter … As a senior
completed 171 of 279 passes (61.3 percent) for 3,820 yards with 42
touchdowns and only one interception … Also rushed for 589 yards and 15
TDs … Career totals feature 7,429 passing yards and 73 touchdown passes
while rushing for 1,718 yards and 38 TDs … The No. 1 prospect in
Kentucky and one of the top-10 pro-style quarterbacks in the country by
Rivals.com and 24/7 Sports … Athleticism is such that ESPN rated his
college position as "athlete" instead of quarterback … Coached by Dale
Mueller … Highlands' quarterbacks coach was former UK QB Jared Lorenzen …
Also played basketball, in which he earned all-region, and track and
field, competing in the high jump … Member of the National Honor Society
… Math tutor for elementary-school students.
Personal:
Born in Bellevue, Ky. … Last name is pronounced "TOLES" … Son of Terry
and Amy Towles … Strong arms are in Patrick's heritage as he is the
grandson of Baseball Hall of Fame pitcher (and United States Senator)
Jim Bunning … Patrick's uncle, Jim Bunning Jr., played football at
Indiana … Patrick's brother, Thomas, played baseball at Transylvania …
Major is political science.
Community Cats:
Participated with the Big Blue U Move-In (2012) and events with God's
Pantry (2013) and Beaumont Middle School Fellowship of Christian
Athletes (2013).
Patrick Says …
My nickname is: Patty Ice … I wear uniform number 14 because: my
grandfather wore it … Other than the NFL, my dream job is: mission
work … I couldn't live without my: God … My non-sports talent is:
I'm learning the harmonica … The coolest thing about being at UK
is:?representing my home state … If I could trade places with Coach
Stoops for one day, I would: get free ice cream for everyone!!! …
Something people might not know about me is: I actually have blue blood
… Were you named after anyone: my uncle.
Read more