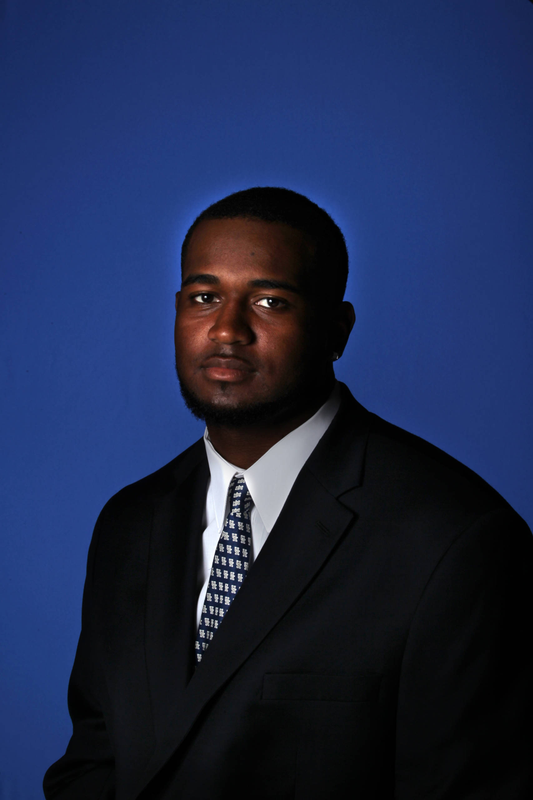 91
Farrington

Huguenin
height

6-4

Weight

282

class

Senior

Previous School

North Carolina Tech

High school

Dreher
Has great opportunity following the graduation of senior ends Bud Dupree
and Za'Darius Smith … Has proved to be a dependable contributor
during his three seasons as a reserve, he hopes to enlarge his role this
year … Has worked hard in the weight room, putting on approximately
40 pounds since his arrival … Has played in 36 games with two starts
… Has completed his degeree in communication, will work toward a
second major during the fall semester.
2014 (Junior):
Made 18 tackles, his best season as a Wildcat … Played in all 12
games … Had season-high three tackles in the wins over South Carolina
and ULM and also had three stops at Missouri … Had his first
collegiate tackle for loss vs. ULM.
2013 (Sophomore): Made
14 tackles, one pass breakup and one quarterback hurry … Played in 12
games with one start … Start came vs. Alabama … Season high of
three tackles vs. the Crimson Tide and in the win over Miami (Ohio).
2012 (Redshirt Freshman):
Played in all 12 games … Got his first starting assignment in the
season finale at Tennessee … Collected 11 tackles during the season
… Best game was four tackles and a fumble recovery against Mississippi
State … Credited with three quarterback hurries.
2011 (Freshman): Redshirted.
Prep School: Attended
North Carolina Tech Preparatory Christian Academy in Charlotte for the
2010 season … Totaled an astounding 17 quarterback sacks during the
season … Coached at North Carolina Tech by Tim Newman.
High School:
Combined excellent size with noteworthy speed as he originally signed
with UK in 2010 … Has moved his 6-4 frame as fast as 4.56 seconds in the
40-yard dash and has notched consistent times below 4.7 … Started at
linebacker his senior year at Dreher High School in Columbia, S.C. …
Totaled 121 tackles and four sacks as a senior, along with four caused
fumbles, two recoveries and a pass interception … Started at defensive
end as a sophomore and junior … Notched 82 tackles and 11 sacks during
junior season … Turned in an impressive performance in the summer of
2009 at the Elite 100 Camp in Charlotte, N.C. … "Has a great first step
and is explosive," wrote Mike Farrell, a recruiting analyst for
Rivals.com … Coached at Dreher by Bill Bacon … Also wrestled in high
school, winning a pair of tournaments in the 215-pound class …
Participated for the track and field team in the 200-meter dash,
4×100-meter relay, shot put and discus throw … Regional champion in the
shot put as a junior … Member of the school's Finance Club.
Personal:
Born in Columbia, S.C.  … Son of Lawrence Huguenin and Valerie Huguenin
… Last name pronounced "HUE-guh-nin" … Has completed his degeree in
communication, now plans to add a second major.
Community Cats: Participated
in events with the Big Blue U Move-In (2011, '12), God's Pantry (2012,
'13). Indian Summer Camp (2012), UK Children's Hospital (2013) and
Shooting at Success (2013) … Guest speaker to a youth football team
(2014).
Farrington Says …
My nickname is: Faro … Other than the NFL, my dream job is: to fly
planes … I coudn't live without my: family … My favorite part about
game day is: seconds before coming out of the tunnel … The one thing I
like most about football is: the brothers creed … My biggest
accomplishment so far is: getting a college degree … What's the best
advice you've ever received? Learn from yesterday, live for today, pray
for tomorrow.
Read more