UK Athletics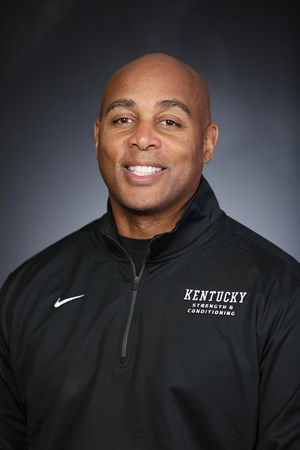 Corey Edmond is in his 29th season working in collegiate football, his ninth in the strength and conditioning program at Kentucky.
Since arriving at Kentucky in 2013, Edmond has been an integral part of the Wildcats' success. The Wildcats began their five-year bowl in 2016 and now have won their past three: defeating Penn State, 27-24, on Jan. 1, 2019, in the VRBO Citrus Bowl and Virginia Tech, 37-30, in 2019 thrilling Belk Bowl, and the victory over NC State in 2020.
Kentucky's three-game bowl winning streak is tied for the third-longest active streak behind Appalachian State (six) and Texas (four).
Known for his great pedigree and outstanding credentials on improving player development, Edmond has coached more than 40 NFL players, including Terrell Owens (UTC), Roy Williams (Oklahoma), Josh Heupel (Oklahoma), Jason White (Oklahoma), Chris Henry (Arizona) and Rob Gronkowski (Arizona) just to name a few.
In 2020, Kentucky had six NFL Draft picks which tied for the fourth-most in school history and the most since 1979 (eight). The six picks were also the most for Kentucky since the current seven-round draft era began in 1994.
Kentucky has had five or more draft picks twice in the last three years (five in 2019).
Current NFL athletes who trained under Edmond at Kentucky include Josh Allen (Jaguars), Quinton Bohanna (Cowboys), Lynn Bowden Jr. (Dolphins), T.J. Carter (Steelers), Jamin Davis (Washington), Bud Dupree (Titans), Brandin Echols (Jets), Mike Edwards (Buccaneers), Phil Hoskins (Panthers), Drake Jackson (Lions), Lonnie Johnson Jr. (Texans), Kelvin Joseph (Cowboys), Austin MacGinnis (Rams), A.J. Rose (Vikings), Za'Darius Smith (Packers), Benny Snell Jr. (Steelers), Logan Stenberg (Lions), Calvin Taylor Jr. (Steelers), Jamar "Boogie" Watson (Steelers), Chris Westry (Ravens), Avery Williamson (Jets) and Landon Young (Saints).
Edmond came to the Bluegrass after one season at his alma mater, North Carolina State, as the head strength and conditioning coach.
Prior to his year at N.C. State, he spent eight successful seasons at Arizona under Mike Stoops, Mark's older brother, starting as an assistant strength and conditioning coach in 2004 before being promoted to director of performance enhancement in 2005. While at Arizona, he also worked with the men's and women's basketball teams, among others.
In 2009, he was named a semifinalist for strength and conditioning coach of the year by footballscoop.com, after helping lead the Wildcats to an 8-5 overall record and an appearance in the Holiday Bowl.
During his tenure, Arizona advanced to three bowl games with 19 players selected in the NFL Draft.
In 2010, Edmond accepted an administration role at Arizona as the associate athletics director.
Prior to Arizona, Edmond was the assistant director of performance enhancement at Oklahoma from 1999-2004. He was instrumental in helping the Sooners win a national championship in 2000 and finish as the national runners-up in 2003.
He also has previous director's experience as the head strength and conditioning coach at the University of Tennessee Chattanooga from 1995-99. Prior to that, he worked directly with the football program as an assistant coach for three years, working with defensive ends and linebackers at UTC from 1993 to 1995.
A 1993 North Carolina State graduate, Edmond played three years as a starting linebacker for the Wolfpack from 1987-90, appearing in the Peach, Copper and All-American Bowls, then signed a 1991 free-agent contract with the then Houston Oilers. He stayed with the organization for two years before returning to complete his degree studies at N.C. State in 1993.
Edmond and his wife, Laurie, have a daughter, Leah, and a son, Darren, who is currently a walk-on wide receiver for the Wildcats. Leah was a member of UK's volleyball team, earning first-team All-America and SEC Player of the Year honors in 2018 and 2019.
Edmond Coaching History
| | | |
| --- | --- | --- |
| Year | School | Position, Postseason |
| 1993-95 | UT-Chattanooga | Defensive Ends/Linebackers |
| 1995-99 | UT-Chattanooga | Head Strength and Conditioning Coach |
| 1999-2003 | Oklahoma | Assistant Director of Performance Enhancement; five bowls |
| 2004 | Arizona | Assistant Strength and Conditioning Coach |
| 2005-09 | Arizona | Director of Performance Enhancement; two bowls |
| 2010-11 | Arizona | Associate Athletics Director; one bowl |
| 2012 | North Carolina State | Head Strength and Conditioning Coach, one bowl |
| 2013-15 | Kentucky | Head Strength and Conditioning Coach |
| 2016-present | Kentucky | Director of Performance, five bowls |
Edmond Postseason History
| | | |
| --- | --- | --- |
| Year | Bowl | School |
| 1988 | Peach Bowl | N.C. State* |
| 1989 | Copper Bowl | N.C. State* |
| 1990 | All-American Bowl | N.C. State* |
| 1999 | Independence Bowl | Oklahoma |
| 2000 | Orange Bowl – National Champions | Oklahoma |
| 2001 | Cotton Bowl | Oklahoma |
| 2002 | Rose Bowl | Oklahoma |
| 2003 | Sugar Bowl – National Runners-up | Oklahoma |
| 2008 | Las Vegas Bowl | Arizona |
| 2009 | Hoilday Bowl | Arizona |
| 2010 | Alamo Bowl | Arizona |
| 2012 | Music City Bowl | N.C. State |
| 2016 | TaxSlayer Bowl | Kentucky |
| 2017 | Music City Bowl | Kentucky |
| 2018 | Citrus Bowl | Kentucky |
| 2019 | Belk Bowl | Kentucky |
| 2020 | TaxSlayer Gator Bowl | Kentucky |
* – Player
Read more