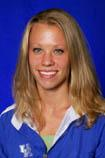 Leah

Kerstetter
class

Junior

High school

Iroquois
2003: Outdoor – Ran a personal best of 4:36.28 in the 1,500 meters at the Jesse Owens Invitational. Indoor – Ran a personal best time of 4:59.49 in the mile at the SEC Challenge… Ran a personal best 9:55.92 in the 3,000 meters at the Rod McCravy Memorial… Earned the :Courage Award" at the Catspy's, UK's version of the ESPY Awards.
Fall 2002: Cross Country – Helped UK to a second-place finish at the SEC Championships, finishing 21st…Ran a season-best 21:49 in the 6k at the NCAA Southeast Regional.
High School: Won the 1,600-meter title at the 2001 and 2002 Pennsylvania State Championships…Finished second in the 1,600 meters at the 2000 state meet…Was the 2002 800m State Champion … As a cross country runner, twice qualified for the state championship as an individual as her high school did not sponsor the sport.
Personal: Born June 30, 1984…Daughter of Marcie and Duane Kerstetter…Major is psychology.
Personal Bests:
800 Meters: 2:16.72
1,5000 Meters: 4:36.28
1,600 Meters: 4:55.13
3,000 Meters: 9:55.92
Read more