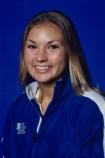 Karen

Wartgow
class

Senior

High school

Belvidere
2001: Sat out season as a redshirt.
High School: As a junior, placed third in 3,200 meters at the Illinois Class 3A State Championships with a time of 11:05.88… Four-time all-conference and two-time all-state in cross country and track… Was named Athlete of the Year during her senior season.
Personal: Born April 9, 1982… Parents are Teresa and Ron Wartgow… Major is undecided.
Personal Bests:
800 Meters: 2:16.90
1,600 Meters: 5:08.29
3,200 Meters: 11:05.88
Read more