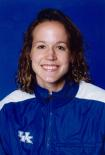 Jennifer

Sauer
class

Senior

High school

South Oldham
2001: Indoor ? Competed in the 800m run? Was the Cats top finisher at the Rod McCravy Memorial meet in the 800m run, placing seventh? Competed at the SEC Indoor Championships.
2000: Indoor – Ran fastest time of season in the 800m at the Rod McCravy Memorial with a time of 2:19.60.
Outdoor – Sat out the season as a redshirt.
High School: School record holder in the 800 meters, 4×400-meter relay and the 4×800-meter relay… Anchored 4×800-meter relay team to a third-place finish at the 1999 Kentucky Class AAA State Championships… As a senior, member of team that finished fourth at state championships.
Personal: Born Aug. 23, 1981… Parents are Debbie and Jeff Sauer… Major is undecided.
Personal Bests:
800 Meters: 2:17.90
Mile: 5:16.00
Read more