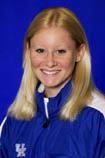 Brooke

Patterson
class

Senior

High school

Lancaster
All-SEC Cross Country
2003: Outdoor – NCAA qualifier in the 800 meters, advancing to the semi-finals round… Ran a personal best time of 2:06.03 in the first round of the NCAA Championships… Advanced to the final at the SEC Championships and placed sixth with a time of 2:06.43… Ran a personal best of 4:29.26 in the 1,500 meters at the Mt. Sac Relays… Anchored the second place 4×800 relay at the Penn Relays that is ranked second in the U.S. for 2003. Indoor – Placed sixth at the SEC Championships in the mile run with a personal best time of 4:48.26… Ran a time of 4:49.63 at the Notre Dame Last Chance meet.
Fall 2002: Cross Country – Earned All-SEC honors after finishing ninth at the SEC Championships to lead UK to a second-place team finish…Ran a season-best 17:11 in the 5k to finish seventh at the Auburn Invitational…Had a season-best time of 21:12 for the 6k at the NCAA Regional, finishing 35th.
2002: Outdoor – Sat out season as redshirt. Transferred to UK from Ohio State in January of 2002.
At Ohio State: Finished fifth in the 800 meters at the Big Ten Outdoor Championships in 2001…Also ran the 4 x 400-meter relay…Was a finalist at the indoor conference meet in 2001 in the 800 meters.
Personal: Born March 21, 1982…Daughter of Patricia and Joe Patterson…Major is kinesiology.
Personal Bests:
800 Meters: 2:06.03
1,500 Meters: 4:29.26
Mile: 4:48.26
Read more