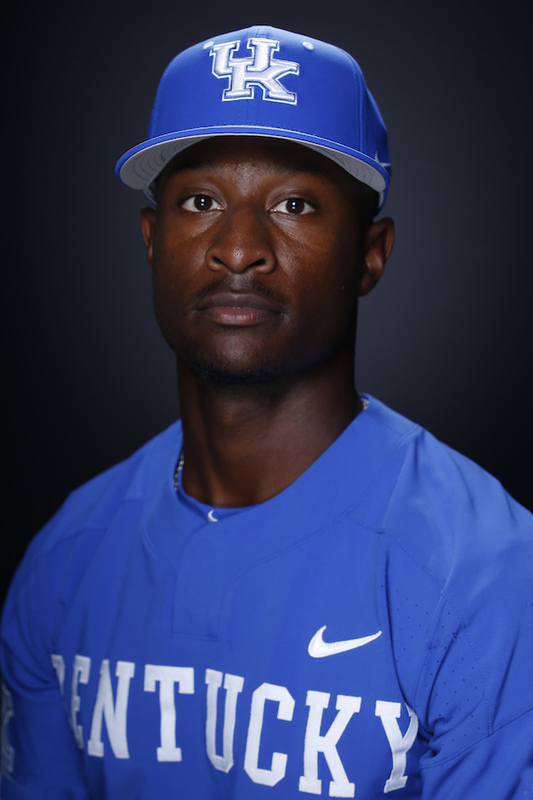 4
Zeke

Lewis
height

5-9

Weight

160

class

Graduate Student

Hometown

Atlanta, Ga.
• Sun Belt League All-Star (2018)
• Participated in Southeast Collegiate Prospect Showcase (2018)
• SEC Academic Honor Roll (2017)
• SEC First-Year Academic Honor Roll (2016)
SUMMER 2018
Appeared in 32 games for the Brookhaven Bucks of the Sunbelt League…Team won its first league championship…Batted .218 with 15 runs, one double, one home run, four RBI and 11 walks, mostly out of the leadoff spot in the lineup…Claimed the regular season stolen base crown, stealing 16 bases in 18 attempts…Stole multiple bases in a game six times…Was named a Sunbelt League All-Star…Was selected to the Southeast Collegiate Prospect Showcase.
2018
Appeared in 30 games with six starts…Hit .214 with nine runs scored, a double, two RBI, two walks and five steals in six attempts…Served mostly as a pinch runner until late in the season when he earned several starts in right field, which he had not played in college, and at DH…Entered as a pinch hitter vs. Louisiana after teammate Ryan Johnson was forced to leave the game with an injury during the middle of an at bat…In that at bat he pulled and RBI single into right field…Scored game-tying and game-winning runs in the ninth and 11th innings, respectively, at No. 18 Georgia on 4/13…Had career-high two hits on 5/22 vs. Auburn in the SEC Tournament…Saw time as pinch hitter, pinch runner, second baseman, right fielder and designated hitter.
2017 SUMMER
Appeared in 21 games with the Danbury Westerners of the New England Collegiate Baseball League…Played with UK teammate Brad Schaenzer…Had three doubles, scored four runs, stole six bases and drove in two runs in just 56 at bats…Walked five times and was hit by a pitch…Primarily played shortstop.
 
2017
Appeared in 28 games, 21 of which came as a pinch runner…Saw time at second base, shortstop and third base…Made his collegiate debut on 2/17 at North Carolina as a pinch runner…Scored 12 runs on the season with four walks and a hit by pitch…His 12 runs scored came in 12 different games.
2016 SUMMER
Appeared in 41 games for the Elmira Pioneers of the Perfect Game League as a teammate of fellow Wildcats Sean Hjelle and Storm Wilson…Hit .202 but scored 22 runs, walked 13 times and stole six bases…Added a pair of doubles, two triples and drove in 10 runs as a versatile infielder.
2016
Redshirted the season. 
HIGH SCHOOL
Coached by Michael Jennings at Mays High School … A four-year starter at shortstop … Named to the Perfect Game 18U WWBA All-Tournament Team in 2015 and 2014 … Two-time gold glove winner for Mays … Won the Marquis Grissom Leadership Award in 2015 … Hit .427 as a senior with 31 runs, 32 hits, 19 RBI, 21 steals and one homer … Was rated by Perfect Game as the 108th best prospect in Georgia.
PERSONAL
Full name is Isaiah Phillip Lewis … Son of Phillip and Joyce Lewis … Born in Atlanta, Ga. … Major is Arts Administration…Has a sister, Iris…Favorite MLB team is the New York Yankees…First MLB game attended was the Atlanta Braves vs. Philadelphia Phillies in Atlanta…Wears No. 4 as a tribute to the section of Atlanta he grew up in, known as "Zone 4"…Enjoys working on his music in his spare time.
Read more