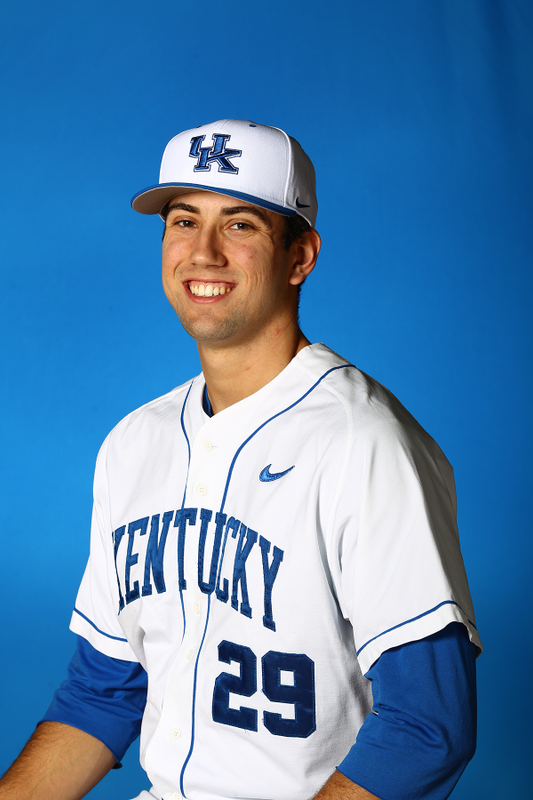 29
Zach

Strecker
height

6-4

Weight

225

class

Redshirt Senior
• 2013 Prospect League Summer All-Star
• SEC Academic Honor Roll (2013)
Outlook
Strike-throwing machine is in his fourth year on UK's campus after earning a spot on the roster in 2012 … Has added muscle to his 6-foot-4 frame … Has a delivery that presents challenges to right-handed hitters … Is a ground-ball machine, with a team-best 44 ground balls going as outs during the 2014 fall practice season … Had a strong freshman season in 2013 and entered the year as the first option to replace record-setting closer Trevor Gott … Was victimized by some poor defense and luck in his first two save chances, sliding into a middle relief role before breaking out late in the season in the SEC and NCAA Tournaments … Fought through the emotion of two bench-clearing scuffles and an ejection in the NCAA Tournament outing at No. 8 Louisville, keeping UK in the game with 2.2 shutout innings in relief.
Summer
Started eight games for the Valley Blue Sox in the New England Collegiate Baseball League … Had a 2-5 record and a 3.19 ERA in 50.2 innings, allowing just eight walks, 54 hits and striking out 30 … Worked at least six innings in all but one start, including at least seven innings in five starts.
2014
Pitched in 18 games with a 0-1 record and a 3.80 ERA in his sophomore season … Worked 21.1 innings, allowing 10 hits and striking out 21 … Opened the year as the first reliever called upon in a save situation to replace UK career record holder Trevor Gott, who shattered UK's relief records until signing in the draft in 2013 … Moved into a middle relief, right-handed set-up man role in the middle of the season … Worked in seventh SEC games, with a 4.26 ERA in 6.1 innings … Appeared in 11 non-SEC games, with a 3.60 ERA in 15 innings … Had a 2.70 ERA in nine games that UK won … Worked five one-run innings in relief in the SEC and NCAA Tournament … Inherited 12 runners and allowed only five to score … Got the final out of UK's season-opening win over No. 1 Virginia … Came on to try and get the save vs. VMI before a two-out error allowed two runs to score and suffer his first loss of the year … Worked shutout innings vs. Wright State and Cincinnati, before earning the save opportunity vs. Ball State, UK's second save chance of the year … Came on and allowed three runs on three hits and a walk, with UK suffering the loss in extra innings … Worked two shutout innings vs. Missouri, before stretching out with extended outings vs. Tennessee Tech and No. 12 Ole Miss … With UK's pitching staff decimated by injuries and early round games, came on in relief of a 12 inning thriller vs. Mississippi State in the SEC Tournament, tossing a season-long 3.1 innings to keep UK in the game … Had the best outing of his season in an emotion-filled outing at No. 8 Louisville in the NCAA Louisville Regional Championship, working around two singles and a walk in 2.2 shutout innings … Had an all-star summer in the Prospect League with the Slippery Rock Sliders, where he teamed with UK outfielder Storm Wilson … Was a workhorse in the league, going 5-2 with a 2.27 ERA in 10 games and eight starts … Worked 63.1 innings, allowing five walks and 66 hits, striking out 28 … Strecker worked one shutout and worked at least six innings in all eight of his starts … Was named an all-star, pitching a scoreless inning for the East squad … Worked a season-low six innings in his first start of the summer, winning his first three starts … Worked eight shutout innings on June 19, seven shutout innings on June 26 … Worked a complete game on July 20.
2013
Became a key right-handed reliever as a redshirt freshman … Appeared in 16 games in relief, with a 1-1 record and a 2.35 ERA … Tossed 15.1 innings, allowing 15 hits and five walks, striking out 15 … Allowed opponents to hit .246 … ERA was inflated after a UK outfielder lost a fly ball in the sun at Ole Miss with two outs, allowing two runs to score … Appeared in five SEC games, working 3.1 innings, with the only runs allowed coming on the dropped fly ball at Ole Miss … In 11 non-SEC games, had a 1-1 record and a 1.50 ERA in 12 innings, allowing 11 hits, two walks and 11 strikeouts … Pitched in 11 games at Cliff Hagan Stadium, with a 1-0 mark and a 1.08 ERA in 8.1 innings … Ranked second on the team with 12.3 ground-ball outs forced per nine innings … With runners in scoring position, held opponents to a .192 average … Inherited 18 runners, allowing just seven to score (39-percent) … Without the dropped fly ball at Ole Miss, which allowed two of his four earned runs on the year to score, had a 1-1 record and a 1.20 ERA … Made collegiate debut in the second game of the year, striking out two in a perfect, nine-pitch inning … Came on to get right-handed hitters out late in the game vs. Kansas State, Murray State, Eastern Kentucky and Akron, allowing his first career run vs. Akron … Worked 1.1 perfect innings vs. Michigan State … Earned his first career win with 2.1 shutout, one-hit innings vs. Ohio … Had a heroic outing in an 18-inning marathon at Western Kentucky, taking the mound in the bottom of the 14th inning with the bases loaded and no outs, wiggling out of the jam and tossing three more shutout innings for a depleted UK pitching staff, before WKU got a leadoff solo homer in the bottom of the 18th inning for a walk-off win … Three days later, returned to the mound in a loss at No. 16 Ole Miss, getting one out and inducing a fly ball to rightfield that was lost in the sun, allowing two runs to score on his line with a two-run triple … Played in the Midwest League with the DeKalb County Liners … Appeared in 13 games with six starts, owning two saves, a 3-2 record and a 1.93 ERA … Tossed 42 innings, walking 13, allowing 34 hits and striking out 25 … In his summer debut, tossed seven, one-run innings on June 2 … Worked as a starter late in the year, hurling 24 innings over his last four outings, allowing six earned runs.
2012
Redshirted season.
High School
A two-time first-team all-district honoree for coach John Morris at Eastern High School … Led team in home runs (six) and shutout games pitched (two) during senior season … Won Most Offensive Award, MVP, and Coaches Award as a senior … Won pitching award as a junior and a senior … Played in 6th/7th Region Senior All-Star game.
Personal
Full name is Zachary Adam Strecker … Son of Fred and Elaine … Born Sept. 30, 1993 in Louisville, Ky. … Has a brother, Fred (27) and a sister, Courtney (28).
Read more