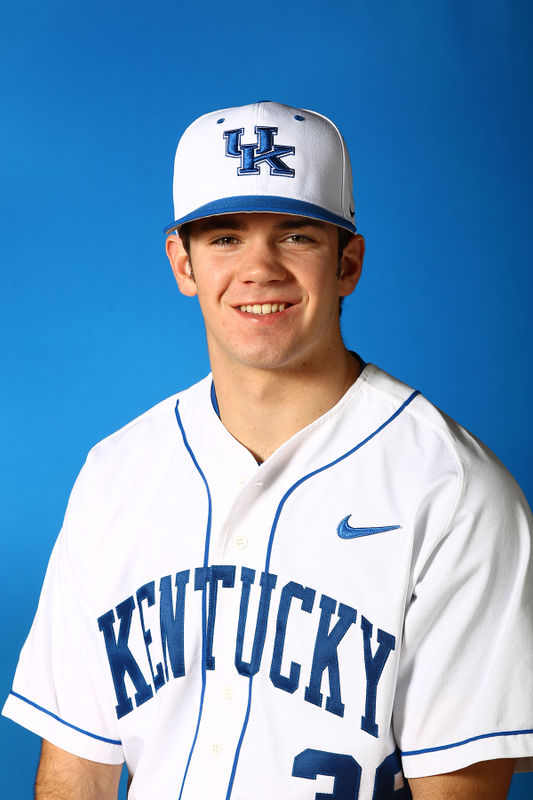 39
Zach

Logue
height

6-0

Weight

185

class

Junior
 SEC No. 34 2017 draft prospect (D1 Baseball)
• SEC Academic Honor Roll (2016)
• 2015 Perfect Game League Pitcher of the Year
• 2015 Perfect Game League All-Star (SP)
• 2015 SEC Freshman of the Week (4/19/15)
• SEC First-Year Academic Honor Roll (2015)
Outlook
Coaches consider him the best athlete on the pitching staff…Has very good stuff that's only improved as he's gained experience…Good fastball with a hard slider that plays well off that…Utilizes the change-up well…Will throw strikes at the knees…Slotted as one of the Wildcats' weekend starters after a strong fall season…D1 Baseball ranks him as the No. 34 draft-eligible prospect in the SEC.
Summer
Appeared in 18 games with the Orleans Firebirds of the renowned Cape Cod League…Worked exclusively as a reliever…Became lights out weapon out of the bullpen, posting a 1.97 earned run average in 27.1 innings pitched…Allowed 26 hits and struck out 26 hitters…Gave up two earned runs in first appearance and just a total of four over his final 17 outings.
2016
Appeared in 17 games, nine of which he started…Recorded a 3-1 record with 2.26 earned run average in 44.2 innings pitched on the season…Struck out 36 batters and held opponents to a .241 batting average…Became UK's top midweek starter last season, drawing the assignment in both games against Louisville and also at Indiana…Gave up just one earned run in each of those three starts…Started the SEC Tournament game against Alabama, giving up three runs in 5.2 innings while striking out two…Recorded a career-high seven strikeouts against Miami (Ohio) on 4/27 and matched that total against Murray State on 5/17…Picked up a win in relief at Georgia on 3/20 with a scoreless inning of work…Threw 5.0 innings and gave up just one run at Louisville on 4/19…Yielded just two home runs.
2015
Was a weapon for the UK pitching staff as a freshman, appearing in 19 games with three midweek starts … Owned a 2-2 record and a 5.18 ERA over 33 innings, allowing 38 hits and seven walks, striking out 24 … Had one save … Did not uncork a wild pitch … Inherited 16 runners, allowing seven to score … Appeared in eight SEC games with a 1-0 record and a 7.24 ERA in 13.2 innings, allowing 15 hits and four walks, striking out six … Had a 3.72 ERA in 19.1 non-SEC innings … Had a 3.12 ERA in nine games that UK won … Had a 3.38 ERA in 10.2 innings in April … Made his NCAA debut in the season opener vs. Ball State, allowing two hits and a run over 1.2 innings, striking out three … Next two outings were scoreless, a shutout inning at No. 16 UC Santa Barbara and got two outs vs. Mount St. Mary's … Made first career start in UK's home opener, firing a career-long 6.2 innings, allowing one run on four hits and a walk, striking out seven … Over 11.1 innings, over four outings in March and early April, allowed 12 runs to spike his ERA … Worked 4.2 innings in relief at Arkansas, allowing two runs … Fired 3.2 shutout innings combined vs. Tennessee, including his first career save with the final three outs in the middle game of the series … Was named SEC Freshman of the Week after his performance vs. UT … Made midweek start at No. 2 Louisville, allowing two hits in two shutout innings. 
High School
Went 8-1 with a 1.20 ERA as a senior in 2014, striking out 66 in 52 innings … Also hit .385 as a senior, with eight doubles and one homer … First-team all-state selection and a second-team All-America selection as a senior … Named the D1 Cincinnati Player of the Year in 2014 … Earned first-team All-GCL and first-team All-City honors as a senior … As a junior earned first-team All-City and All-GCL honors … Hit .455 as a junior … Had an 8-1 record and a 1.12 ERA as a junior, striking out 56 in 56 innings … Led team to a state D1 runner-up finish in 2014 and the state D1 championship in 2013 … Played for coach Tim Held at Moeller High School … A great student, earned academic all-state honors and owned a 4.0 GPA. 
Personal
Full name is Zachariah Michael Logue … Son of Russ and Jennifer Logue … Has a younger brother, Seth (16) … Born in Cincinnati, Ohio … Major is pre-Chemical Engineering…Aunt and uncle both attended Kentucky…Also played hockey in high school…Favorite MLB team is the Cincinnati Reds…Favorite MLB player is Los Angeles Dodgers left-handed pitcher Clayton Kershaw. 
Read more