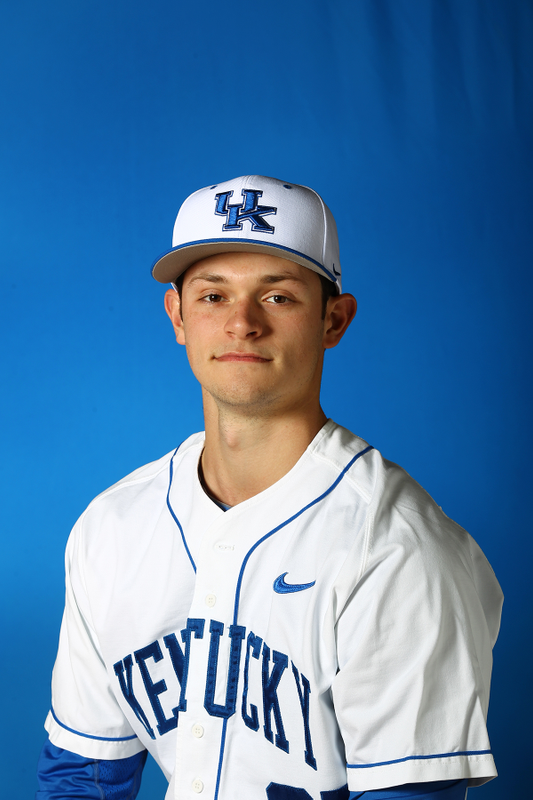 35
Zach

Arnold
height

6-2

Weight

190

class

Senior
• SEC Academic Honor Roll (2015)
• 2014 Northwoods League All-Star (C)
• SEC Academic Honor Roll (2014)
• 2013 No. 48 prospect in the Coastal Plains League (Perfect Game) 
• 27th round pick in the 2012 MLB Draft (Mets)
Outlook
Enters the season as UK's senior catcher and primary backstop … Has become a vocal and physical leader in fourth season on campus … Has dedicated himself to weight training since arriving on campus under 170 pounds, gaining over 20 pounds … Has an ability to handle the bat and has a line-drive approach at the plate … Is an above-average athlete for a catcher, with his 2014 Northwoods League team using him as a defensive upgrade in the outfield in the late innings … Had a 19-game hitting streak during an All-Star season in the Northwoods League in 2014. 
2015
Served as one of UK's two everyday catchers, batting .283 (30-for-106) in 36 games and 29 starts … Had six doubles, 10 RBI, a .340 slugging and a .330 on-base percentage … Drew two walks and was plunked by six pitches … Made 21 starts behind the plate and eight as the DH … Entered the season with an 11-game hitting streak, extending it one game into 2015 … Hit .222 (12-for-54) in 17 SEC games, with 15 starts … Had six multi-hit and two multi-RBI games … Batted .346 (18-for-52) in non-SEC games, with five doubles … Hit .306 (19-for-62) at Cliff Hagan Stadium … Hit .375 (6-for-16) in Feb., .255 (12-for-47) in March, .310 (9-for-29) in April and .214 (3-for-14) in May … Had a .370 average (10-for-27) as the leadoff hitter, batting .269 with runners on base and .229 with runners in scoring position … Had seven two-out hits and three two-out RBIs … Was 2-for-5 with the bases loaded … Batted 1-for-3 with a hit by pitch in his first start of the year vs. Richmond … Was 3-for-3 with a double at No. 16 UC Santa Barbara … Had a two-hit game vs. Murray State in the home opener … Went 3-for-4 with a double in the series finale vs. Northern Kentucky … Had three RBI on one hit, a sac bunt and a sac fly at Arkansas … Had a two-hit game vs. No. 6 Vanderbilt … Played for the Wisconsin Woodchucks in the Northwoods League, earning postseason Northwoods League All-Star accolades … Played in 44 games, hitting .304 (42-for-138) with 27 runs, eight doubles, two homers and 21 RBI, sporting a 11-23 walk-strikeout ratio … Arnold went 2-for-8 in his two playoff games … Also came on to pitch an inning, allowing no hits and two walks in one inning on July 30 … Ran up a 19-game hitting streak from June 30 to Aug. 1 … After his hitting streak was snapped, finished the summer on a five-game streak.
2014
Served as UK's primary back-up catcher as a sophomore, behind fifth-year senior Micheal Thomas … Made three starts, playing in 18 games … Hit .542 (13-for-24) with three doubles and eight RBI … Drew three walks and struck out twice, laying down one sacrifice bunt … Came off the bench in eight SEC games, hitting .714 (5-for-7) with a double and two RBI … In 10 games vs. SEC foes, including two in the SEC Tournament, hit .750 (6-for-8) with a double … Ended 2014 on an 11-game hitting streak … Was 8-for-13 with runners on base, 7-for-11 with runners in scoring position and 2-fo-3 with four RBI with the bases loaded … Was 5-for-6 as a pinch hitter … Made his season debut vs. St. Joe's on Feb. 21 in Norfolk, Va., then collecting hits in every game he had an official at-bat in to end the season … Made first career start in the second game of a doubleheader vs. Eastern Michigan on March 1, going 2-for-3 … Went 2-for-4 in his next start with an RBI vs. Cincinnati, the second game of a doubleheader … Came off the bench with a RBI knock vs. Ball State, scoring from first base after a three-base error that could've been scored as an inside-the-park homer … Had a two-RBI double vs. Ball State off the bench … Made final start of the year vs. Xavier in midweek action, going 1-for-4 with a double and RBI … Had pinch hits vs. Florida, Texas A&M, twice vs. Ole Miss, Georgia and Mississippi State … Came on with the bases loaded in the bottom of the 14th inning in the SEC Tournament Quarterfinals, lacing a pinch-hit, walk-off single to end a marathon win for the Wildcats … Played in 36 games with 33 starts for Morehead City in the Coastal Plains League … Batted .198 (21-for-106) with 12 runs, four doubles and 10 RBI … Had a 9-23 walk-strikeout ratio, laying down three sac bunts, hanging one sac fly and sporting a .283 on-base percentage … Stole 4-of-4 bases and fielded .976.
2013
Earned the No. 3 catcher job … Played in eight games with one midweek start … Went 1-for-7 at the plate, batting .143 with an RBI … Made lone start of the year vs. Ohio, going 1-for-2 with an opposite-field RBI single … Appeared in three games off the bench in SEC play, with two at bats … Hit No. 9 in the order during his start vs. Ohio … Made collegiate debut behind the plate during UK's win over Niagara … Had a pair of pinch-hit at bats vs. Akron, before getting the start vs. Ohio … Appeared in his final four games off the bench, including catching vs. Louisville, at Ole Miss and at Missouri … Made a great play on a dropped strike three at Missouri, popping out from behind the plate and throwing a strike to first base. 
High School
First-team All-State at Franklin County High School … Ranked as the seventh-best prospect in the state and the 53rd-best catching prospect in the nation … Named first-team All-State by the Kentucky High School Baseball Coaches Association … Batted .445 (49-for-110) with 39 runs, nine doubles, three triples, two homers and 16 RBI as a senior, stealing 15-of-16 bases … Fielded .981 behind the plate, throwing out 8-of-13 attempted base stealers … Finished 2012 with a .547 on-base percentage and a .636 slugging mark … Earned six letters for coach Deron McDonald at Franklin County High School … Helped the Flyers win back to back district championships in 2008 and 2009 … "Zach has earned everything he has achieved," McDonald said. "Between his freshman and sophomore years he was the hungriest player I've seen. Zach is a player who wants to do well and he does what the coaching staff asks. The great thing about Zach is he's grounded and knows what he's good at and where he needs to improve. Zach is a pleasure to coach." … Selected to 2012 preseason Under Armour All American as well as ESPN preseason all-state … Was all-county MVP, all-district, all-region and all-state senior year.
Personal
Full name is Zachary Quarles Arnold … Born Nov. 28, 1993 in Kansas City, Mo. … Son of Chris Arnold and Susan Toles … Has a younger brother, Grayson (16) … Father attended Kentucky.
Read more