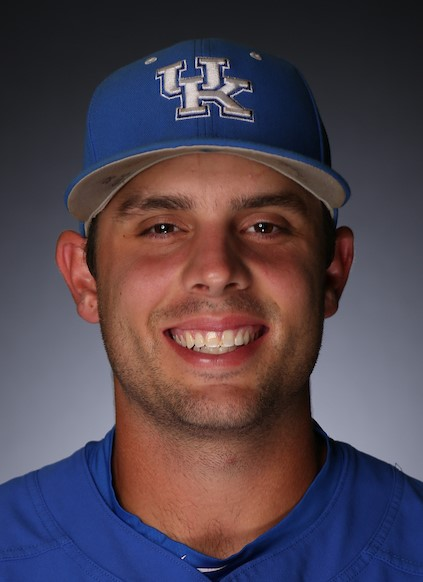 16
Troy

Squires
height

5-11

Weight

200

class

Redshirt Senior

Hometown

Elizabethtown, Ky.
• 2018 Senior CLASS Award winner
• Perfect Game/Rawlings National Player of the Week (3/12/18)
• Collegiate Baseball National Player of the Week (3/12/18)
• SEC Player of the Week (3/12/18)
• 2018 UK Athletics Frank G. Ham Society of Character Inductee 
• Second-Team All-SEC (2017)
• SEC Academic Honor Roll (2018, 2017, 2016, 2015)
CAREER WRAP
A testament to commitment and hard work, Squires was selected by the Toronto Blue Jays in the 23rd round of the 2018 MLB Draft after arriving at UK as a high school infielder turned walk-on bullpen catcher. He remained a walk-on throughout his five years at UK, while earning an undergraduate degree and working toward a master's. He will leave ranking third in career sacrifices (35), ninth in career hit by pitch (30) and with both the fourth and fifth-best single-season sacrifices marks (14, 2018 and 13, 2017). For his career, Squires hit .264 with 73 runs, 25 doubles, six home runs, 88 RBI, 52 walks and eight stolen bases in 154 games.
Squires recently was named the winner of the prestigious 2018 Senior CLASS Award, as well as being inducted into Kentucky Athletics' Frank G. Ham Society of Character, which honors Wildcats who have shown an extraordinary commitment to academic excellence, athletic participation, personal development, career preparation and serving as a role model.
2018
Started all 56 games…Hit .267 with 40 runs, 12 doubles, five home runs, 51 RBI, 25 walks, 16 hit by pitch and posted a .789 OPS…Squires earlier this season was named National and SEC Player of the Week for his performance in a career week that culminated in a series win over No. 3 Texas Tech…Delivered a two-run, two-out, two-strike single in the bottom of the ninth to tie the game and set up a walk-off win over Western Kentucky on 2/27…Had a career-high five RBI in a win over South Carolina on 4/7 and then matched it vs. Missouri on 4/28…Had 14 multi-hit games and 13 multi-RBI games…Hit .377 with runners in scoring position.
  
2017
Appeared in 49 games, starting 48 of those contests, all at catcher…Hit .305 in 151 at bats with a .427 on-base percentage…Produced 10 doubles, one home run, 25 runs scored and 26 RBI…Walked 23 times against just 20 strikeouts…Was hit by 10 pitches, second-highest total on the team…Stole five bases in seven attempts…Hit .364 in SEC play…Ranked 19th nationally in sacrifice bunts (13), which puts him tied for fourth on the UK single-season list…Is tied for ninth place on UK list for career sacrifices (21)…First career home run came on 5/12 vs. Tennessee…Had 11 multi-hit games…Threw out 40 percent of baserunners attempting to steal and picked three runners off base…Set career-highs for hits (3) three times and RBI (4) twice….Cats were 33-15 in games Squires started.
2016
Appeared in 35 games with 31 starts at catcher as a sophomore…Batted .205 with three doubles, 10 RBI and seven runs scored…Stole his only career base against Cincinnati on 3/8…Four of his 10 RBI were of the game-winning variety…Went 2-of-4 with three RBI in the Wildcats' lone win at Vanderbilt on 4/17…Had three RBI in a win at Tennessee on 4/3…Hit much better once conference play started, batting .255 with a .308 on-base percentage in 20 games (17 starts)…Threw out 7-of-20 stolen base attempts…Had a six-game hitting streak from 4/3 to 4/17.
2015
Served as UK's No. 3 catcher, playing in 14 games off the bench … Was 0-for-8 at the plate, but scored a run and was hit by a pitch … Came off the bench to play third base seven times, serving as catcher five times … Was called on to pinch run once and pinch hit six times … Was hit by a pitch at Arkansas. 
2014
Redshirted the season … Served a vital role as a bullpen catcher … Earned spot on postseason trips due to his value as an extra catcher.
HIGH SCHOOL
Helped lead team to a state championship sophomore year … Four-time regional champion … Also won the district championship all five seasons … Tabbed second-team all-state senior year…Named to the East/West All-Star Game as a junior and senior … Named first-team all-region for three seasons … Holds the school record in career hits, career RBI, career assists, and career games played … Named to the Honor Roll and Academic All-State … Played basketball all four years in high school.
PERSONAL
Full name is Troy Allen Squires … Born in Louisville, Ky. … Son of Mary Ann and Scott Squires … Has an older brother, Ryan (23), and a younger sister, Erika (20) … Father played baseball at Lindsey Wilson College … Brother played baseball at Campbellsville University … Grandfather played baseball for the White Sox organization…Already has his undergraduate degree and is working on a Masters in Sport Leadership.
Read more