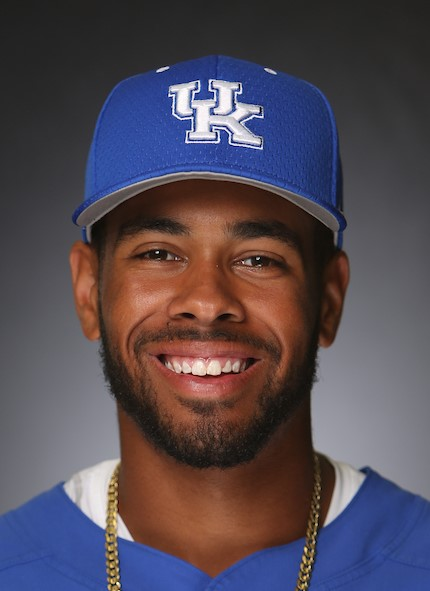 6
Tristan

Pompey
height

6-4

Weight

205

class

Junior

Hometown

Toronto, Ontario
• 2018 Preseason First-Team All-America (Perfect Game/Rawlings)
• 2018 Preseason First-Team All-America (NCBWA)
• 2018 Preseason Second-Team All-America (Baseball America)
• 2018 Preseason Second-Team All-America (D1 Baseball)
• 2018 Preseason Third-Team All-America (Collegiate Baseball)
• 2018 Preseason SEC Player of the Year (D1 Baseball)
• 2018 Preseason All-SEC (Perfect Game/Rawlings)
• 2018 Preseason First-Team Coaches All-SEC
• 2018 MLB Draft Prospect, No. 14 (Baseball America)
• 2018 MLB Draft Prospect, No. 32 (D1 Baseball)
• 2018 MLB Draft Prospect, No. 34 (Perfect Game/Rawlings)
• 2018 MLB Draft Prospect, No. 29 (MLB Pipeline)
• 2018 MLB Draft College Prospect, No. 26 (D1 Baseball)
• 2018 College Outfield Prospect, No. 4 (D1 Baseball)
• 2018 Draft SEC Prospect, No. 5 (Baseball America)
• 2018 Draft SEC Prospect, No. 9 (D1 Baseball)
• Top 10 Cape Cod League Prospect (Baseball America)
• Top 12 Cape Cod League Prospect (D1 Baseball)
• Collegiate All-Canadian Team (Canadian Baseball Network)
• Baseball America Third-Team All-American (2017)
• Perfect Game/Rawlings Third-Team All-American (2017)
• Collegiate Baseball Third-Team All-American (2017)
• ABCA South All-Region First-Team (2017)
• First-Team All-SEC (2017)
• College Home Run Derby Participant (2017)
• Gregg Olson Breakout Player of the Year Semifinalist (2017)
• SEC Academic Honor Roll (2017)
Outlook
Dynamic switch-hitting player that can play all three outfield positions… Base stealing ability is above average…Defense has improved tremendously…Has developed into one of the leaders in the clubhouse…Power threat from both sides…Can steal 15-20 bases…Premier athlete…Patient at the plate…Line drive hitter…Can hit leadoff or in middle of the order…Considered UK's top draft prospect, a potential first-rounder…Very smart player who can adjust mid-at bat…Comes from baseball pedigree with his brother, Dalton, having reached MLB with Toronto.
2017 SUMMER
Appeared in 23 games with the Wareham Gatemen of the famed Cape Cod League…Hit .230 with two doubles, a triple, two home runs and 15 RBI…Scored seven runs and stole five bases…Exploded onto the scene by hitting two home runs and driving in six runs in his first game with the Gatemen…Participated in the College Home Run Derby in Omaha…Was named a top 12 prospect on the Cape by both Baseball America and D1Baseball.
2017
Started all 66 games…Hit .361 in a single-season UK record 266 at bats…96 hits ranked second nationally and third on UK's single-season chart and most since 2008…Was fifth nationally in runs scored with 70, which ranks third in a single-season at UK…Was 28th nationally in walks (46), which ranks fifth on UK single-season list…Scorched 18 doubles, 10 home runs and drove in 46 RBI…Stole  nine bases…Led the team with a .464 OBP…Posted an OPS of 1.005…In SEC play, led the league in batting average (.410) and hits (50)…Ranked third in league games in runs (31), slugging (.697), OBP (.493) and total bases (85)…Reached base in each of the final 37 games…Posted 29 multi-hit games, including 12 of three hits or more…Had a season-long 14 game hitting streak from 4/4-4/28…Had 12 multi-RBI games…Hit two home runs at Missouri on 4/15…In back-to-back series vs. Miss. State and Mizzou he went 16-of-23 with eight runs, seven RBI and six extra base hits…Hit a critical grand slam in win at Florida on 5/18.
 
2016
Appeared in 49 games with 43 starts…Batted .233 in 150 at bats with 25 runs scored, 8 doubles, one triple, seven home runs, 29 runs batted in and two stolen bases…Walked 20 times and struck out 48…Had seven multi-hit games…Knocked in at least two runs eight times…Had 
three game-winning RBI…Started the season hot, hitting three home runs on opening weekend, including two vs. Dayton on 2/21…In that Dayton game finished 4-of-5 with three runs, four RBI, two home runs, a double and a triple, falling just a single short of hitting for the cycle…Earned SEC co-Freshman of the Week honors for Week 1…Started 19 of the Wildcats' final 20 games…Had a six-game hitting streak from 3/15 to 3/25…Homered in a critical victory over South Carolina on 5/7…Homered twice and tripled in three-game series at Ole Miss…Hit .239 with seven extra base hits and a .423 slugging percentage in 23 SEC games…Played each of the outfield positions, starting 22 games in left field, 15 in centerfield and five in right field…Made just one error on the season and owned a .988 fielding percentage.
HIGH SCHOOL
Led the Canadian Junior National Team to the World Championships in 2015 … Played basketball and volleyball for two seasons at Jean Vanier … Played for the Toronto Baseball Club … Mother Val helped him develop as a switch hitter … Ranked as the fifth-best Canadian prospect by Baseball America entering the 2015 MLB Draft.
PERSONAL
Full name is Tristan Gabriel Pompey … Pronounced "Pom-pay"…Born in New Westminister, British Columbia … Son of Ken and Valerie Pompey … Major is Communication…Has an older brother, Dalton, who was the opening day centerfielder for the Toronto Blue Jays in 2015…Favorite MLB team is the Toronto Blue Jays…Wears No. 6 as a tribute to the nickname for his hometown of Toronto, 'The 6'. 
Read more