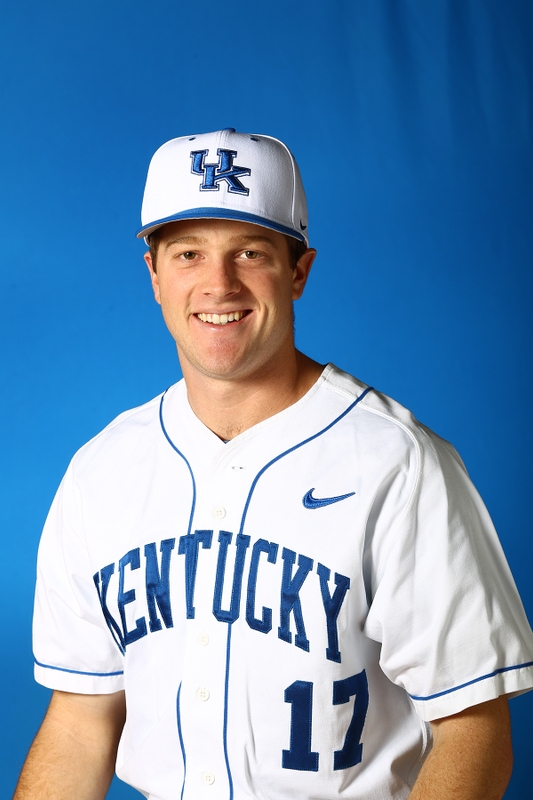 17
Taylor

Martin
height

6-4

Weight

205

class

Redshirt Junior
• SEC Academic Honor Roll (2013)
• 2012 No. 9 prospect in the Perfect Game Collegiate League (Baseball America)
• 41st round draft pick in 2011 (Rockies)
Outlook
Great story of 2014 after returning from injury that cost the 2013 season after showing promise as a true freshman for the 2012 club and during the summer of his freshman year … Returned to pitch in 12 games as a redshirt sophomore last season, working needed innings in an effort to return to full strength … Has a projectable frame and great athleticism … Was a high school basketball star locally, leading Lexington Catholic High School to the boy's Sweet 16 at Rupp Arena in three of four years … Averaged 18.1 points per game and 7.3 rebounds per game as a senior.
Summer
Started eight games for the Stasburg Express in the Valley League … Had a 1-2 record and a 5.36 ERA, working 40.1 innings, allowing 19 walks and 45 hits, striking out 42 … Had quality starts vs. Cannons and the Royals.
2014
Returned to the mound for the first time since suffering an injury during the summer of 2012 … After redshirting 2013 while rehabbing the injury, returned to worked in 12 games in relief … Totaled a 6.23 ERA in 17.1 innings, allowing 15 hits and seven walks, striking out 12 … Worked in five SEC games, allowing three runs in 6.1 innings … In eight games vs. SEC foes, worked 8.2 innings, allowing five runs on seven hits … Tossed 6.2 innings at home, allowing just two runs … Inherited five runners, allowing three to score, with the three coming in bases-loaded jam in an NCAA Tournament win over Kansas … Made his return to the mound during the opening weekend, tossing 2.1 innings on 32 pitches vs. VMI … Allowed a run the following weekend vs. St. Joe's … Got an out vs. Eastern Michigan in his home debut of 2014 … Worked an inning, allowing one run in an 11-4 win over Cincinnati in the second game of a doubleheader … Tossed a shutout frame vs. Xavier in midweek action … Was called on to eat up innings in four consecutive significant losses to save the bullpen for late future games, working two outs at No. 5 Vanderbilt, getting one out at Texas A&M and tossing 2.1 innings vs. No. 12 Ole Miss, also working two shutout innings in a seven-run loss vs. Auburn … Worked a shutout inning at Georgia during the final weekend of the year … With UK's pitching staff exhausted after playing its way into the quarterfinals of the SEC Tournament, was called on to worked 2.1 innings vs. No. 7 Florida, allowing no hits but two runs on two walks … Worked three innings to save the bullpen vs. Kansas in an elimination game in the NCAA Tournament, allowing two runs on two hits and a walk.
2013
Missed the 2013 season due to injury … Redshirted … Had a dominant summer in the Perfect Game Collegiate League, leading Amsterdam to the league title while teaming with UK teammates Thomas Bernal and Chandler Shepherd … Made nine starts for the Mohawks, with a 3-2 record and a 3.71 ERA … Tossed 61 innings, allowing 51 hits and 19 walks, striking out 49 … Held opponents to a .259 average.
2012
Appeared in six games in relief, as the Wildcats were blessed with a deep, talented bullpen that owned a 40-0 record when leading after seven innings … Had a 0-0 record and a 2.25 ERA, tossing four innings, allowing five hits and one run, walking one and striking out three … Made season debut with two outs vs. UIC … Got two outs vs. Canisius, working around a double … Worked an inning vs. Dayton, allowing two hits and one run … Worked a shutout inning vs. No. 10 Ole Miss, getting an out vs. No. 19 Louisville … Got one out vs. Cincinnati on April 17.
High School
One of the top prospects in the state, turned down the Colorado Rockies as a 41st round pick in 2011 to attend Kentucky … Rated as the fifth-best player in the state by IHigh.com and the second-best player in the state by MaxPreps.com … Earned first-team All-State honors as a senior in 2011, posting a 7-0 record and a 0.96 ERA in 51 innings … Led Lexington Catholic to the district and regional championship in 2011 and the state championship as a sophomore … Star on the basketball court as a nominee for the McDonalds All-America game and as a third-team all-state performer … Led Catholic to the state basketball Sweet 16 at Rupp Arena as a freshman, sophomore and senior … Earned a total of eight letters … Averaged 18.1 points per game for Catholic in 2010-11, shooting 59-percent from the field and 33-percent from 3-point range … Led Catholic with 7.3 rebounds per game in 2010-11.
Personal
Full name is Taylor Brett Martin … Son of Rodney and Carol … Born Jan. 9, 1992 in Lebanon, Tenn. … Father played baseball for UK (1984-85) and for Cumberland University (Tenn.) seeing time in the infield … In 1984, Rodney played in 10 games for UK, batting .280 (7-for-25) with two RBI, one double and two stolen bases … In 1985, Rodney played in 17 games for the Wildcats on a team that featured MLB standouts Terry Shumpert (2B) and Jim Leyritz (3B) in the infield … Batted .256 (11-for-43) in 1985 with one double and four RBI.
Read more