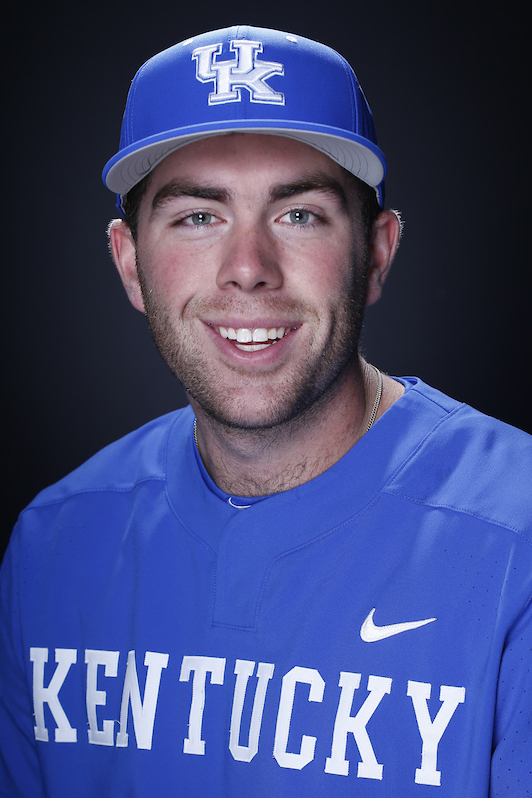 5
T.J.

Collett
height

6-1

Weight

220

class

Graduate Student

Hometown

Terre Haute, Ind.
• 2nd on UK's career home run chart with 42; 10th in RBI (145)
• Senior CLASS Award WINNER (2021)
• CoSida Academic All-America, Second-Team (2021)
• CoSida Academic All-District (2021)
• National Player of the Week (NCBWA, 4/26/21)
• National co-Player of the Week (Collegiate Baseball, 4/26/21)
• SEC co-Player of the Week; April 26, 2021 
• Perfect Game Preseason First-Team All-America, DH (2021)
• First-Team Preseason All-SEC, DH (Perfect Game, 2021)
• First-Team Coaches Preseason All-SEC, 1B (2021)
• 2020 UK Athletics Mr. Wildcat
• 2020 SEC Brad Davis Community Service Award
• No. 26 First Baseman (D1Baseball, 2020)
• SEC Player of the Week (3/9/20)
• Perfect Game National Player of the Week (3/9/20)
• Collegiate Baseball National Player of the Week (3/9/20)
• 2020 UK Athletics Frank G. Ham Society of Character Inductee
• Coaches First-Team Preseason All-SEC, 1B (2020) 
• Perfect Game Preseason All-SEC, 1B (2020)
• Perfect Game No. 7 senior in nation (2020) 
• All-Cape Cod League Team (2019)
• Cape Cod League All-Star (2019)
• Cape Cod League Home Run Derby (2019)
• No. 9 corner infield prospect, Cape Cod League (D1Baseball, 2019)
• Rocket Mortgage by Quicken Loans College Home Run Derby (2019)
• SEC Player of the Week (4/26/19)
• First-Team Coaches Preseason All-SEC (2019)
• 2019 Draft SEC Prospect, No. 33 (D1 Baseball)
• Collegiate Baseball National Player of the Week (2/26/18)
• SEC Community Service Team (2018 and 2019)
• SEC Academic Honor Roll (2018, 2019, 2020, 2021)
• Perfect Game Collegiate Summer League All-Star (2017)
• Perfect Game Collegiate Summer League Player of Week (2017)
• No. 1 Perfect Game Collegiate Summer League Prospect (Baseball America)
• SEC First-Year Academic Honor Roll (2017)
• Drafted in the 40th round of the 2016 MLB Draft (Minnesota Twins)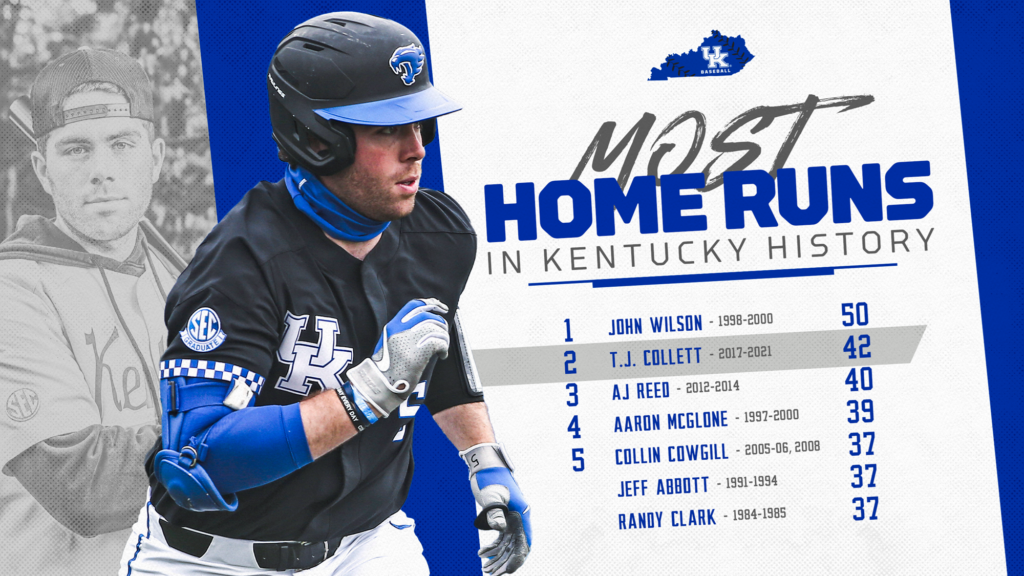 2021
Started all 52 games at first base…Batted .301 in 196 at-bats with 39 runs, 59 hits, 10 doubles, one triple, 24 walks and 10 hit by pitch…Led the team in home runs with 16 and RBI with 48…Slugged a team-best .607 and logged a team-high 1.008 OPS…Named National Player of the Week by the National Collegiate Baseball Writers Association and co-National Player of the Week by Collegiate Baseball on April 26 after belting four home runs in a critical series win vs. Alabama, including in three consecutive at-bats in the deciding game of the series…He also was named co-SEC Player of the Week for that performance…Collett led the team with 14 multi-RBI games and was second with 17 multi-hit games…He reached safely in 26 of his final 28 games…He finished his career with 42 home runs, second on the Kentucky all-time list behind John Wilson (50) and surpassed fellow Terre Haute, Indiana native and good friend AJ Reed, who had 40…Collett finished 10th on the school's career RBI list with 145 and 26th on the career hit list with 163.
2020 SUMMER
Played seven games in the College Summer League at Grand Park…Clubbed a home run, drove in three runs and scored a pair of runs in just 16 at-bats…Drew five walks and struck out only twice…Had an .867 OPS despite significant time off after the 2020 regular season.
2020
Started all 17 games at first base…Batted .290 in 69 at-bats with 13 runs, five doubles, five home runs and 17 RBI…Slugged .580 as part of a .931 OPS… SEC and National Player of Week on 3/9 after hitting .455 with 13 RBI and six XBH in five games…had first two-homer game on 3/3 vs. Cincinnati…Recorded 100th career hit on 3/7 vs. Norfolk State.
2019 SUMMER
Played for the Brewster Whitecaps of the Cape Cod League…Appeared in 39 games, batting .281 with 19 runs scored and six doubles…Tied for the lead league in home runs with nine, the most in the Cape Cod League since 2012…Ranked third in the CCL with 32 RBI and fourth in the league with a .539 slugging percentage…Posted an .863 OPS in 128 at-bats…Named a 2019 Cape Cod League All-Star and participated in the 2019 Cape Cod League Home Run Derby…Had nine multi-hit and multi-RBI games…Twice drove in a summer-high four runs…On June 19, hit a pair of home runs…Homered in four of six games during one stretch…Had a run where he recorded a hit in 10 of 11 games…Took a short break from the CCL to compete in the 2019 Rocket Mortgage College Home Run Derby in Omaha on June 29.
2019
Appeared in 47 games with 40 starts…Batted .259 with 26 runs, eight doubles, a triple, 10 home runs and a team-high 40 RBI…Drew 15 walks and was hit by seven pitches…Slugged .494 as part of an .834 OPS…Slugged .570 in 19 non-conference games…Led the team with five home runs and 20 RBI on the road…Had 20 hits and a team-best .400 average with runners in scoring position…Delivered 12 multi-hit games and 10 multi-RBI games…Stole his first career base on 4/2 at Louisville and legged out his first career triple on Mar. 13 vs. Western Kentucky…Had six games with three or more RBI, including a four-RBI game vs. WKU (3/13)…Was named SEC Player of the Week on 4/15 after delivering game-winning home runs in both games of a doubleheader at No. 10 Ole Miss on 4/14 to give the Cats a series win…Clubbed home runs in back-to-back games three times during the season, including the first two games of the season at Austin Peay…Had a nine-game hit streak from 3/10-3/23…Hit the first home run to CF in Kentucky Proud Park and one of just two total to CF in its inaugural season.
2018
Appeared in 34 games with 32 starts, all as designated hitter…Hit .304 with 27 runs, four doubles, 10 home runs, 34 RBI, 18 walks, six HBP and 30 strikeouts…Slugged .576 and posted an OPS of .989…Missed the final 20 games due to injury…Had the second-longest hitting streak of the season, recording one in 13 straight games from 2/17-3/7…Reached base in 17 straight games from 2/27-3/9…Had a hit in 21 of his first 25 games…Recorded 10 multi-RBI games and nine multi-hit games…Homered in four straight games from 2/20-2/25, becoming the first UK player to homer in do that since All-American Sawyer Carroll did so in a four-game series against Butler in 2008…Was named one of Collegiate Baseball's National Players of the Week after the binge…Homered in three straight games from 3/3-3/6, including two at Minute Maid Park, the home of MLB's Houston Astros…One of those homers was an upper deck shot…Those binges were part of a stretch where he cleared the fence in eight of 11 games…Drove in a career-high five runs on 2/25 vs. Oakland…Twice had a career-high four hits, including vs. Louisiana (3/4) and at Xavier (3/20)…Scored a career-high three runs in that game at Xavier…Went 4-for-5 with two runs, three RBI, two doubles and a home run vs. Louisiana (3/4)…Went 4-for-5 with three runs, four RBI and a home run at Xavier…Had a critical double down the right field line in the Cats' comeback win on 4/13 at No. 18 Georgia…Homered off the scoreboard at Georgia the next day, his last game of the season…Hit .389 when batting fifth in the lineup.
2017 SUMMER
Played in 20 games with the Amsterdam Mohawks of the Perfect Game Collegiate Baseball League…Crushed it at the plate, hitting .375 with four doubles and five home runs in 72 at bats…Drove in 24 runs, scored 15, was hit by three pitches and walked nearly as many times (10) as he struck out (14)…Slugged .639 on his way to a ridiculous 1.104 OPS…Was named a PGCBL All-Star and Player of the Week…Baseball America tabbed him the top prospect in the PGCBL…Suffered a broken foot just before the all-star game after being hit by a pitch.
 
2017
Appeared in 20 games with two starts as the designated hitter…Did not play until 3/18 due to a knee injury and could not play the field due to ongoing rehabilitation on that injury…Served as the first base coach for much of the season…Both starts came in the Cats' road series vs. Missouri…Hit a grand slam in his second career at bat, depositing a bomb over the LCF wall in a pinch hit appearance against Ole Miss on 3/23…It was his first career hit…Had a two-run single vs. Tennessee on 5/12…Produced six RBI in just 23 at bats…Was hit by two pitches.
HIGH SCHOOL
Ranked as the No. 5 catcher and No. 73 overall player in the high school class of 2016 by PerfectGame.org… Named to all-state team all four varsity years …  Owns school record in single-season home runs (17), RBI (51), and walks (45)… Named 2016 Indiana Mr. Baseball…Led team to state runner-up finishes his junior and senior year … Held a .536 batting average with 51 RBI, 45 hits, 17 home runs and 26 runs during his sophomore campaign … Coached by Shawn Turner and Fey Spetter … His 148 career walks are a state record … Hit .458 during his senior year … Four-year Academic Honor Roll.
PERSONAL
Full name is Timothy John Collett…Prounounced "Caw-let"…Major is Communication…Son of John and Sallee Collett…Has an older brother, Dougie (25)…Brother and father were both athletes at Rose Hulman Institute of Technology…Drafted by the Minnesota Twins in the 40th round of the 2016 MLB Draft…Worked with the Jessie Rees Foundation and part of his community service…Favorite MLB team is the Chicago Cubs…Favorite MLB player is Cubs catcher/outfielder Kyle Schwarber.
Read more