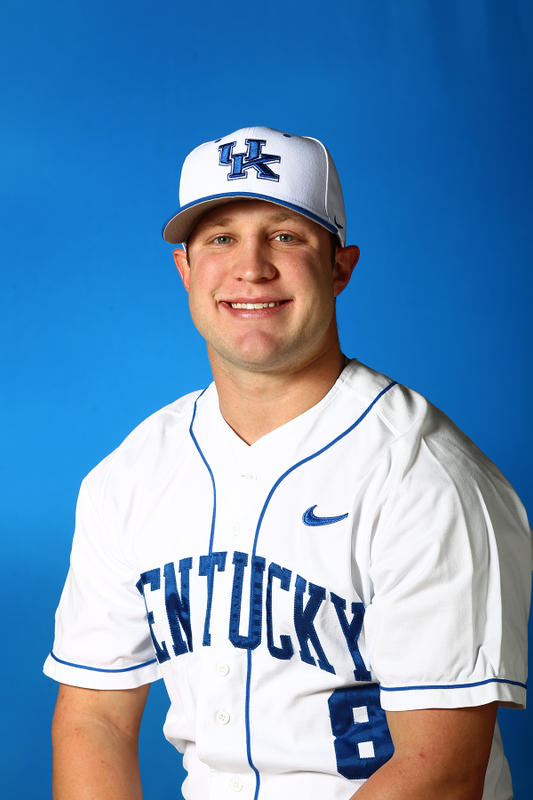 8
Storm

Wilson
height

5-11

Weight

190

class

Senior
• 2017 UK Frank Ham Society of Character inductee
• 2015 Northwoods League All-Star
• SEC Academic Honor Roll (2016, 2015, 2014)
• 2013 Prospect League Summer All-Star
Outlook
The most experienced player on Kentucky's roster, having played in 131 career games with 110 starts…Started slow in the fall but impressed coaches with how he came on the second half of camp…A career .263 hitter in 63 SEC games…Will work counts and get on base however necessary…Doesn't try to do too much and sprays the ball to all fields…Very good defensive player…Teammates love his toughness and team-first attitude.
Summer
Joined UK teammates Sean Hjelle and Zeke Lewis on the Elmira Pioneers of the Perfect Game League…Played in 25 games, batting .292 with five doubles, a triples and 13 walks…Scored 21 runs, drove in 10 runs and was hit by eight pitches…Team made the PGL playoffs.
2016
Appeared in 40 games with 37 starts on the season…Batted .267 with 23 runs scored, 11 doubles, a home run and 10 RBI in 131 at bats…Was 4-of-6 on stolen base attempts…On-base percentage was .382…Was hit by nine pitches, pushing his career total to 35…Started 34 of the team's first 36 games before injuries cut his season short…Did not appear in the final 11 games…All 37 of his starts came in centerfield…Walked a career-high three times at Georgia on 3/19…Had nine multi-hit games and eight two-strike hits on the season…Went 3-of-3 with three doubles and three runs scored against Buffalo on 3/5.
2015
Played in 46 games with 39 starts as a sophomore, hitting .242 (32-for-132) with 21 runs, six doubles, two triples, one homer and 16 RBI … Had a .341 slugging percentage and a .379 on-base percentage … Had a 21-24 walk-strikeout ratio and has been hit by 11 pitches … Hung five sacrifice flies and laid down a team-high five sac bunts … Stole 8-of-12 bases … Added two outfield assists … Reached base safely in 32 of his 39 starts … In SEC play, batted .214 (12-for-56) with five runs, three doubles, one triple and seven RBI, stealing three bases … Collected nine multi-hit games and four multi-RBI games … Ran up a streak of reaching base safely in 11 straight games, including four consecutive to end the year … Made 37 starts in rightfield and two as the DH … Had a .233 average with runners on base and a .139 average with runners in scoring position … Was 1-for-5 as a pinch hitter … Started the first 13 games of the year … Scored four runs in UK's second game of the year, despite an 0-for-1 game, drawing a walk, getting hit by two pitches and stealing four bases … Went 4-for-5 in the series finale at No. 16 UC Santa Barbara … Had a three-hit, one-walk game vs. Nebraska-Omaha … Had three straight two-hit games, vs. No. 12 South Carolina, Ohio and No. 20 Ole Miss … Ripped first homer of the year vs. Morehead State … Went 2-for-2 with a double off the bench vs. Indiana … Had a .226 average with a homer and eight RBI at Cliff Hagan Stadium and a .263 average on the road … In Feb., hit .278 (10-for-36), .234 (11-for-47) in March, .238 (5-for-21) in April and .214 (6-for-28) in May. … Played in 36 games for the Valley Blue Sox in the New England Collegiate Baseball League, teaming with Zach Strecker … Hit .254 (30-for-118) with three doubles, one triple and four RBI, stealing eight bases.
2014
Had a strong freshman season after redshirting the 2013 season, ranking tied with Alabama's Casey Hughston and UK second baseman JaVon Shelby for the home run lead among SEC freshman (four) … Played in 45 games with 34 starts, hitting .289 (37-for-128) with 25 runs, six doubles, four homers and 20 RBI … Had a 16-20 walk-strikeout ratio, getting plunked by 15 pitches … Had a .420 on-base percentage – third-best on the team – slugging .430 … Was better in SEC play than against non-conference competition, hitting .329 (24-for-73) in 24 games and 19 starts, with six doubles, three homers and 11 RBI … Reached base safely in 31 of his 34 starts, including a stretch of 19 consecutive in April and May … Reached base safely in 39 of his 45 games … Hit .349 (15-for-43) in 18 games at Cliff Hagan Stadium, with three homers … Hit .269 (14-for-52) with two doubles, one homer and seven RBI in 17 road games … Had UK's second-best average in night games, hitting .356 (16-for-45) with three homers and 12 RBI … Hit .333 (3-for-9) in February, .226 (7-for-31) in March, .409 (9-for-22) in April, .305 (18-for-59) in May and was 0-for-7 in two June games in the NCAA Tournament … Was 5-for-17 in the SEC Tournament, drawing two walks and stealing a base … Was 1-for-13 in the NCAA Tournament, with three runs, three walks and a hit by pitch … Collected first career hit off the bench in UK's win over St. Joe's … Earned first start the following day and drove in the game-winning runs with a two-out, two-RBI knock in the late innings at Old Dominion … Was hit by a pitch in five consecutive games … Came off the bench to score three runs in a rout of Ball State … With Ka'ai Tom nursing a hamstring injury during UK's series at Alabama, made his first three career SEC starts, collecting three hits in the series, including a 2-for-5 game in the series finale … Hit a pinch-hit homer in the ninth inning vs. Morehead State, the first ninth-inning, pinch-hit homer for the Wildcats since Gunner Glad at Coastal Carolina in 2009 … Is one of just four players since 2004 in UK history to hit ninth-inning, pinch-hit homers … Had a great series in UK's sweep at the hands of No. 12 Ole Miss, going 5-for-8 with solo homers in the opener and finale … In UK's series opener at Tennessee, the SEC ESPNU Thursday Night Game of the Week, had a four-RBI outing, with a double and an inside-the-park homer after the ball got behind a diving leftfielder, motoring home for his third homer in his last four games … Ran up a 12-game hitting streak from April 19-May 15 at Georgia that ended with a two-walk outing … Went 2-for-5 in UK's 12-inning thriller vs. No. 21 Mississippi State in the SEC Tournament Semifinals … Had a breakout summer in earning all-star honors in the Prospect League for the Slippery Rock Sliders, teaming with UK righty Zach Strecker … Played in 55 games, hitting .288 (61-for-212) with 33 runs, 10 doubles, two triples, 17 RBI and a 16-21 walk-strikeout ratio … Stole 15-of-18 bases … Came off the bench in the all-star game, getting an at bat and adding a walk … Average was over .300 all summer until dropping below in the last two games of the year … Had a 4-for-5 game vs. Chillicothe and stole two bases twice. 
2013
Redshirted season. 
High School
The Commonwealth Journal/Clear Channel Baseball Player of the Year … Earned all-county honors … Led the team with a .557 average as a senior, adding three homers, 13 triples, 24 RBI and 38 runs … Stole 25-of-28 bases as a senior … Earned four letters under coach Phil Grundy … Played football all four years … Ran track junior year … Named first-team all-state in football as a senior. 
Personal
Full name is Austin Storm Wilson … Born in Somerset, Ky. … Son of Reggie and Denise Wilson … Brother is Macon (15)… In 2017, was inducted into UK's Frank Ham Society of Character, which honors student-athletes who have shown an extraordinary commitment to academic excellence, athletic participation, personal development, career preparation and serving as a role model …Took mission trip to the Bahamas in Dec. 2016…Working on Masters Degree in Business Administration…Favorite MLB team is the Atlanta Braves…Favorite MLB player is Derek Jeter…Favorite road trips in the SEC are LSU, South Carolina and Texas A&M…Has worn the No. 8 since childhood.
Read more