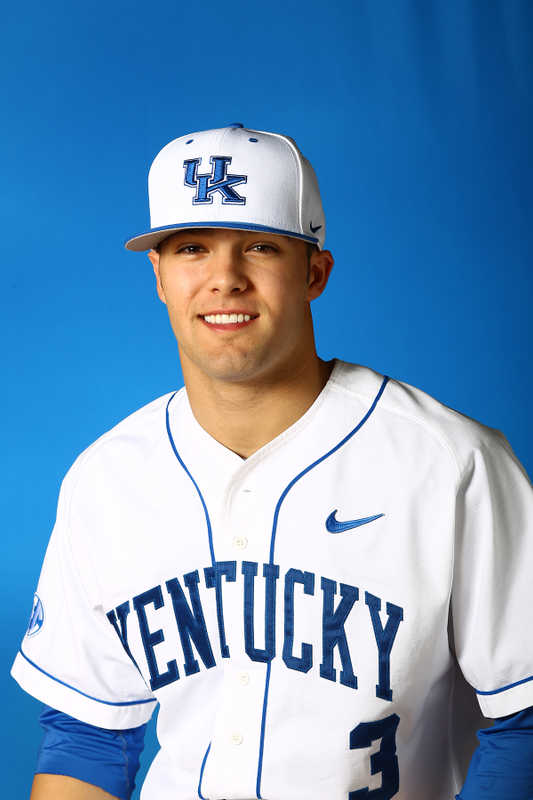 2
Riley

Mahan
height

6-2

Weight

190

class

Junior
• SEC No. 31 2017 draft prospect (D1 Baseball)
• SEC Academic Honor Roll (2016)
• 2015 Perfect Game League All-Star (SS)
• 2015 SEC Freshman of the Week (3/9/15)
• 40th round draft pick in 2014 (Giants)
Outlook
Considered the best pure athlete on the team…Exceptionally gifted with a baseball player's build…Coaches believe he has skillset required to play Major League Baseball…Ranked the SEC's No. 31 draft-eligible prospect by D1 Baseball…Gorgeous left-handed swing that is geared toward line drives but can also flash power…Bounced around the lineup in 2016 but is slotted to hit leadoff or No. 2 entering the spring…A table-setter who has good speed and is a smart baserunner…Has played 84 games so has experience…Needs to improve his defense but coaches think a move to second base will help ease throwing issues.
Summer
Appeared in 41 games with the Orleans Firebirds of the competitive Cape Cod League as a teammate of fellow Wildcat Zach Logue…Had a tremendous summer and ranked among the league's top hitters…Batted .304 and scored 22 runs, both of which ranked in the Top 12 in the CCL…Added seven doubles, a triple, three steals and drove in 17 runs…Was named starter at first base for the East All-Stars..
2016
Appeared in 56 games with 50 starts…Batted .316 in 196 at bats…Scored 30 runs, had 13 doubles, five home runs and 32 runs batted in…Tied for team lead with three triples…Was second on the team with eight stolen bases (in 11 attempts)…Slugged .490 with a .348 on-base percentage…Recorded 19 multi-hit games and 22 two-strike hits…Hit in every spot in the batting order other than leadoff…Will enter the 2017 season riding a seven-game hit streak…Had a game-winning walk-off grand slam to beat Alabama 6-2 on 4/9…Smacked a game-tying solo home run in the 10th inning against Florida on 3/27 in a game the Wildcats won on a Dorian Hairston walk-off homer later that inning…Went 3-of-5 with a run, two RBI, a double and a home run in that win…Went 3-of-4 with two doubles and a triple in a win over Miami (Ohio) on 4/27…Went 3-of-2 with a run scored, three RBI, a double and a home run in a win over San Diego State on 2/27…Was 2-of-3 with a double and an RBI in the season finale against Alabama in the SEC Tournament…Started 49 games at shortstop, nine as the designated hitter and eight at third base…Made 30 errors, most of the throwing variety.
2015
Played in 39 games with 22 starts in his collegiate debut, making nine starts at DH, eight at third base and five at shortstop … Hit .232 (22-for-95) with five doubles, one triple, one homer and eight RBI … Stole one base in two attempts and had a 7-27 walk-strikeout ratio … Was hit by two pitches and sported a .295 on-base percentage … Was named SEC Freshman of the Week on March 8 after leading UK to five wins to open the home schedule … He hit .368 during the week with six runs, two doubles and three RBI … Played in 17 of UK's 30 SEC games with seven starts, batting .226 (7-for-31) with two doubles, one homer and two RBI, with a .693 OPS … Hit .333 (9-for-27) in road games with three doubles and a .995 OPS in 14 games … Hit .305 in games UK won and .296 in day games … Batted .176 (3-for-17) in Feb., .315 (17-for-54) in March, .000 (0-for-12) in April, and .167 in May (2-for-12) … Had a .219 (7-for-32) average in 16 games vs. top-25 opponents … Had one bunt single and four sacrifice bunts … Made first career start, as the shortstop, at No. 16 UC Santa Barbara to open the series, starting each game at SS … Collected a three-hit game vs. Murray State … Had his first career triple vs. Mount St. Mary's … In return to face Cincinnati, the Northern Kentucky native went 2-for-4 with a walk … Was 2-for-3 as the DH vs. No. 20 Mississippi State in the middle game … Had a pinch-hit, inside-the-park homer at No. 1 LSU in the series finale rubber match, with two outs in the ninth inning to force extras and lead to a UK win … Owned a .295 average after his two-hit game vs. Mississippi State but average took a hit after ending the year on a 4-for-34 stretch … Despite the slump, was called on to start the regular-season finale at Missouri, a must-win for both teams, going 2-for-4 at third base with a RBI double. 
High School
Hit .367 as a senior with two doubles and a triple in nine games … Batted .406 in 106 at-bats as a junior with eight doubles, five triples and a homer, driving in 30 … Batted .311 as a sophomore with nine doubles and a triple … Stole eight bases as a senior, 27 as a junior and 11 as a sophomore, only getting caught seven times … Played in three consecutive final fours with the Crusaders, winning three Division I Championships, as a sophomore and junior … Moeller's back-to-back state titles marked the first team to win consecutive titles in 17 years … Team finished with a record 32-2 mark as a senior … Played football as a freshman and sophomore … Played for coach Tim Held at Moeller High School … A first-team All-State, All-GCL and preseason All-America in 2014 … Earned first-team All-State honors as a junior, in addition to honorable mention All-America honors … Named honorable mention GCL as a sophomore. 
Personal
Full name is Riley Scott Mahan … Son of Scott and Rhonda … Has a younger sister, Carlee (18) … Born in West Chester, Ohio …Major is Communications… Father played football at Kent State…Favorite MLB player is Toronto Blue Jays shortstop Troy Tulowitzki…Wears No. 2 in honor of Tulowitzki…Favorite SEC road venue is LSU. 
Read more